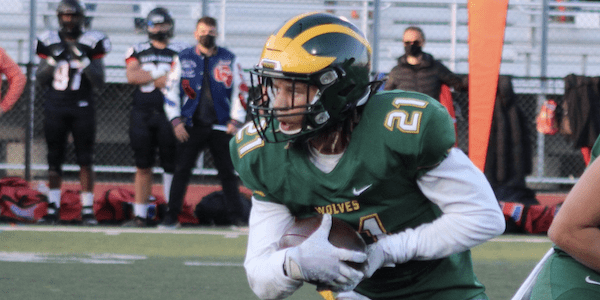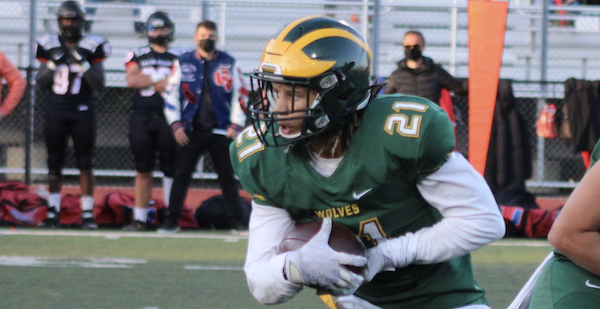 San Ramon Valley Senior Tanner Salisbury Re-Introduces Himself To Wolves Fans With Flare During Season-Opening Victory • PICTURED ABOVE: San Ramon Valley running back...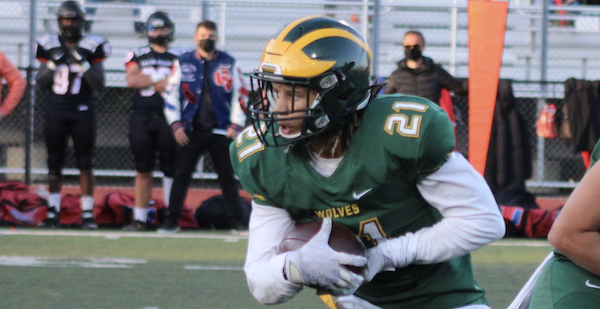 San Ramon Valley Senior Tanner Salisbury Re-Introduces Himself To Wolves Fans With Flare During Season-Opening Victory •
PICTURED ABOVE: San Ramon Valley running back Za'Darion Nardi
After spending his junior season with national power Mater Dei-Santa Ana, Tanner Salisbury decided one particular adage fit what he was looking for entering his final year of high school football.
You can indeed go home again.
Salisbury made his return to San Ramon Valley-Danville a memorable one, hauling in two touchdown passes and starring on defense in the No. 9-ranked Wolves' 34-7 season-opening victory over No. 16 Bishop O'Dowd-Oakland in Danville.
While there were plenty of praise-worthy performances to go around – Tyler Hoffman's five sacks, Trevor Scott's interception return for a touchdown, Za'Darion Nardi's 128 rushing yards — it was Salisbury's return that seemed to provide a noticeable electricity all over the field. 
Though the lingering effects of a concussion suffered in preseason practice cost him the 2021 spring season with the Monarchs, working within one of the nation's top programs provided an invaluable daily test against elite-level talent.
Ultimately though, he made the decision to return to Northern California for one final season with the Wolves.
_______________________________
CONNECT WITH US:
Follow SportStars on Twitter & Instagram | Like us on Facebook | Subscribe!
_______________________________
"For sure getting hurt (played a role) and I realized how much family and friends mean to me and how much it means to me to play in front of them," Salisbury said. "It's great to be back here."
Salisbury's return proved notable in a number of ways. The big plays started on offense, as he grabbed a Jack Quigley pass over the middle and exploded past several Dragons defenders for a 93-yard touchdown to open the season. Later in the game, he would connect with Quigley again for a 17-yard touchdown strike.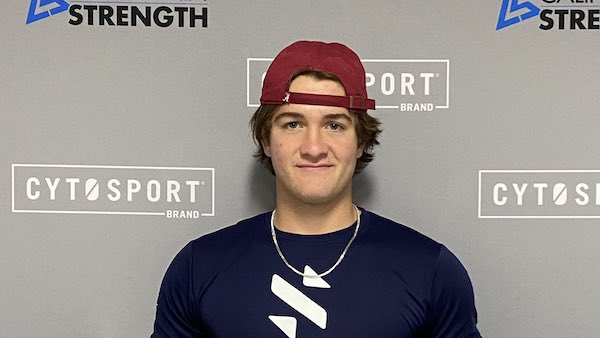 On the other side of the ball, Salisbury's playmaking ability was equally easy to spot. He is part of a linebacking unit that also includes senior standouts Jack Catterton and Trevor Donathan, and that trio played a large part in keeping a potent Bishop O'Dowd offense off the scoreboard altogether to begin the season.
"Dude is a baller," Hoffman said of Salisbury. "He went down to Mater Dei and got hurt but thankfully he came back here. He can play on offense, he can play on defense and he showed that. We're just stoked to have him back all-around."
SHARING IS CARING
To say Folsom quarterback Tyler Tremain has a host of weapons at his disposal might be underselling the value of good artillery.
The No. 2-ranked Bulldogs welcomed No. 3 Pittsburg for one of California's most anticipated games of the week and, after trading offensive blows with the Pirates for a half, the hosts pulled away for a convincing 38-17 victory.
How did Folsom manage to create a little separation on the scoreboard? By sharing the wealth. Mason Norberg, Justin Arnaz, Rico Flores Jr., Lucas Wolfe and Walker Lyons all found themselves on the receiving end of a scoring strike from Tremain. 
With Norberg adding his name to the ledger against Pittsburg, eight different Bulldogs have now caught a touchdown pass in just three games.
Of course, even when the Bulldogs weren't finding the end zone via aerial assault, a Tremain still had a hand in the scoring. Junior Jake Tremain added a field goal, his first of the year, to round out the scoring against the Pirates.
THE WAITING IS THE HARDEST PART
Six teams in the SportStars week two Top 20 had to wait an extra week to begin their season due to smoke-related cancelations in week one. The extra wait didn't seem to have much of an impact on No. 4 Serra-San Mateo, which rolled to a 41-14 win over Palo Alto, or No. 5 Rocklin, which had a similarly easy time of things with a 69-6 victory over Davis. No. 12 St. Francis-Mountain View kicked off its season with a 55-0 win over Oak Grove-San Jose.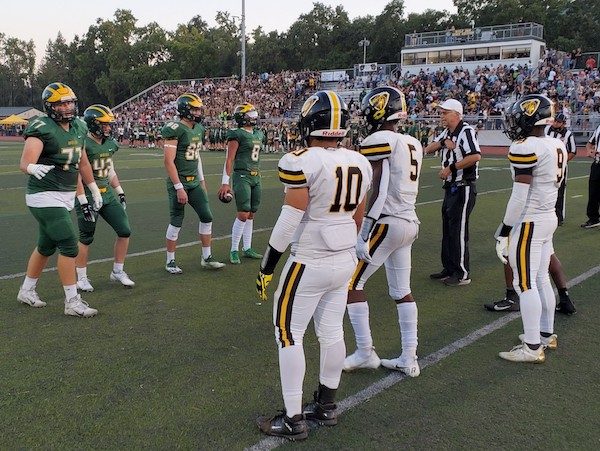 Both San Ramon Valley and Bishop O'Dowd had to wait an extra week due to smoke cancelations, and when they were finally ready to get down to business, they had to wait just a little bit longer. A medical emergency in the stands delayed the start of their game by 30 minutes. Finally, Pittsburg waited a week and a day to get its season started, canceling its week one game against Serra and pushing its originally scheduled Friday game against Folsom to Saturday. 
TOP 20 RESULTS
No. 1 De La Salle-Concord def. Monterey Trail-Elk Grove 68-6
No. 2 Folsom def. No. 3 Pittsburg 38-17
No. 4 Serra-San Mateo def. Palo Alto 41-14
No. 5 Rocklin def. Davis 69-6
Central Catholic-Modesto def. No. 6 St. Mary's-Stockton 41-27
No. 8 Valley Christian-San Jose def. Capital Christian-Sacramento 40-19
No. 9 San Ramon Valley-Danville def. No. 16 Bishop O'Dowd-Oakland 34-7
Del Oro-Loomis def. No. 10 Clayton Valley Charter-Concord 26-20
No. 11 Edison-Stockton def. Grant-Sacramento 27-17
No. 12 St. Francis-Mountain View def. Oak Grove-San Jose 55-0
No. 13 Los Gatos def. Liberty-Brentwood 38-17
Cardinal Newman-Santa Rosa def. No. 14 Vacaville 20-13
No. 15 Jesuit-Carmichael def. Granite Bay 28-14
Tualatin (Ore.) def. No. 19 Menlo-Atherton-Atherton 44-33