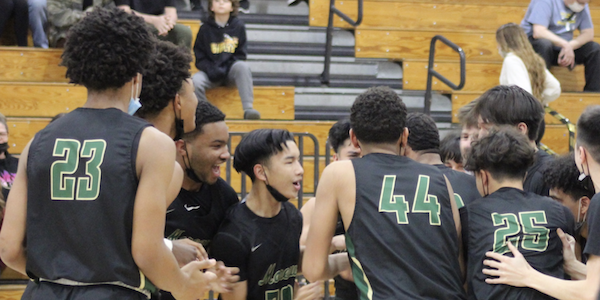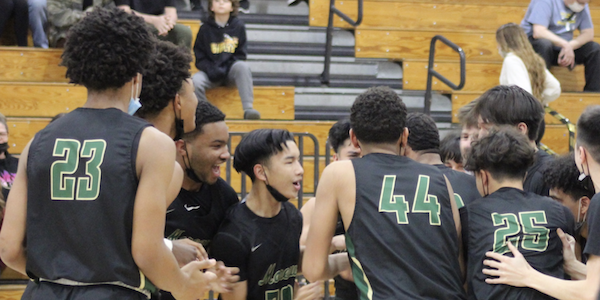 Hostile Crowd, Lots Of Fouls, And A Very Good Liberty Team Couldn't Keep Moreau Catholic From Advancing To The NCS Div. I Semis •...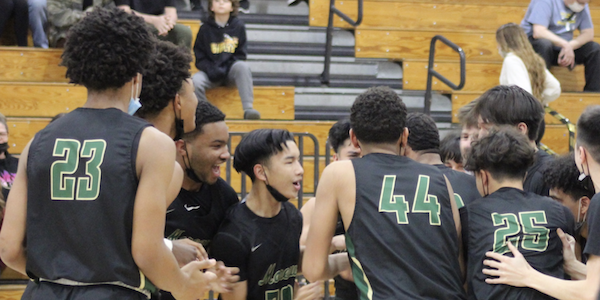 Hostile Crowd, Lots Of Fouls, And A Very Good Liberty Team Couldn't Keep Moreau Catholic From Advancing To The NCS Div. I Semis •
Moreau Catholic basketball coach Frank Knight stood outside of the visitors locker room on a brisk February evening at Liberty High in Brentwood.
Fifteen minutes earlier his Mariners from Hayward escaped an absolute grinder of a game with a 74-71 North Coast Section Division I quarterfinal win over the host Lions. The contest featured six lead changes, five ties, 48 fouls and 75 free throws.
Before he could even answer his first question from a reporter, Knight burst out with incredulous laughter.
"Oh man! We couldn't even start the interview," the Mariners coach said. "Start the story off with that. … Craziness."
Indeed there was craziness.
In front of a crowd that finally had a post-COVID feel, with a large and rowdy Liberty student section and an equally vocal Moreau Catholic contingent, the teams entered into a literal slugfest. (Did we mention the 48 fouls?)
_______________________________
CONNECT WITH US:
Follow SportStars on Twitter & Instagram | Like us on Facebook | Subscribe!
_______________________________
"We knew it," Knight said. "When we saw the matchups — our style of play and their style of play, we already knew. It's going to be crazy. We're going to go after each other. But we were able to pull it out."
The fifth-seeded Moreau Catholic (24-4) erased a nine-point first half deficit, grabbed the lead inside the last minute of the third quarter, and never trailed in the fourth despite Liberty twice pulling even.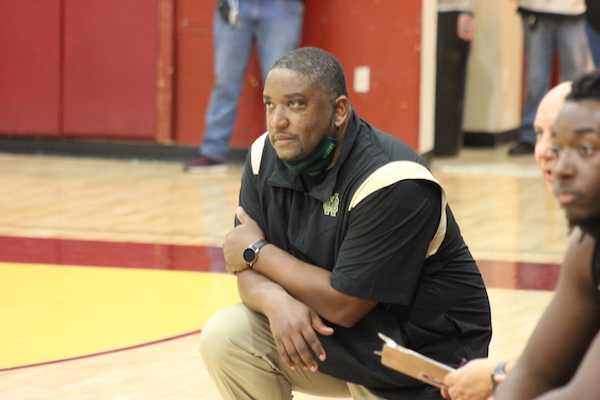 The Lions had a chance to tie things a third time during the game's final sequence. After Robert Morgan sank one of two free throws with 5.6 seconds left, Liberty went the length of the floor and got Julian Costa a good look at a 3-pointer from the wing. It hit the rim and bounded out as the horn sounded.
The win advances the Mariners to a Tuesday semifinal at top-seeded Dougherty Valley-San Ramon. It's the deepest Moreau Catholic basketball has been in the tournament since being moved up to Division I in 2020 after winning Division II titles in 2017 and 2019. That first year in Division I ended in a quarterfinal loss, and there was no postseason in 2021. 
"We have so many seniors that are leaving this year, and we didn't want to lose tonight," senior Matthew Villanueva said. The Moreau Catholic guard finished with a game-high 23 points and added seven rebounds. "This win is emotional for me. Our guys fought through the whole game, and I'm just so proud of my guys. They sacrifice for me and I do the same."
Villanueva's success is a microcosm of this Mariners team. A player who only played AAU as a junior and wasn't part of the main rotation after spending the summer with Moreau, the 6-foot guard has willed himself into the starting rotation. Many of his seven buckets on Friday night were physical finishes through traffic, with Villanueva maintaining just enough body control to get the shot up.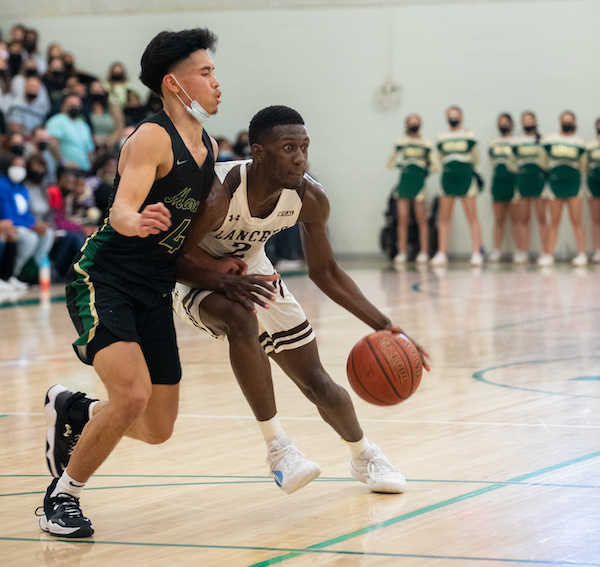 It's that style of play throughout the roster that has endeared this Mariners group to Knight.
"This is one of my favorite teams. I love this team," the coach said. "Because we don't have a lot of ranked guys in that room. A lot of them have been playing together since the fourth grade on my AAU team. They listen. They play hard, and they have good families and stuff. I almost broke down while talking to them in (the locker room) after the game, because the kids are good kids, man. … The journey has been awesome watching them grow."
Nine players finished in the scoring column for Moreau on Friday night, including 18 critical points from the Mariners bench. The team also had five different players with at least five rebounds, racking up 42 as a team.
"Rebounding and making our layups. That's the main key for us," Morgan said. He finished with 15 points and a team-high nine boards. "Rebounding and making layups. Boxing out, too. My bad. Boxing out for sure."
With 15 points and three assists, Trey Knight was the third Mariner in double figures on the evening. Kellen Hampton, a 6-foot-6 freshman, led the bench effort with eight points and eight rebounds.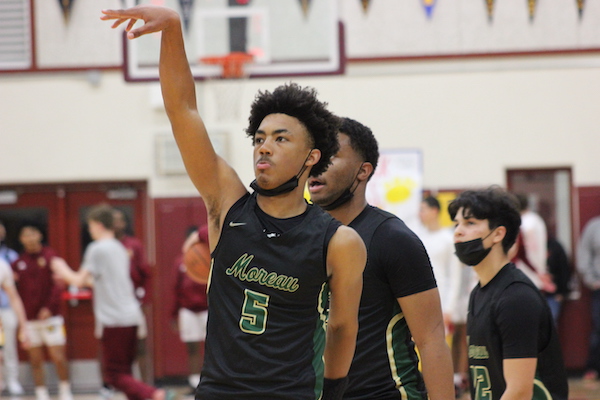 "We've never played in front of a crowd like this ever," Trey Knight said. "The student section was non-stop and Liberty is a great team, too. … There's not any other guys I'd go to war with than my team, though."
Liberty's season ends with an overall record of 19-5. The Bay Valley Athletic League champions were led by Miles Lawrence. The 6-foot-4 junior posted the game's only double-double with 19 points and 10 rebounds. Sophomore Gavin Cook Whisenton added 17 points and seven rebounds.
With all six teams from the NCS Open Division guaranteed CIF Northern Regional playoff bids, only the Division I finalists are assured an at-large berth. That means the Mariners need one more win to be certain their season goes beyond the section playoffs.
"We had some early losses in the season, but it's all about later on," Morgan said. "We're trying to play in March. We got a mission to complete."