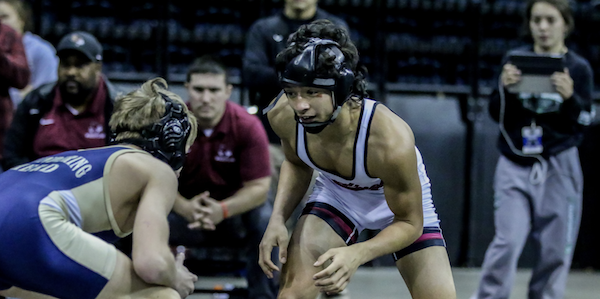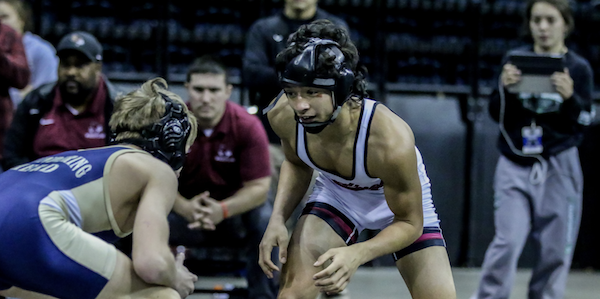 How Elk Grove's Laguna Creek High Suddenly Became A Sac-Joaquin Section Wrestling Stalwart With Three CIF State Wrestling Qualifiers •  This story will also...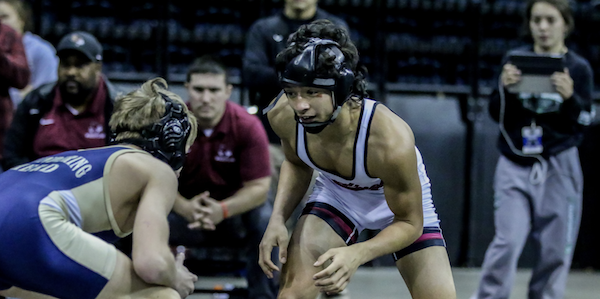 How Elk Grove's Laguna Creek High Suddenly Became A Sac-Joaquin Section Wrestling Stalwart With Three CIF State Wrestling Qualifiers • 
This story will also appear in the March 2022 PDF edition out Feb. 24.
Until 2022, Laguna Creek High of Elk Grove was to wrestling what socks are to sandals.
They just didn't fit in.
The Cardinals had qualified only 14 boys to Sac-Joaquin Section Masters Championships events in the past 11 full seasons, and averaged two team points at the last 16 such tournaments. Girls teams had similar success.
But the program that has been bracket broke since Laguna's John Lowden won SJS (first) and CIF (third) hardware in 2004 has made a dramatic reversal of fortune.
Powered by sensational underclassmen Zack Hoover, Declan Follette and senior Eisa Teixeira, Laguna Creek boys won the Metropolitan League title this year. It was the program's first conference championship since upending Elk Grove to win the Delta League in 1999. On Masters Championship weekend, the Cardinals proved success was not limited to the minor leagues.
Boys and girls combined for 62 team points en route to 30th (boys) and 28th (girls) place finishes at the Stockton Arena. Hoover, Teixeira and Oriyana Castex all qualified from Masters to the state tournament. The advancements end the 17-year drought from CIF participation. Oriyana's older sister, Deangela Castex, would have qualified in 2010, but the CIF didn't sanction a girls championship until the following year.
_______________________________
CONNECT WITH US:
Follow SportStars on Twitter & Instagram | Like us on Facebook | Subscribe!
_______________________________
"With all the success we had this year, this culminates everything," 15-year Laguna Creek coach and eight-year head coach Josh Martin said. "We haven't had this kind of feeling ever, at least since I have been here. The next couple of years could be pretty special for us.
"I think the program is on the rise."
Hoover (106 pounds) was fifth at the 2022 Masters, securing his state ticket with narrow wins over Merced's Elijah Valencia and Ponderosa's Alexander Mallot in elimination matches. He was also first at the Vista Del Lago Eagle Invite, second at the James Riddle Classic and at the Granada Mat Classic. It's been a remarkable start for a freshman with less than four years of mat experience.
"It's been hard but I've kept pushing through, trying to get better all the time," Hoover said. "It's a lot different than middle school. It's faster and the wrestlers a lot stronger, but I've also gotten a lot stronger since the beginning of the season.
"I have been working out and getting mentally stronger as well."
Teixeira (145 pounds), a senior and Ohio native, won four big matches at Masters to make it another week. His tournament came down to a frantic moment in the to-go round, when he was pushed into overtime with Isaac Romero-Martin of Grace Davis-Modesto, who was awarded a match-winning takedown in overtime. Laguna Creek argued the call with officials, and since Teixeira rose to his feet before control was established, he forced the match into a triple overtime period.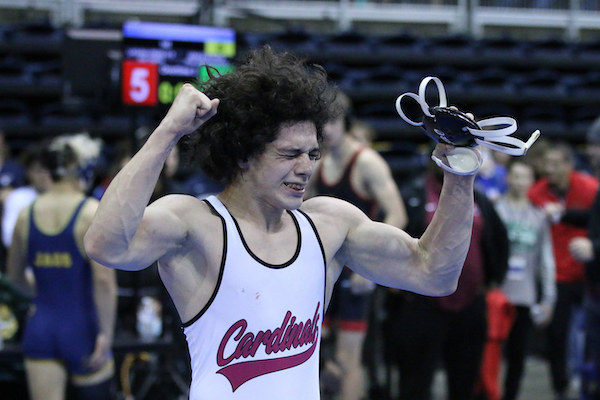 In this two-part period where wrestlers alternate top-bottom positions in 30-second rounds, Teixeira picked up a penalty point (locking hands) and stayed in control when on top to secure the win.
"This has been my dream, just to qualify for state, for a very long time," he said. "Coming from Ohio (722 schools in three divisions), it was a lot easier to get to state, and when I came here it was like a rude awakening for actually how difficult it is to qualify. I realized you have to win close matches like (his match against Romero-Martin).
"You have to follow through on those situations to get anywhere."
Oriyana won four straight matches in consolation at 137 pounds to take third in the girls tournament. She won three matches by pin.
She is filling the shoes of siblings who have come before her. She has natural abilities and just works hard, Martin said. "She has really improved this year."
Laguna Creek boys also qualified for SJS Team Duals earlier in February, and fell just 37-33 to a deep Bella Vista-Fair Oaks squad.
"These guys have their goals that they set for themselves, and before they came around, Laguna Creek didn't talk about those kind of goals," Martin said. "We are trying to change that environment and see these kids work for something and go get it."
Martin's staff has matched his wrestlers' commitments. He credited the energy of Jarrod Espinoza and Jackson Pfau, and is thrilled to see the technique shared by longtime SJS wrestling guru, Elizar Ceballos. Ceballos is a CIF place-winner (sixth) from 1996 and a former wrestler and coach at Cal State Bakersfield. He's also a previous head coach at McNair-Stockton.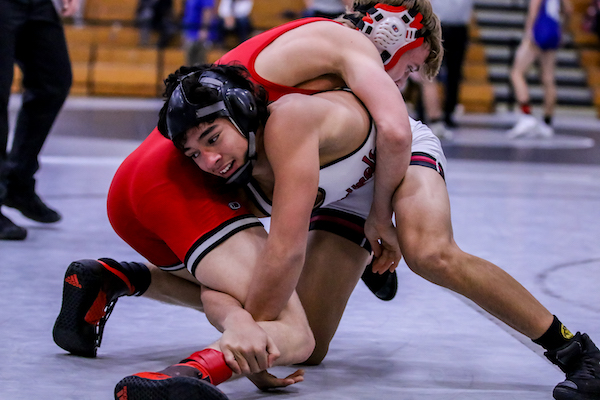 A teaching job landed Ceballos at Laguna Creek, and suddenly Martin had a master technician right in his backyard. 
"It started with helping out a couple of days, where I would go in and roll around to still be a part of the wrestling world," Ceballos said. "Coach Martin was more than welcoming to that. I was coaching my own kids for a while in youth soccer and baseball, but they got older and their game passed me up, what I could coach in those sports.
"So I had a little more time to put into wrestling, and slowly started being at practice more and going to tournaments."
Laguna Creek's young talent can motivate the whole room to get better.
Hoover and Follette are both products of the Dynasty Wrestling Club, and got their start on the Harriet G. Eddy Middle School wrestling team. Since COVID-19 stymied the 2021 season, this year provided breakout moments for them both.
Follette, ranked by SportStars as a Top 10 NorCal heavyweight, was second at Vista, won the Riddle, took eighth at the Lou Bronzan and third at the Mat Classic. He was a triple-overtime away from the Division II finals, but slipped to NorCal No. 9 Luke Levengood of Vacaville in a 3-2 semifinal thriller. Levengood, third at Masters, also ended Follette's season in that tournament with a one-point win.
"I have to work on my snatch singles (takedown grabbing the leg), and top game to win those matches," Follette said. "I just want to bring the intensity and make sure I have the best gas tank to keep going.
"You have to be confident in yourself."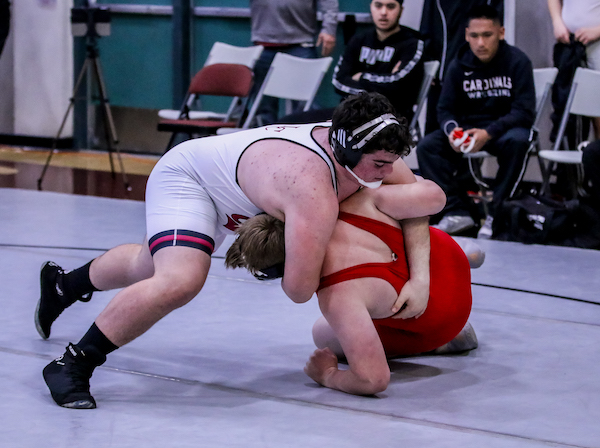 Follette said the Laguna Creek family has been a big reason for his growth.
"I have amazing practice partners, and wrestle with the best coaches," he said. "They all show me what I need to do.
"(Hoover) is my dog, and we wrestle together in the offseason and are really close. We start and end dual meets and 100 percent are trying to bring the wrestling room closer together."
CIF action begins Feb. 24 at Mechanics Banks Arena. All the matches will be tough, but Laguna Creek is on the rise and ready for challenges.