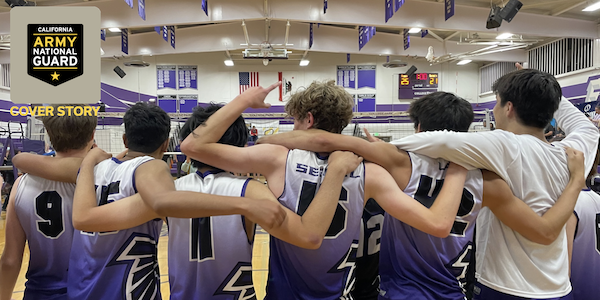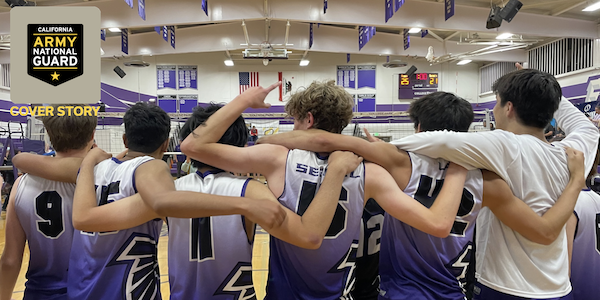 A College Park Volleyball Team Led By 10 Seniors Played Through Aches, Pain And Relentless Opponents To Claim The Program's First Title In 14...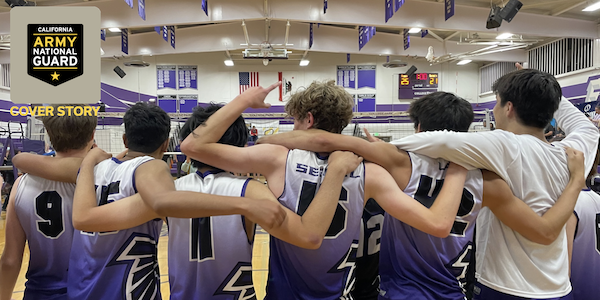 A College Park Volleyball Team Led By 10 Seniors Played Through Aches, Pain And Relentless Opponents To Claim The Program's First Title In 14 Years •
It took a while for the reverberations to calm down on the gym floor at College Park High in Pleasant Hill. The wild celebration the Falcons broke into after capturing the North Coast Section Division I boys volleyball championship on May 12 against Amador Valley-Pleasanton rocked their gym loudly for several minutes.
Before a raucous crowd, the No. 1 seed Falcons (28-6) won their first NCS title since 2008 with a 28-26, 25-20, 21-25, 25-21 victory over the No. 2 Dons, who were the most recent NCS Division I champions (2019). This 1 vs. 2 matchup was full-throttle intensity, high-impact volleyball from start to finish.
"We play with a lot of heart, and everyone will put their body after the ball," Falcons star outside hitter/setter Trevor Lau said after the win.
Count Lau among those daredevils. He dislocated his pinky finger on a block at one point, got it popped back into place and went back into action as if nothing happened.
"It's his desire and his passion," College Park coach Steve Hieta said of Lau. "There was no way he was going to step off the court and let his team down, by any means. He's dynamic, a really dynamic kind of player."
Both teams advanced to the CIF Northern California regional playoffs with College Park getting the fuzzier end of the lollipop.
_______________________________
CONNECT WITH US:
Follow SportStars on Twitter & Instagram | Like us on Facebook | Subscribe!
_______________________________
With the CIF basing its brackets purely on competitive equity, and not enrollment, the Falcons were considered among NorCal's Top 8 teams — but No. 8 among them. That meant a first-round road trip to 35-2 Central Coast Section champion St. Francis-Mountain View on May 17. The results went as you might expect. The Lancers defeated the Falcons in four sets, 26-24, 23-25, 25-18 and 25-18, and would go on to claim the regional title.
As for Amador Valley, they dropped into the Div. II bracket and picked up a No. 3 seed and home opener with Vista del Lago-Folsom. The Dons advanced with a four-set win before falling in the semifinals to eventual-champion Woodcreek-Roseville.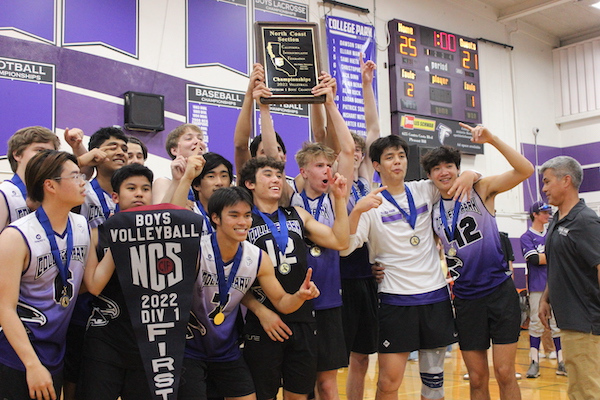 After the Falcons won the NCS final's first two furiously paced sets, the Dons (27-7) surged and held a comfortable margin most of the way to take the third set. Still it wasn't easy for the Dons to seal that set, as three late kills by Lau demonstrated the Falcons were en route to recapturing the magic of the first two sets.
"It's hard to keep the momentum when your team is down by five and you have to keep playing," senior middle hitter Peter Berardini said. "Game four, we knew we weren't losing it."
College Park's resilience showed the maturity of the team that boasts 10 seniors, coach Steve Hieta said.
"The players are mature in a volleyball sense, and you could see that in the third game in not getting down and taking that momentum," Hieta said. "For them, I think they realized what our ultimate goal is … we wanted an NCS title. A league title along the way is nice to have, but the NCS title is what we really really wanted for these boys."
Still, the Dons kept the pressure on College Park in game 4. In what looked like a match-altering moment, Amador Valley built a 15-13 lead on a kill by Bryce Nohava, and the home crowd grew hushed when Lau crashed to the floor and appeared to be shaken up.
Appearances can be deceiving.
Lau stayed in the fray and kept delivering the high-caliber, high-impact style that led to a volleyball scholarship to Cal State Northridge.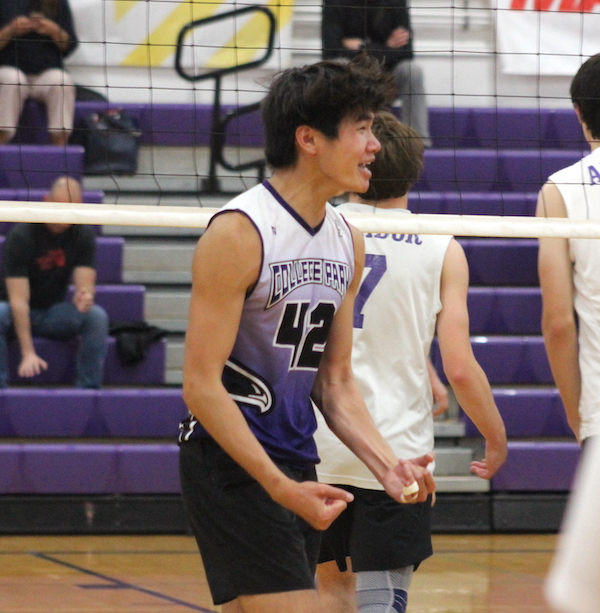 "He cares about winning more than his body," junior middle hitter Caden Mays said of Lau.
Momentum swung back and forth from the Dons to the Falcons and back and forth again. The teams drew ties at 15-15, 16-16, 17-17, 18-18.
Finally Lau elevated for a furious spike kill that brought the crowd to its feet.
After a timeout, College Park righted the ship on what had been an up and down serving game. The 6-foot-5 Berardini blasted back-to-back aces to put the Falcons up 21-18 for a lead that was theirs for good.
"I knew Peter was going to come back," Mays said. "He's been a monster server back there the entire year. And so it was just a matter of time."
A block by Mays ended a dynamic rally and put College Park up 23-20. Junior Nathan Clinton delivered an impressive kill that showed the Dons' determination. But another impressive Lau kill set up an opportunity for match point. That came on a tip-over from Logan Gomez, one of College Park's core-four with Sami Hieta, Berardini and Lau, who all played varsity together four years and learned to stay focused when things don't go right.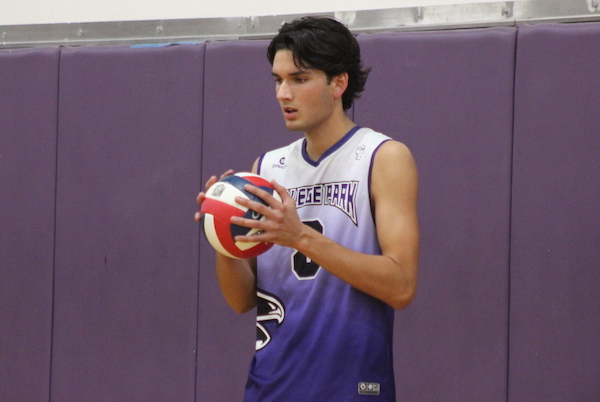 "What they do really well is they support each other on the court, from a team perspective, and they have short memories and they are on to the next play," Steve Hieta said. "So they are always pushing. Sure, we have got Trevor, but it's a team effort." 
Getting to a championship game was a long wait for both teams. As the 2019 defending NCS Division I champion, Amador Valley watched two straight school years go by without any playoffs. The Dons had delivered the Falcons their only loss in the abbreviated spring 2021 season that had no postseason.
For Hieta, himself a 1988 College Park graduate, he was pleased to see his players get to complete a full season, not to mention win an NCS championship.
"I've known some of these kids since they were 9 years old," he said. "For them to have a regular season as their senior year was … it's a relief, it's exciting, it's good for the boys. They need this."
Amador Valley entered the playoffs off an impressive East Bay Athletic League championship run, winning that competitive league with a 16-2 record, two games ahead of both De La Salle and Granada-Livermore.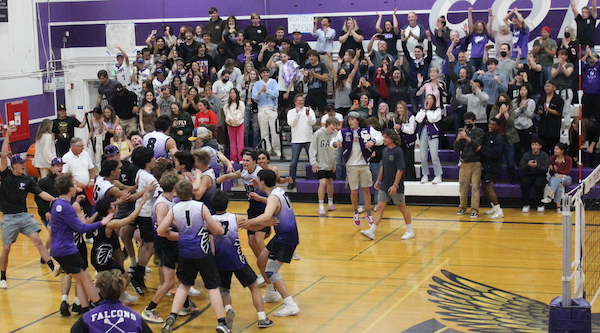 This spring, College Park didn't even win its league title, dropping both Diablo Athletic League-Foothill matchups to Campolindo-Moraga. Considering Campolindo went on to sweep De La Salle-Concord to take the NCS Division II championship, the league's cachet has surely shot up a notch. 
"Once everyone's up and everyone's playing well, nothing can stop us," Berardini said.