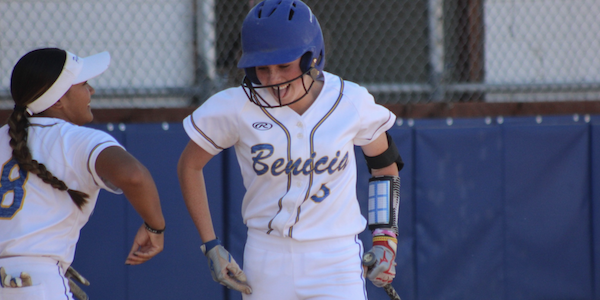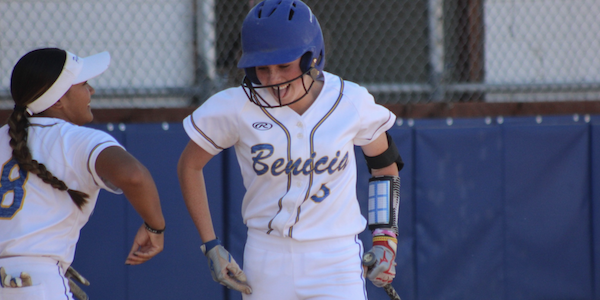 In The Midst Of A Strong Second Half — And On The Verge Of A League Title — A Young, Talented Benicia Softball Team Is Ripening...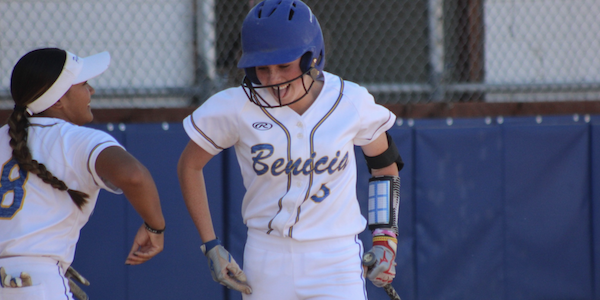 In The Midst Of A Strong Second Half — And On The Verge Of A League Title — A Young, Talented Benicia Softball Team Is Ripening Just In Time For An NCS Title Run •
PICTURED ABOVE: Freshman Emma French Smiles Following A High-Five With Senior Robynn Balmediano After Scoring A 5th Inning Run. (Chace Bryson photos)
With her 11th strikeout of the afternoon, Benicia softball junior pitcher Braxton Brown punctuated the victory and the Panthers nonchalantly jogged off the field to form their victory huddle. 
The energy was up, but the 6-3 win at Clayton Valley-Concord which lifted the team into first place in the Diablo Athletic League-Foothill Division wasn't going to be over-celebrated. 
The Benicia softball program is no stranger to success. And the last two weeks of the regular season are simply part of the grind. 
"We just want to win," senior second baseman Lorenzza Marcacci said after the victory. "We want to take it all. Go big every single game. Stay in every game. Focus every game. Win every game. Win every at bat. Really just win."
The win over Clayton Valley on May 3 was the Panthers' 17th of the season. Perhaps none more notable than a 3-2 defeat of Granada-Livermore at the Livermore Stampede Tournament in early April. Granada went on to win that tournament and has been NorCal's No. 1 ranked team ever since. 
Through May 5, Benicia continued to be Granada's only loss.
_______________________________
CONNECT WITH US:
Follow SportStars on Twitter & Instagram | Like us on Facebook | Subscribe!
_______________________________
Even with that win, Benicia has spent most of the 2022 season in the shadows of other Bay Area programs, held back by a couple of tough extra-inning losses to a pair of good, yet non-ranked teams. 
However, a team that started three freshmen and a sophomore in the first-place showdown at Clayton Valley has built up some serious momentum. And perhaps has carved out an identity that's more than just "The Team That Beat Granada"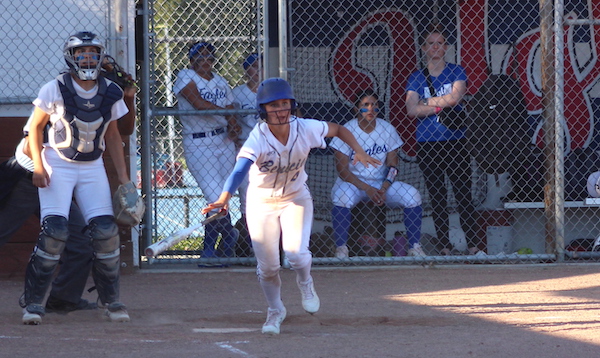 "We're just trying to play Panther Softball," Benicia coach Kristin Grubbs said. "Continue the legacy that we've had for many years leading up to this. … When you start with such a young team, (those younger players) don't know what high school softball is like. They don't know what playoffs are like.
"Beating Granada showed my girls, if not the softball community as a whole, that when we're on point we're hard to beat."
Aside from a small blip in the bottom of the sixth, the Panthers were certainly on point against Clayton Valley.
Benicia never trailed against an Ugly Eagles team that entered the contest with a 15-3 overall record and just one DAL-Foothill loss. The Panthers scored one in the first and one in the fourth before busting the game open with a three-run fifth inning.
"Our offense was definitely the key today," senior center fielder Robynn Balmediano said. "Adjusting to their pitcher and the outside pitch. Seeing the ball and hitting it hard."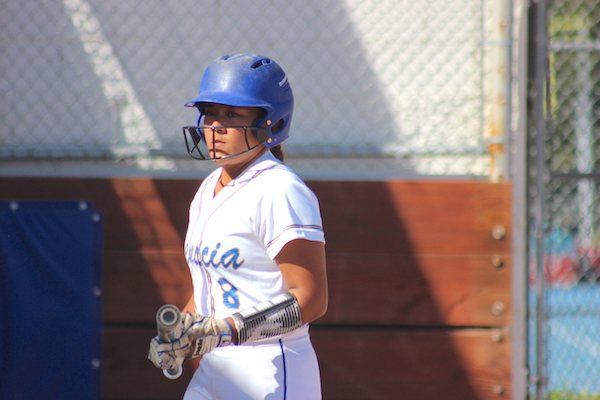 Benicia piled up 12 hits in the win, with doubles by juniors Denise Pauletich and Hailey Weddington, and a triple by Marcacci. Bre Gomez and Ary Banks combined to go 2-for-2 off the bench for the Panthers. Banks' hit drove in a run. 
Meanwhile, Brown was especially good in the circle. She didn't surrender her first hit until the fourth inning and gave up just three overall.
"She's a beast," Grubbs said of her pitcher. "She's been our workhorse. She gets in that circle and she's going to give us 110 percent every single time. I couldn't ask for much more from her in these big games then to step in there and continue to do her job and not be fazed by too much."
Her ability to stay unfazed was tested against Clayton Valley. All three of the Ugly Eagles' runs were unearned following a dropped pop up that would've ended the bottom of the sixth and stranded a pair of runners on base. 
Late inning mistakes also nearly cost the Panthers their win over Granada. The Matadors used a pair of errors to tie the game in the bottom of the sixth, and Grubbs' frustration boiled over, yelling from the dugout about how the team needed to learn how to finish games. 
A month later, the Panthers didn't panic after letting Clayton Valley back into the game. Marcacci tripled to open the top of the seventh and Banks brought her home with a sacrifice fly.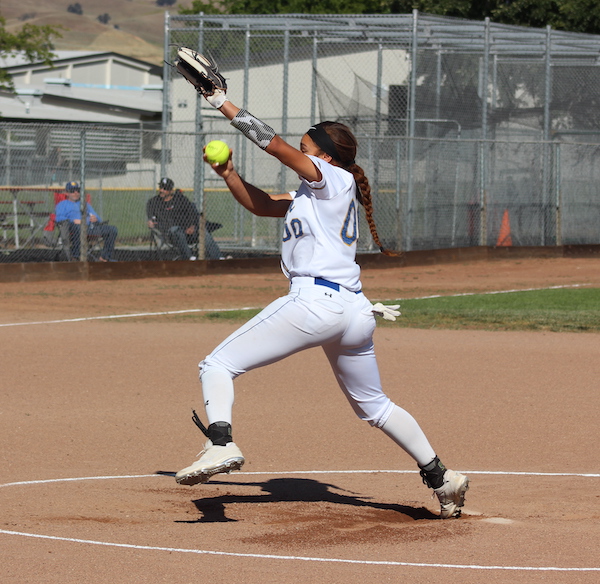 "You have to be learning," Grubbs said. "We learned in that Granada game, if we make mistakes we've got to recover. We just need to rely on each other."
With this young roster, Grubbs has relied a lot on her five seniors — and they haven't let her down.
"I can't say enough about my senior leadership this season," the coach said. "Over half of my team are underclassmen. Coming after COVID and us not having full seasons, and with this team being so young, we are successful because of my senior leadership. If those kids were not here encouraging, fighting and supporting (the underclassmen), there's no way we're in this game today, let alone in the spot we are right now."
A DAL title would all but assure the Panthers have a top four seed in the North Coast Section Division II playoffs. Benicia has one NCS title, a 3A East Bay crown in 2000. The following season, the school began an 18-year stint as part of the Sac-Joaquin Section.
The Panthers won three SJS titles. One in Div. II (2014) and a pair in Div. III (2017, 2018). They were also runners-up in 2009 and 2016. In the only postseason since their return to the NCS, they earned the No. 2 seed but were upset by Antioch in the 2019 quarterfinals.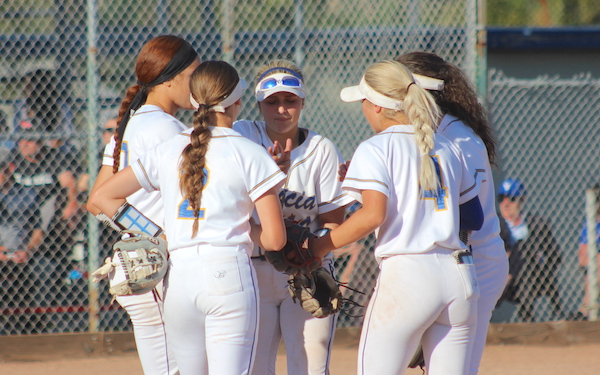 Marcacci, a UNLV commit, and Balmediano (Santa Clara), were each part of that 2019 team as freshmen. Both say this team is different. 
"We all want it," Marcacci said. "The younger players want it. The older players want it. My freshman year, I feel like the olders sort of gave it away while the youngers were pushing. That won't be the case this season."