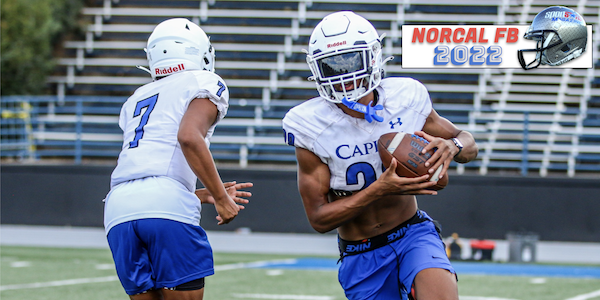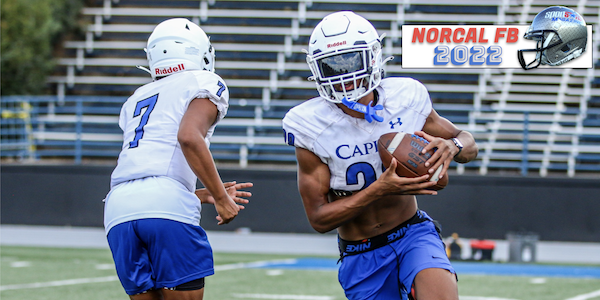 With A Turbulent 2021 Behind Them, Capital Christian Football Staff And Players Open The Season Happy To Keep Their Battles On The Field •...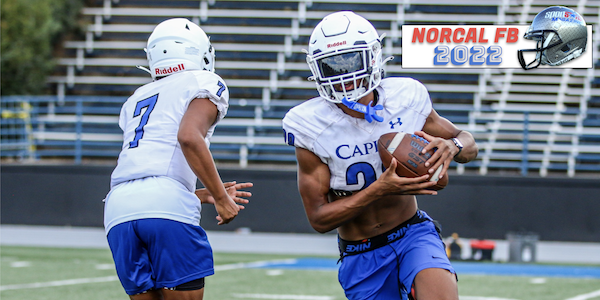 With A Turbulent 2021 Behind Them, Capital Christian Football Staff And Players Open The Season Happy To Keep Their Battles On The Field •
PICTURED ABOVE: Capital Christian senior WR Kanye Clark. (Ike Dodson photos)
The Capital Christian football program battled throughout the Fall 2021 season.
On the field and in the courtroom.
The Cougars were one of four teams put on probation before the season started for playing football while competition was banned during the 2020 pandemic shutdown, but the school challenged the sanctions with the hopes of earning a shot at the postseason.
"We had faith until the end of the season while the litigation was still going," Capital Christian football coach Saul Patu said. "We kept the faith and worried only about what we could control."
In the end a judge ruled against the school's request for an injunction, and Capital Christian's 7-3 record, including a dominating 6-0 run through the Capital Athletic League, would be all that the team would have to show for the season. No section and state title runs, but rather an abrupt end despite the hard work put in by players and coaches.
A generous donor helped Patu and the program purchase league championship rings for the Cougars to provide a positive spin to the bitter end of a hard-fought season.
_______________________________
CONNECT WITH US:
Follow SportStars on Twitter & Instagram | Like us on Facebook | Subscribe!
_______________________________
"Those rings represented the hard work put in by everyone involved in the program," Patu said. "We felt we did things the right way for the right reasons, and that we earned that championship and those rings."
Capital Christian is prepared to defend its CAL title and make a legitimate run at the playoffs. The Cougars' postseason ban is over, and the team will carry more than just a league title defense into the new season that begins Friday when they host state-ranked Lincoln-San Diego..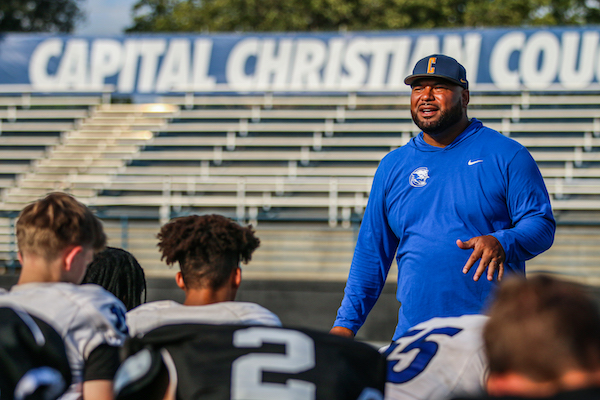 "A lot of us have a huge chip on our shoulder this season," senior center Ty Kubicek said. "We are more motivated than ever. We felt like we could have gone far (in the playoffs), but we're even better now."
A true full offseason provided Capital Christian with the opportunity to finally transition and adjust to Patu and his evolving coaching staff. And, with the uncertainty of COVID restrictions and the cloud of litigation lifted, the Cougars could focus entirely on the football field.
"It's finally starting to feel like things are back to normal," Patu said. "Our numbers are up, so we can have a JV team again this year, and we have buy-in from the players with the transition feeling complete."
The good feelings of hope and optimism entering the season will be tested immediately as the Cougars open the season with home contests against San Diego Section power Lincoln and Southern Section stalwart Bishop Diego-Santa Barbara before traveling to the 2021 Sac-Joaquin Section Division I runner-up, Rocklin.
"Our early schedule is challenging, but we believe it has value to play strong competition early," Patu said. "It will be a good test and temperature check to see where our guys are at and where we are as a team."
The team returns a load of talent on both sides of the ball, and will rely on strength and depth in the trenches as well as skill positions.
Kubicek, a senior lineman who started on both sides of the ball as a junior, will move to center on offense, and rotate in on the defensive line. The former hybrid linebacker/lineman has bulked up and focused on leading the offense from his new position, which in turn, has led to increased interest from college programs.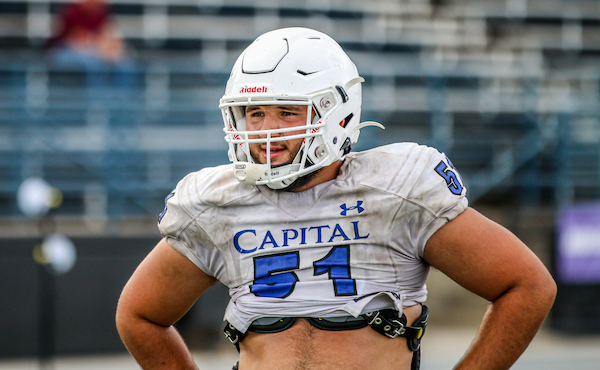 Kubicek is one of many Cougars getting attention from recruiters. Senior Kanye Clark leads a solid core of receivers that will be catching passes from new quarterback Eddie Brusuelas. Clark led the team with 41 catches, 1,006 receiving yards and 13 touchdowns as a junior. Meanwhile, Brusuelas played in just two games as a sophomore understudy to Anthony Garcia (now at San Jose State).
Brusuelas is athletic and poses a dual threat under center. His development will be dependent on the play of a big and experienced offensive line to give him time to find an open receiver or running lane. In addition to Clark, junior WR Kayo Patu (429 yards receiving, 8 TDs), senior WR Jayden Nolen (19.9 yards per catch, 2 receiving TDs), and versatile sophomore RB Malakai Taione give Brusuelas plenty of weapons to target.
Coach Patu and Kubicek both pointed to big bodies in the trenches as key elements to Capital's success. Seniors Nate Lynch (6-6, 330), John-Henry Rouse (6-2, 270) and Tito Mavae (6-2, 295) give the Cougars big bodies on both sides of the ball that could make life difficult for opponents.
"We set the tone on the line," Kubicek said. "We feel like we can make things happen and make things easier for Eddie and the offense."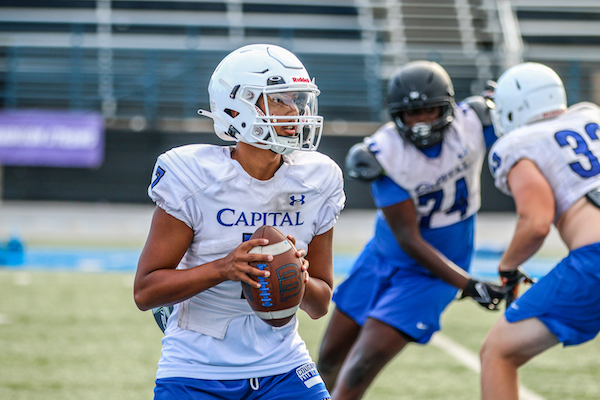 The Cougars averaged 52 points per game in their seven wins last season, and the team believes that it can be just as potent this year. Even if the scoring is down from the half-century mark, a solid defense with returning and new talent can keep Capital Christian on the right side of the scoreboard.
Kayo Patu and Clark combined for seven interceptions in 2021, and they will be joined in the secondary by Nolen and senior Tevita Vaea. Nolen is a 6-foot-4 defender with a basketball background and Vaea stands at 6-foot even and doubles as a rugby star. Both had outstanding camp seasons.
The camps and additional offseason camaraderie afforded by a full offseason also provided extra time for bonding among the players and coaching staff. Take away the added burden of litigation and the team's potential appears limitless.
"With the football season back in the fall last year, a lot of guys were able to play basketball and run track together, so we were able to get a lot closer as a team," Kubicek added. "We could fully plan out the season with the coaching staff and we don't have to worry about any of the extra stuff from last year.
"We just want to go out and win games."