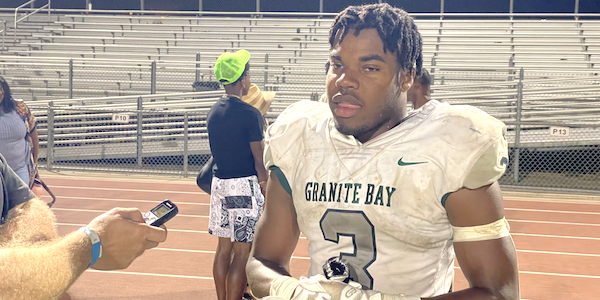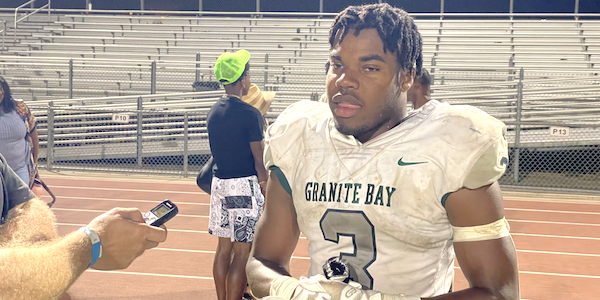 Sophomore Carter Jackson Leads Granite Bay Running Back Group That Smashed Elk Grove Before Smashing That "Like" Button • PICTURED ABOVE: Carter Jackson Talks...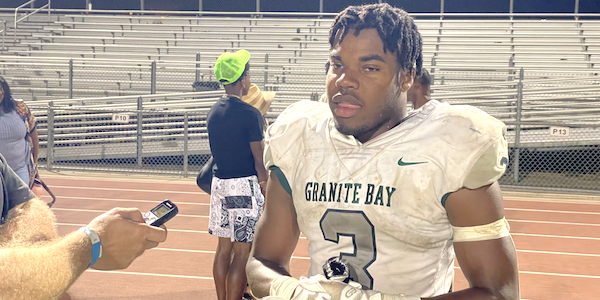 Sophomore Carter Jackson Leads Granite Bay Running Back Group That Smashed Elk Grove Before Smashing That "Like" Button •
PICTURED ABOVE: Carter Jackson Talks To Media After His 4 TD Effort. (Chace Bryson photos)
It's been a good night when you're able to check your Twitter mentions before the final horn sounds. Carter Jackson had that kind of night.
After a four touchdown performance, including three in the second half, the Granite Bay sophomore running back was able to drop a few "likes" over the final two minutes of a 34-12 season-opening win at Elk Grove on Friday.
Jackson showcased a bit of power and a lot of burst in piling up 124 rushing yards on 16 carries. He scored the game's first touchdown by burrowing through several bodies for a 1-yard TD run. His second touchdown was a 41-yard untouched sprint through the Thundering Herd defense that put the Grizzlies ahead 20-6 midway through the third quarter.
He tacked on scoring runs of 20 and 5 yards to close out his evening.
Not bad for his first varsity action, and his first game with a new school. Jackson transferred to Granite Bay this season after holding a starring role for an undefeated Folsom junior varsity team in 2021.
🙏🏾 https://t.co/NfLVJ2S8mW — Carter Jackson (@cj_jacks2215) August 20, 2022
"It was a hard fought game in the beginning," Jackson said. "I was getting my jitters out, and I was like, 'Dang, this is really varsity.' That second half, I really locked in and I was like 'OK, I'm going to go back to my fundamentals.'"
Jackson rushed for 101 of his 124 yards in the second half. 
Zaire Collier, a three-star interior lineman for the Grizzlies, said they've been seeing Jackson flash like that in practice as well.
_______________________________
CONNECT WITH US:
Follow SportStars on Twitter & Instagram | Like us on Facebook | Subscribe!
_______________________________
"It really wasn't a shock for us," Collier said. "We were just happy he got to display it in front of everyone else."
Senior quarterback McCade Long, who completed 5 of 6 passes for 72 yards, cracked a big smile and chuckled when asked if they'll let Jackson stick around awhile.
"We definitely will," Long said. "I didn't know what to expect. We had a rough first quarter, but we fought back and he had a helluva game. Yeah, he's sticking around for sure."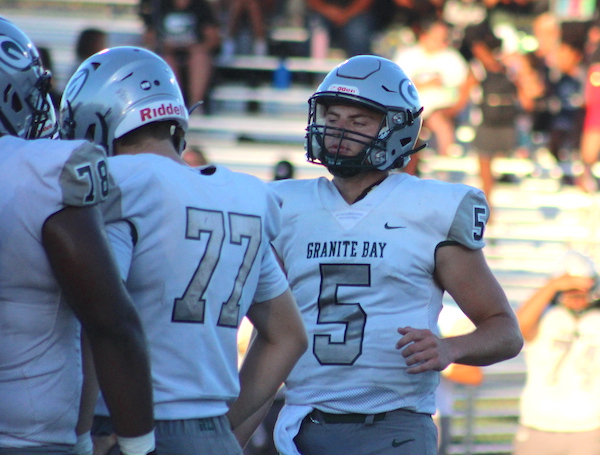 Jackson was only part of a big night for the Granite Bay rushing game. Six different ball carries, including Long, combined to rush for 338 yards and an average of nearly 7.9 per carry. 
Freshman Isaiah Ene was able to shed several tacklers en route to a punishing 90 yards on 11 carries. Senior Stryder Munoz needed just six carries to rack up 77 yards. Jackson, Ene and Munoz each had at least one run of 30-plus yards.
Senior receiver Samuel Fisher rushed for 28 yards on four carries and had Granite Bay's only other touchdown, a 17-yard end around that gave the Grizzlies a 13-0 halftime lead.
"So I thought they (all) ran hard, and I thought our kids blocked well up front against obviously a good defensive group," second-year Grizzlies coach Joe Cattolico said. "They did a nice job. We feel like we have some depth at that spot and we were able to show some of that tonight."
Jackson definitely didn't hesitate to praise Collier and the rest of the offensive line.
"Zaire is great. He's phenomenal," the sophomore said. "This is the best line I've ever run behind and I couldn't be more grateful. I think we're going to do great things this season and we're going to surprise a lot of people. We're going to come strong and turn a lot of heads."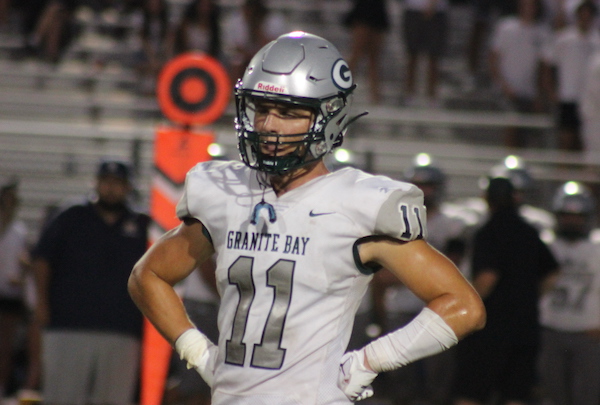 The Grizzlies entered the game ranked No. 18 in the SportStars NorCal Top 20 Rankings. They will almost certainly be heavily favored in home games against Davis and Vista del Lago-Folsom and an Honor Bowl matchup with Spanish Springs-Reno to close out their nonleague season. 
Then the fun begins.
The Sierra Foothill League went a collective 5-1 in the Sac-Joaquin Section's opening night. The one loss actually belonged to Rocklin, the team that entered the night ranked No. 10 in NorCal. The Thunder lost 14-7 on the road to Turlock.
Long was encouraged by his team's opening effort but noted there was a daunting schedule ahead .
"As teams get progressively better we need to as well," he said. "We need to have a good start and not just a good second half like we did today."
More efforts where starters can check their phones in the final minutes will certainly help.