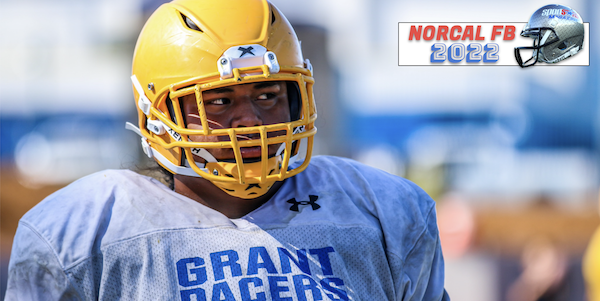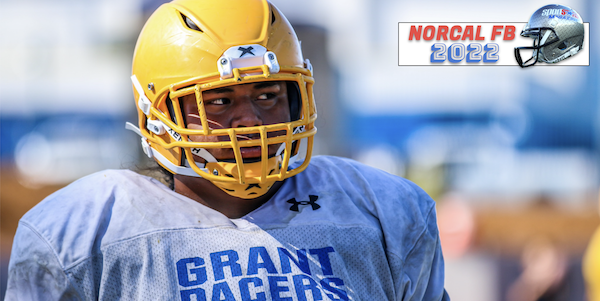 Led By USC-Bound Lineman Alani Noa, Grant Is Building From The Inside Out As The Long-Respected Sac-Joaquin Section Power Looks To Rise From A...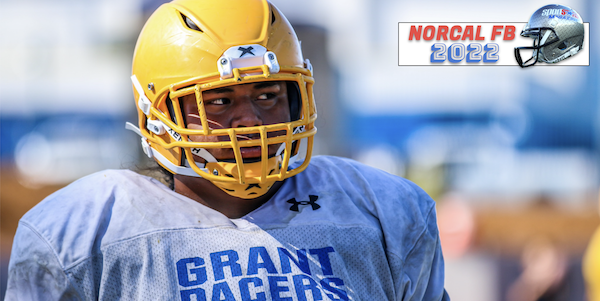 Led By USC-Bound Lineman Alani Noa, Grant Is Building From The Inside Out As The Long-Respected Sac-Joaquin Section Power Looks To Rise From A Five-Year Swoon •
PICTURED ABOVE: Grant senior lineman, Alani Noa. (Ike Dodson photos)
To resurrect one of the most storied football programs in Northern California history, second-year Grant-Sacramento coach Carl Reed has taken an introspective path.
Following Grant's 17th consecutive loss, which ended the 2021 campaign and extended the school's worst-ever losing streak, Reed began exit interviews with both outbound seniors and returning players.
"I wanted to know, where did we come up short?" Reed said. "For underclassmen, what do they want and expect of coaches, and what are their own individual goals?
"We can change everything on the field, but if we don't change it all, we are not going to help these kids reach their goals."
Reed hopes the deep look within can help build up a program that hasn't won a game since Sept. 13 of 2019 and is just 10-32 since 2017. It's been a remarkable slide for a school that has long been a cornerstone of Sac-Joaquin Section football.
Up until 2017, Grant had gone 569-291 (with 20 ties), including seven Sac-Joaquin Section championships (eight appearances). Grant is still the only SJS team to win a CIF Open Division state bowl game, having snatched honors from heavy favorite Long Beach Poly in 2008, the year of the division's debut.
_______________________________
CONNECT WITH US:
Follow SportStars on Twitter & Instagram | Like us on Facebook | Subscribe!
_______________________________
Grant rolled to 282 wins under coach Mike Alberghini, before he departed the program in May 2021. The squad did show competitive spirit in last year's narrow losses to Inderkum-Sacramento (17-6), Edison-Stockton (27-17), Whitney-Rocklin (19-7) and Del Oro-Loomis (17-13), but lack of consistent scoring continually plagued the program.
To breathe life into a system that accumulated 72 points in nine games, Reed will demand much of two very different senior leaders.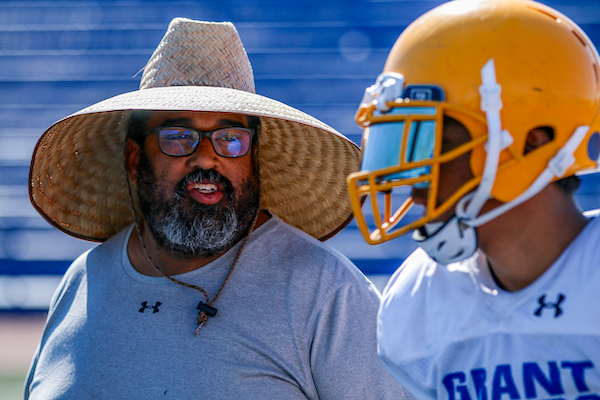 It all starts behind the quiet, serious and impossibly-hulking leader of the offensive line, 6-foot, 4-inch, 340-pound Alani Noa. He has quick feet and explosive power, but Noa is also attentive and thoughtful during position group meetings. He committed to USC on Aug. 16, choosing the Trojans over offers from Oregon, Cal and Fresno State among others.
Noa admitted the notoriety that comes with those kind of offers adds a little pressure to his Friday night, but also pointed to a similar feeling that he gets from a huge contingent of family gathered under the "Mike" in Mike Alberghini Field on the home bleachers.
"There are usually over 20 of them, and it's a lot of pressure, but it's also super motivating, hearing them in the stands when I am down on the line," Noa said. "Right before the ball snaps it gets quiet, and that's usually when I hear them."
Noa said his mother, Lola Davis, is the easiest to pick out.
"My mom doesn't really know English that well, because she speaks Tongan," Noa said. "But I can hear her yell 'Get him Lani!' (Noa crying out in falsetto), 'Lets go Lani.'"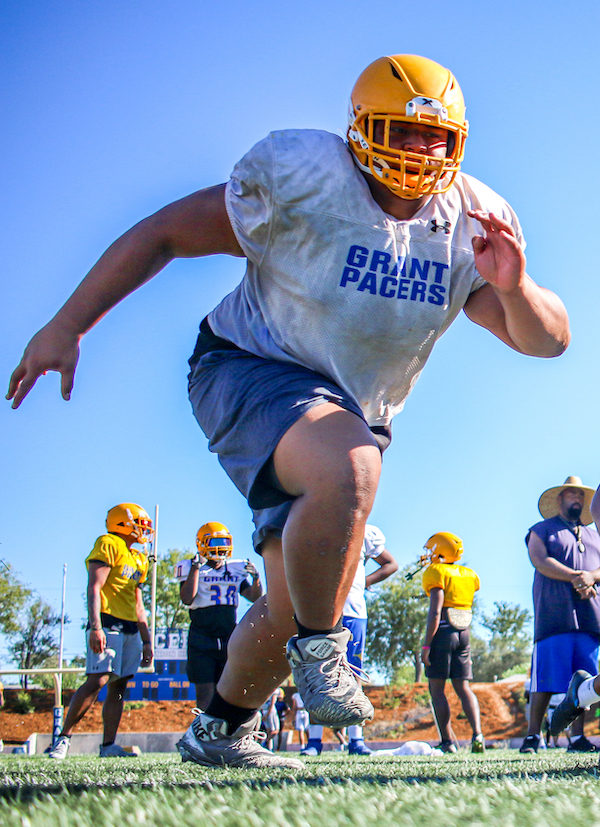 Davis and father Hiva Finau are both from Tonga. Noa's brother, Sioni Noa, is a freshman defensive end at Fresno State.
Family friends expect a lot of Alani this year. It's why he's determined to take a leadership role with the offensive line, and lead a group that will include three freshmen, with at least two of them starting. His opposite guard, senior Puka Keliikuli (6-1, 300) has offers from Adam's State and Lewis & Clark College.
The group will plow holes for the other significant leader on Grant, senior running back/linebacker, Dubee Lopa.
Lopa brings the swagger. 
He rocks a tinted visor, bounces between practice highlight moments and reminds the opposite unit that the next few plays will not get any easier.
"I feel like I bring a lot of energy to the team, and they just feed off my energy," Lopa said. "I'm ready for this opportunity — probably going to have 1,000 rushing yards and a couple touchdowns."
He was third on the depth chart last year, but Lopa's worked on his strength and speed. When Noa and Keliikuli open holes, he should be dangerous.
"I do 'slow to, fast through,'" Lopa said. "When I see (the hole), I am hitting it as fast as I can."
"In the recruiting process we always tell coaches that it comes down to who passes the eye test, and (Lopa) is a football player in every sense of the word," Reed said. "He is instinctive, has a high IQ, and he can play anywhere. He knows what the entire defense is doing."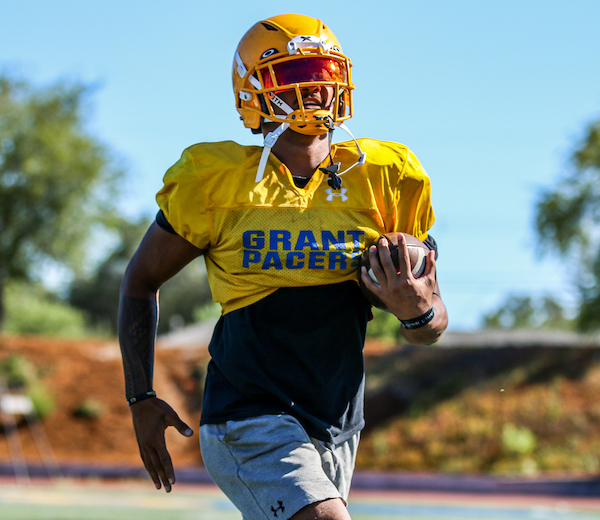 Reed hopes the passing game can set up opportunities for his rushing attack. It all comes down to quarterback JoJo McCray, since his top target is pretty well verified in 6-5, 193-pound Kingston Lopa.
Reed said McCray is good at spreading the ball around, but has a nice security blanket in Dubee's junior brother. Kingston has nine offers (for safety), including Arizona, Auburn, Oregon and Arizona State. He showed off his jump ball skills with a big grab during last week's practice. Lopa runs a 4.69 40-yard dash.
Kingston said his best attributes are hard-hitting and aggressiveness.
"Really I just want to help out my teammates," he said. "Do whatever makes the team better."
Grant's first opportunity to halt their 17-game slide is Aug. 19 at home against Nevada's McQueen-Reno. The Lancer's went 10-2 last year, and lost the 5A state football championship to national power, Bishop Gorman-Las Vegas.
It will be a serious test of Grant's ability to turn the page.