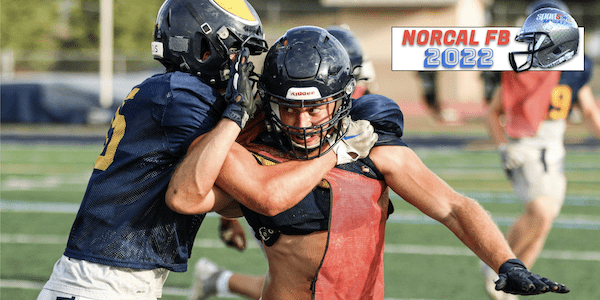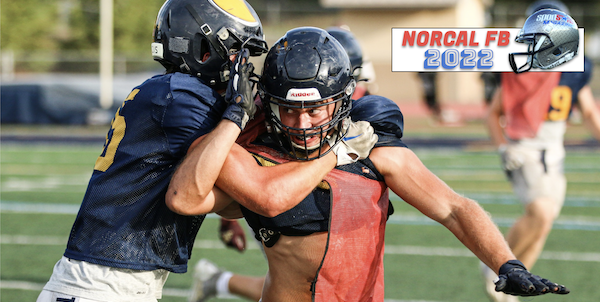 "Oak Ridge Football Doesn't Go 3-7" — Trojans Prepare To Put Rocky 2021 Behind Them As Confidence Builds For Second Season Under Coach Casey Taylor...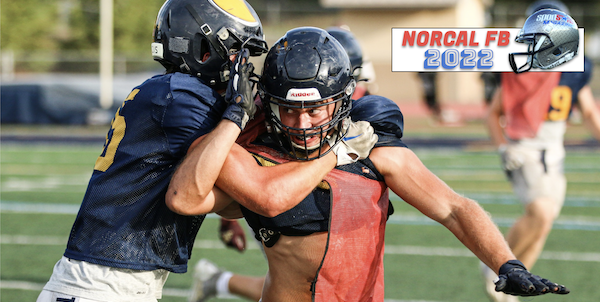 "Oak Ridge Football Doesn't Go 3-7" — Trojans Prepare To Put Rocky 2021 Behind Them As Confidence Builds For Second Season Under Coach Casey Taylor •
PICTURED ABOVE: Oak Ridge senior linebacker and captain, Conner Dasmann fights through a block. (Ike Dodson photos)
What a difference a year makes. The Oak Ridge Football team is hopeful it  will see a difference in its success in 2022 following an uncharacteristic down season.
A condensed spring season courtesy of the COVID pandemic, a new head coach joining the program in June, and new players and schemes implemented later that summer resulted in a 3-7 record and no playoff berth.
"I hate losing more than I like winning," Trojans senior quarterback Maddox Varella said. "Losing that much was tough, and we don't want to have that feeling again.
"The biggest motivation for us as a team this year is to come back and return the program to where we think it belongs. Oak Ridge football doesn't go 3-7."
Varella transferred to Oak Ridge from Ponderosa before the 2021 season, and his journey into the newness was a shared experience that this year's Trojans are excited to turn around.
A full offseason of workouts, spring practices, and 7-on-7 competition has Varella and his teammates optimistic about the program's future — starting with the pending season that arrives August 19 with a nonleague opener at Cosumnes Oaks-Elk Grove.
_______________________________
CONNECT WITH US:
Follow SportStars on Twitter & Instagram | Like us on Facebook | Subscribe!
_______________________________
"We have a full offseason under our belt and the team has really bonded well," Varella said. "This year feels like everyone is all together as one. We all get along well and hang out. It just feels so much better."
In addition to bonding opportunities, the longer offseason allowed roles to be established and coaching schemes understood. After spring workouts, the Trojans competed in more 7-on-7 tournaments than veteran head coach Casey Taylor normally enters. To close out the offseason, Oak Ridge traveled to a camp at Southern Oregon University where bonds were cemented and confidence built.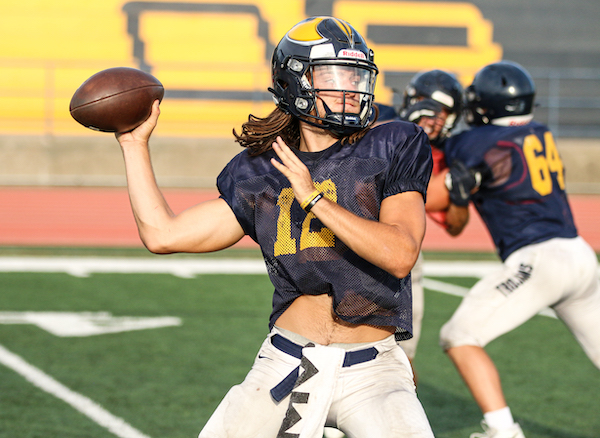 "Our trip to Southern Oregon really brought us all together," Taylor said. "The team really cares for one another and that is huge. We know that it won't be easy to get back to where we want to be, but we are up to the challenge."
The challenge facing Oak Ridge includes the gauntlet of playing in what is considered the best league in the Sac-Joaquin Section and maybe all of Northern California. After a nonleague slate that features regional powers like Vacaville and Pleasant Valley-Chico along with Oregon state champion Silverton, the Trojans open Sierra Foothill League play on September 30.
For Oak Ridge to record its first victory over local rival Folsom in 17 tries — and possibly get back to the postseason — Taylor will rely on a large group of returners on both sides of the ball. Varella, who assumed QB1 duties in Oak Ridge's final nonleague contest last season, will lead a potent offense behind a big offensive line.
"The line is improved and we have some physicality up front," Varella said of his protectors. "I think that I will have more time to make my reads and get the ball to our playmakers."
The Trojans' offensive weapons feature running backs Dwight Martin III and Jake Hall, a versatile group of tight ends, and a receiving corps headlined by senior Sebastian Sutton. Sutton, who was limited to just one game in 2021 due to injury, is expected to be Varella's primary target.
"Hands down, he is the best player I have played with," Varella said of Sutton. "He makes incredible catches and we have built a great connection."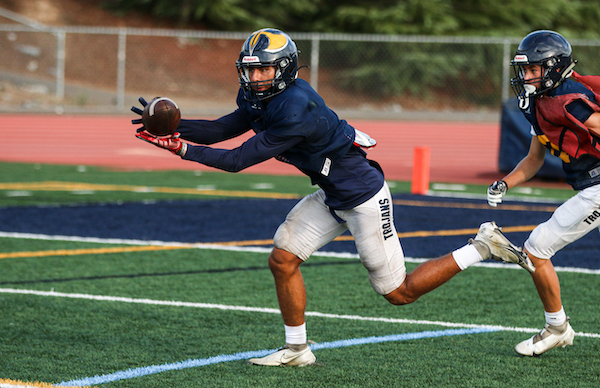 Team captain Conner Dasmann leads the Trojan defense. The senior linebacker led the team with 9.5 sacks in 10 games, and is hungry to chase down quarterbacks and stuff opposing rushers from his edge position. With a re-tooled scheme built to take advantage of Dasmann's strengths, the defense hopes to give the offense more opportunities.
"I just love to go out and make big plays," Dasmann said. "We want to make some big stops to set up the offense."
Dasmann and Varella have embraced their leadership roles.
"We definitely have a chip on our shoulders," Dasmann said of the team's mission to rebound from missing the playoffs. "We hope to use last season as motivation.
"We think that we can improve drastically and make the most of our last ride."
Taylor, an Oak Ridge alum who got his first coaching job at his alma mater more than 20 years ago, relocated to El Dorado Hills — just a block away from the campus — midway through the offseason to be closer to his team both literally and figuratively. The proximity to the school and football field is one more factor that could help turn 3-7 to 7-3.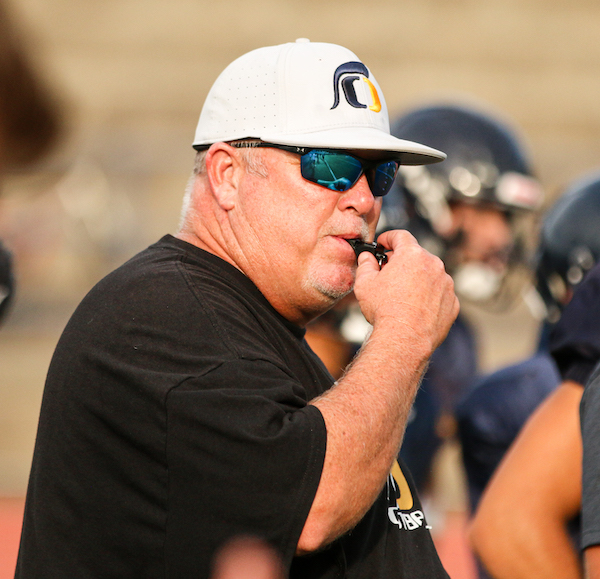 "It's been great to be in the community and be involved with the Junior Trojans program and its coaches and players," Taylor said.
"We weren't happy with last season, and we feel that we have lots to prove. We're 0-0 now, and are focused on each day, each practice, and each game. We just want to go 1-0 every week."
What a difference that would be.