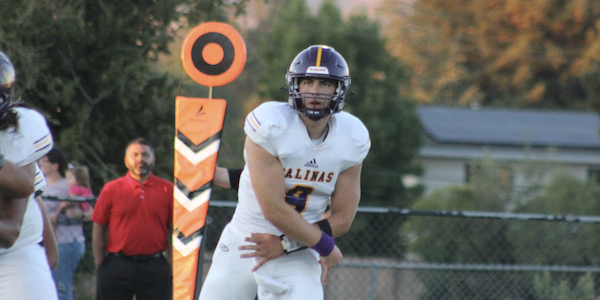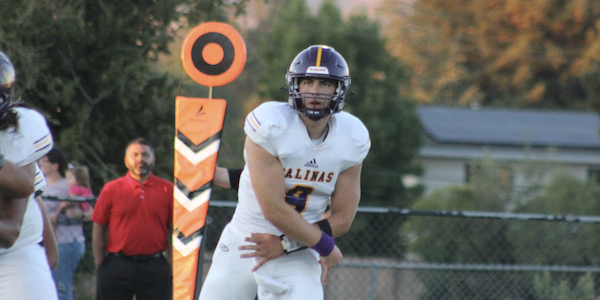 Senior-Driven Salinas Football Team Goes On The Road And Outlasts NorCal No. 9 Clayton Valley In Both Teams' Season Openers • PICTURED ABOVE: Salinas...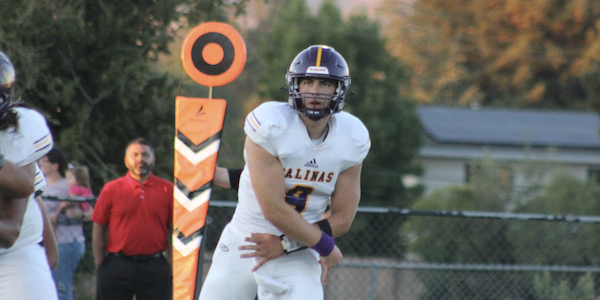 Senior-Driven Salinas Football Team Goes On The Road And Outlasts NorCal No. 9 Clayton Valley In Both Teams' Season Openers •
PICTURED ABOVE: Salinas quarterback Adam Shaffer. (Chace Bryson photos)
Salinas High senior linebacker Aidan Flynn makes big plays on the field.
He can make big plays on the bus, too.
As the Salinas football team's bus slogged its way north on an 111-mile trek toward Clayton Valley High in Concord, Flynn got in a 30-minute nap — and then zeroed in on any teammates who were sleeping longer than that.
"Coach said don't sleep longer than 45 minutes because then you start getting into the REM thing," Flynn said. "There were a couple kids, I had to go walk around the bus and wake them up."
There were no groggy Cowboys in the fourth quarter of Friday night's season opener. And the rest of Northern California probably won't be sleeping on Salinas after its 21-14 road win over the Ugly Eagles. Clayton Valley was opening the season ranked No. 9 in the SportStars Magazine NorCal Top 20; the Cowboys were at No. 14. 
A 5-yard touchdown run from senior quarterback Adam Shaffer gave Salinas the 21-14 advantage with 27 seconds left in the third quarter. Then Flynn and the defense would squash a pair of Clayton Valley fourth-quarter drives that both reached the red zone.
_______________________________
CONNECT WITH US:
Follow SportStars on Twitter & Instagram | Like us on Facebook | Subscribe!
_______________________________
The Ugly Eagles stalled out on the Salinas 5-yard line with 5:02 left in the game. Then one possession later, Josiah Garnica intercepted a ball inside the 5-yard line with 1.9 seconds left to seal the victory.
Salinas' Josiah Garnica seals a 21-14 season-opening win over Clayton Valley with this interception inside the 5 with 1.9 seconds left.
It's a final in Concord. pic.twitter.com/FGsPNKT8tC — SportStars™ Magazine (@SportStarsMag) August 27, 2022
"We're always trying to get better," Salinas football coach Steve Zenk said after the win. "We take that approach in games, that this is an opportunity to get better. And the kids really did that tonight.
"I really enjoyed that. That was a big win."
Clayton Valley owned all the momentum after the first two series of the game. Salinas turned the ball over on the game's opening possession as Shaffer was intercepted by Josh Rodriguez. The Ugly Eagles then capitalized quickly with a nine-play drive capped by a 7-yard scoring pass from Christian Aguilar to Hayezon Jackson.
Salinas would answer with the next two touchdowns, both Shaffer touchdown passes. The first went for 14 yards to Zach Ball, and the second belonged to receiver Nyziah Hunter. The Cal-bound recruit was able to outleap a pair of defenders and then sprint the remaining 35 yards untouched for a 65-yard score.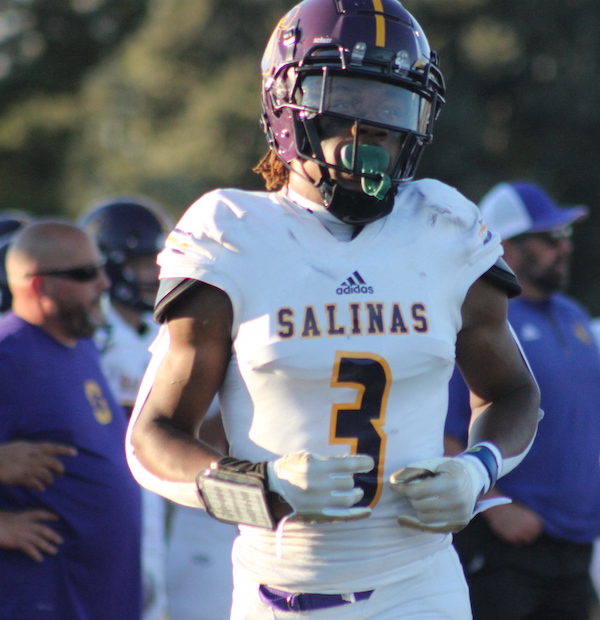 "He got even with the cornerback, so I zipped it to him," Shaffer said of his touchdown pass to Hunter. "I took a shot. I can rely on him all day."
There's a lot of trust amongst players on this Salinas football team. There's 15 returning starters, many of the three-year variety.
"We had 25 of those guys as sophomores during the spring COVID season," Zenk said. "They were on that team, which makes it 14 games in a row with the same kids. Most of them were starters then. It's been a great ride."
Clayton Valley tied the game late in the first half when Nicholas Khashabi scored on a 1-yard run. The play finished up a six-play drive that was kickstarted by Emilio Strange catching a bubble screen pass from Mason Lovett and breaking free for a 55-yard gain.
Lovett and Christian Aguilar shared time behind center for the Ugly Eagles on Friday. The time was evenly split in the first half, but Aguilar saw the majority of the time in the second half.
Both defenses came out of the intermission dialed in. Each team struggled in its first three possessions of the third quarter. On its fourth possession, Clayton Valley chose to go for it on 4th-and-8 from its own 29-yard line. Aguilar's pass fell incomplete, and that was the spark the Salinas offense needed.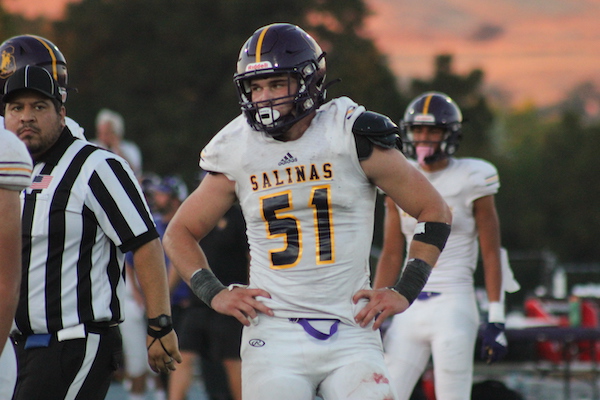 The Cowboys scored in three plays. Shaffer completed a 9-yard pass to Julian Arreola, then made up the last 20 yards with a 15-yard scamper and a 5-yard score. The senior finished the night with 18 carries for 85 yards, and also threw for 142 yards and two scores. 
"You know what? I love the crap out of this man right here," Flynn said while gesturing to a nearby-standing Shaffer after the game. "As much as I love being on the field, I try to get off the field so that he can be back on it. We make each other look good. It's a good give and take."
There's a lot of Cowboys who are making teammates look good. They will attempt to keep that going next Friday in a road game at Valley Christian-San Jose. The traditional West Catholic Athletic League power dropped its opener to No. 12 Wilcox-Santa Clara.
"When I got hired, I thought we'd be here in 10 years where we scheduled these kinds of teams," Zenk said. "We're here in six and I'm pleasantly surprised."