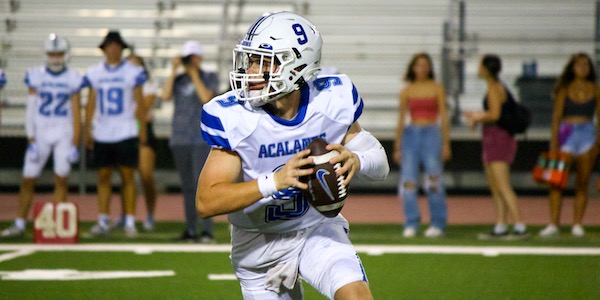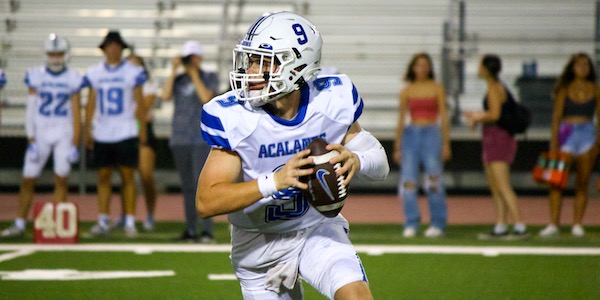 With Big Plays At The Right Time, The Acalanes Football Team Came From Behind To Beat Sheldon-Sacramento And Remain Unbeaten • PICTURED ABOVE: Acalanes...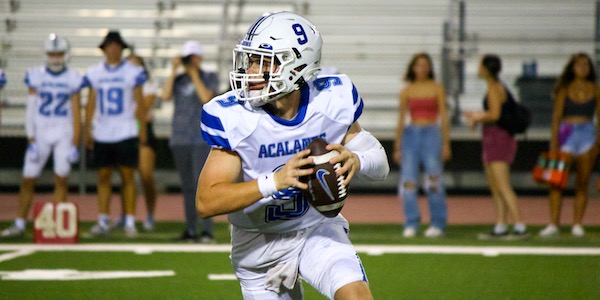 With Big Plays At The Right Time, The Acalanes Football Team Came From Behind To Beat Sheldon-Sacramento And Remain Unbeaten •
PICTURED ABOVE: Acalanes junior QB Sully Bailey. (Ben Enos photos)
Check, check, check.
For three-plus quarters against host Sheldon-Sacramento, the Acalanes football team executed its game plan. Bubble screens and quick passes helped the Dons avoid a fierce Huskies pass rush and led to a back-and-forth offensive slugfest.
Call it efficient football or perhaps the best kind of slow play, but with the game on the line, Acalanes coach Floyd Burnsed knew just what to do with a winning hand.
A double pass with just over five minutes to play produced the game-tying score and Ellis Burger's 55-yard touchdown run a few moments later put the Dons ahead for good as the Lafayette school grabbed a significant early season win over the previously-undefeated Huskies with a 42-35 triumph on a hot night in South Sacramento.
For the moment, the win represents another step in the building process for an evolving Dons squad.
Check back in a few weeks though, and the tenacity displayed in beating a strong Sheldon team might look more like a turning point than just a win on the ledger.
_______________________________
CONNECT WITH US:
Follow SportStars on Twitter & Instagram | Like us on Facebook | Subscribe!
_______________________________
Against the Huskies, Acalanes employed the same personnel strategy it had in early season wins over San Marin-Novato and Bishop O'Dowd-Oakland. With two capable quarterbacks vying for playing time, Burnsed used both. Junior left-hander Sully Bailey got the first half, junior right-hander Jake Boselli got the second half, and the tandem combined to throw for 273 yards and two touchdowns with no interceptions.
The differences between Acalanes' two signal-callers might stop with the arm they use to throw.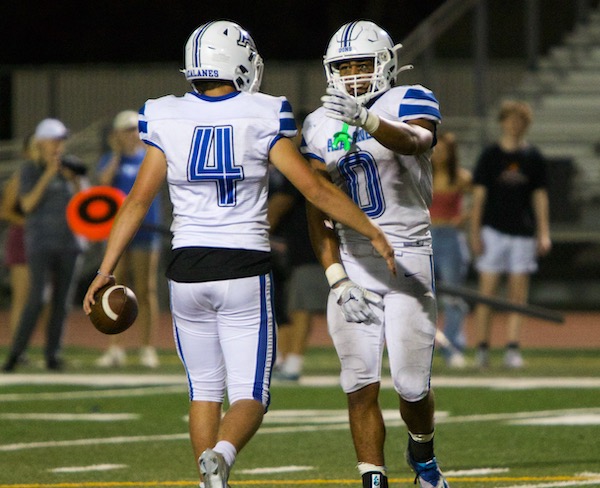 "One's a righty, one's a lefty, both are great at throwing the ball and getting it around," said junior receiver Trevor Rogers. "They love the program and they love to go out there and ball out. I trust both of them with my life. If they throw a ball, I'm going to go out there and get it."
Rogers was the main target against Sheldon, and he was on the receiving end of the game's pivotal play. After a touchdown pass from Jesiah Machado to Tylen Lomax put the Huskies up 35-27 with 5:25 to play, Acalanes got its chance at a game-tying drive.
The Dons needed just one play. Boselli threw what looked like another bubble screen to senior Ethan Torres, but this time the horizontal pass stayed behind Boselli as a lateral. Torres pulled up, looked downfield, and fired to a wide-open Rogers for a 65-yard touchdown pass. Boselli followed with a 2-point conversion pass to Jake Takeuchi, and with 5:13 left the game stood tied at 35.
"We'd been practicing it all week," said Rogers, who finished with eight receptions for 166 yards and three TDs. "We'd seen their corners were a little jumpy and we knew we liked to play aggressive. It's a great call by Coach Burnsed. We set it up all game with the screens, the bubbles, the jailbreaks. We eventually threw it and it worked."
Sheldon got its chance to re-take the lead, but the Acalanes defense stiffened, forcing a punt with just under three minutes to play. Again, it took just one play for the Dons to find the end zone, and Burger's 55-yard run put Acalanes back in front. The senior finished the night with 116 yards and two touchdowns.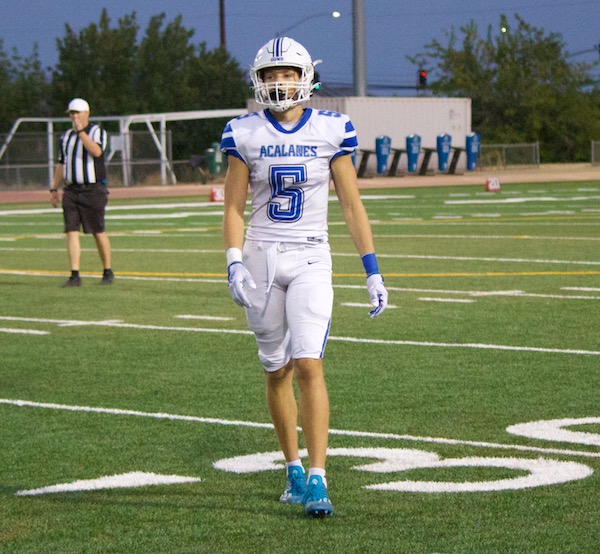 "It's really his first year of playing running back. He was a backup last year and got a little bit of playing time but he's learning how to play the position," Burnsed said. "Tonight, I thought he ran really hard. He took some shots and gave some shots. He played really well."
For all the offensive highlights, Burnsed pointed first to his team's defensive effort in holding a Sheldon team that came into the game averaging 58 points a game to just 35 points. Highly touted Huskies running back Devin Green racked up 141 yards, but only 28 came after halftime.
The Dons defense also made the most plays late in the game, giving them a chance to push in front.
"I was really proud of our defense. I know that running back is a Division I guy and I didn't know if we could even slow him down. I thought our defense did a great job," Burnsed said. "Offensively, we executed real well. Threw the ball real well. We pretty much worked our game plan, which was a lot of screens because we were worried about protection, and we just made plays. It came down to that."
The total team nature of a quality road victory should serve the Dons well moving forward. Now 3-0, they should be prohibitive favorites in remaining nonleague contests against Redwood-Larkspur and Oakland. Diablo Athletic League-Foothill Division play begins the first two weeks of October with critical matchups against Las Lomas-Walnut Creek and Campolindo-Moraga.
"I think this set a lot of the tone. We were in this position last year, (a couple) wins and we lost one to a good team," Burger said. "This year, we came in with more heart and I think it could really set the tone for the season."
Based on the effort required to weather the heat and a quality Sac-Joaquin Section opponent, it looks like the Dons are ready to go all in in their pursuit of postseason glory.