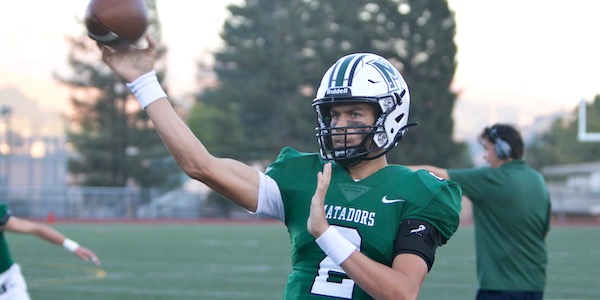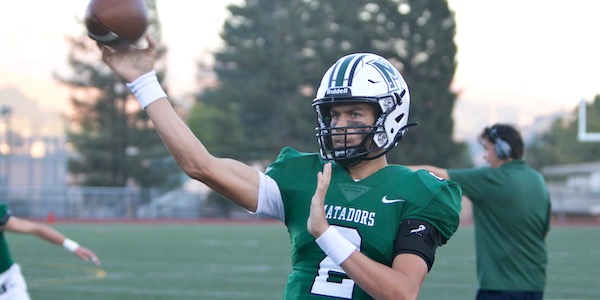 Orinda's Miramonte High Football Team Opened Its Season 2-0 Behind 6-foot-6 Luke Duncan — A UCLA-Bound Quarterback Supercharged By A New Position Coach •...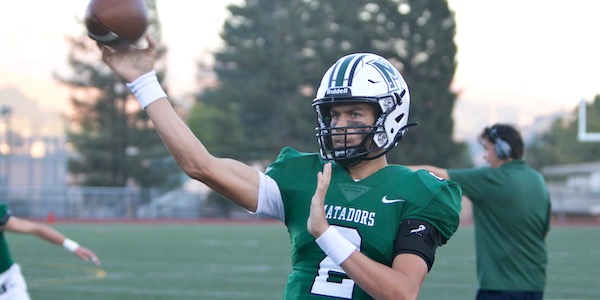 Orinda's Miramonte High Football Team Opened Its Season 2-0 Behind 6-foot-6 Luke Duncan — A UCLA-Bound Quarterback Supercharged By A New Position Coach •
PICTURED ABOVE: Luke Duncan warms up prior to the Matadors' Sept. 2 game vs. Encinal. (Ben Enos photos)
With his Miramonte High football team leading by a comfortable 20-0 margin in the second quarter of its game against Encinal, senior quarterback Luke Duncan huddled with Matadors quarterbacks coach Ross Bowers and received a very simple message.
"Keep operating at a high level."
Duncan is a good listener and quick study, traits that earn both praise from his coaches and results on the field. So, it's no surprise that on this night, the message sticks, and in a 41-14 win over the visiting Jets of Alameda, Duncan finishes with 25 completions on 31 attempts, 282 yards, five touchdowns and one interception.
The numbers demonstrate just how high the ceiling is for one of Northern California's elite signal-callers. Bound for UCLA next fall, Duncan's senior season has gotten off to a great start, with Miramonte sitting at 2-0 and Duncan the proud owner of a 9:1 touchdown to interception ratio.
Of course, even if he wasn't off to a good start, it would be kind of hard for him to hide. Standing 6-foot-6, Duncan stands out in a huddle — and pretty much everywhere else on the school's Orinda campus. Look past his stature, and the talent on display shows why he's comfortable being the center of attention.
Ask players and coaches within the program, and they'll tell you that the physical tools are only one item in the toolbox for a player with unlimited potential.
_______________________________
CONNECT WITH US:
Follow SportStars on Twitter & Instagram | Like us on Facebook | Subscribe!
_______________________________
"Off the field he's a great captain. He has great leadership qualities," said senior receiver John Williams. "He's always in the weight room, always encouraging guys to go. You can tell the guys look up to him for sure."
The maturation process has taken a few twists and turns for Duncan. In 2020, while California schools wrestled with a path to play, he headed to IMG Academy in Bradenton, Florida to continue playing.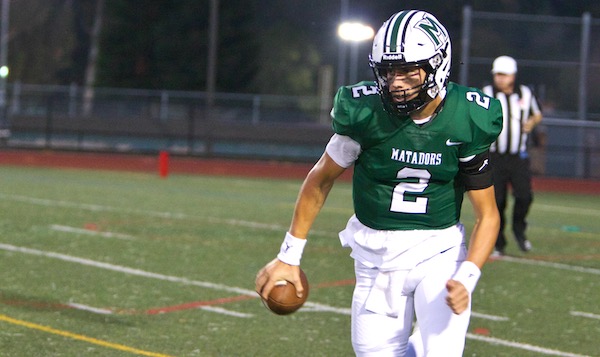 The experience helped hone his skills, and when he returned to Orinda for his junior season in 2021, the Matadors welcomed back more than just a gifted passer.
"It was a big change for me. Just becoming more mature, learning how to work hard and compete against other quarterbacks," Duncan said. "There were 10 quarterbacks there. It was fun to work hard and compete, be surrounded by really good players and like-minded players who wanted to work hard and play football."
As a junior, Duncan averaged 268 yards per game, threw for 30 touchdowns with 12 interceptions, and nearly surpassed the 3,000-yard mark. Miramonte reached the North Coast Section Division V playoffs, but a loss to Del Norte-Crescent City ended the Matadors' season.
During the offseason, Miramonte head coach Jack Schram made an addition to his coaching staff that would impact Duncan specifically. Enter Bowers, who in stops at both Cal and Northern Illinois during his collegiate career, passed for over 6,500 yards.
What did Bowers find when he arrived at Miramonte?
"The one thing I noticed that stuck out right at the beginning was he really just wants to get better. And not every kid is doing it for that reason," Bowers said. "I think he was fed up with not doing so well and only being known as a gunslinger and he really wanted to take that next step. He looked at me and said, 'you're a guy that's taken the next step already, so I'd love to learn from you.'"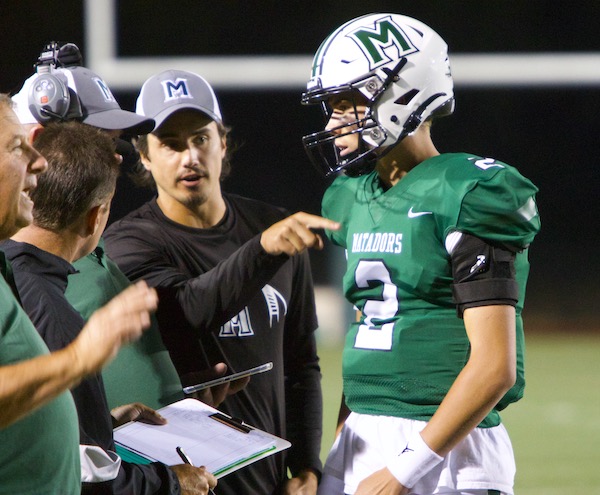 Because of Duncan's football aptitude and willingness to learn, building a relationship with his new quarterbacks coach took no time at all.
"He's the man. It's really great having him on the sideline this year," Duncan said. "He's just helping my mental game. He goes through every rep with me at practice. He knows what it's like to be in my position and it's great to have him here."
Bowers' primary focus early in the season has been to simplify the game for his pupil, and if the first drive against Encinal is any indication, the lessons haven't taken long to sink in.
Duncan completed his first seven passes of the evening, finding four different Matador teammates in the process, and the opening drive ended with a perfect quick pass to Williams, who took it 13 yards for Miramonte's first touchdown.
"He just continues to improve," Schram said. "I thought the first drive, we wanted to control the ball with underneath stuff and he was 7-for-7 and went right down for a touchdown. Five touchdowns (on the night). That's what we're going to come to expect."
Williams is one of a host of talented receivers that Duncan can call on, and against Encinal the duo hooked up for three touchdowns. Six Matadors hauled in a pass, and that production came even as one of Miramonte's top targets, senior Cooper Bohlig, stood on the sideline in street clothes.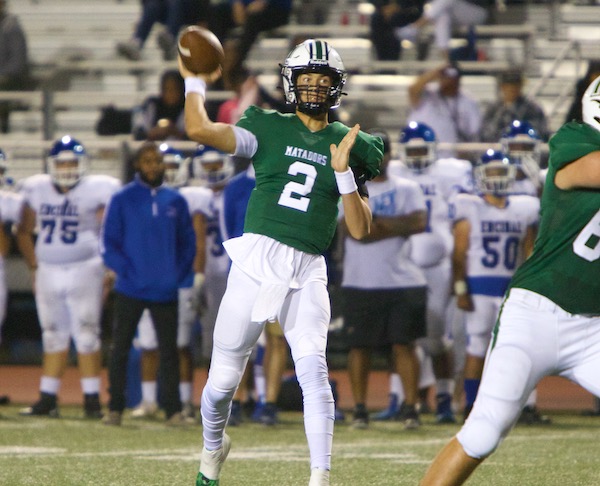 "I played backup quarterback last year and I would hop in the scout receiver reps a lot and he would target me as much as he could as a joke," Williams said. "Now it's kind of formed into an actual connection. We've got a lot of talent on this receiver roster and it's just good to get the ball because he can throw to anyone."
With all those options, how does Duncan determine who to target?
It's a point of pride for both player and coach early in the year. Duncan and Bowers each point to the quarterback's ability to read defenses as a key to success, and both mention the progress he has made in that area.
Against Encinal, that development was easy to spot.
Whether it was delivering a quick strike, going through his progressions to find an open teammate, or pulling it down to gain a few yards on the ground, Duncan's ability to survey the field led to a consistency that Bowers believes can make a big difference.
"You never go broke taking a profit, and if you always take what's there, they're always going to have to adjust and eventually give you the shot that you want," Bowers said. "The hardest part is staying consistent and taking those little 4- and 5-yard throws.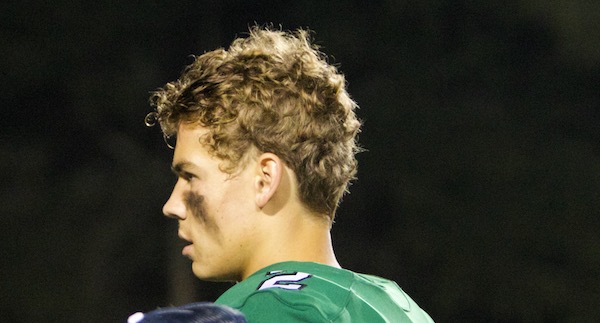 "I've been him before. It's easy to feel like you can throw a 60-yard bomb and say man, we can just score now. I get it. But, you see him operate and it's like, man, you can really operate this offense at a high level when you have a mindset of I'm just going to take what's there."
Duncan's first big test will likely come on September 16 when the Matadors welcome perennial Valley Oak League power Oakdale to Orinda. From there, another tough Diablo Athletic League-Foothill Division campaign awaits.
If Duncan and the Matadors keep taking what they're given, they're betting that the biggest plays and results are yet to come.