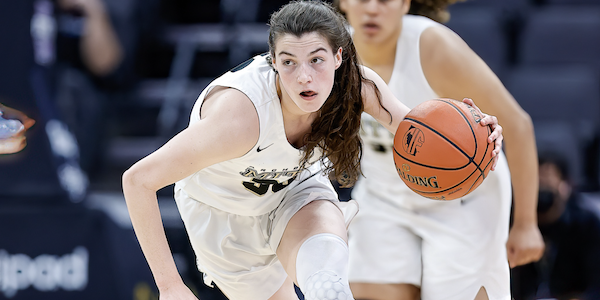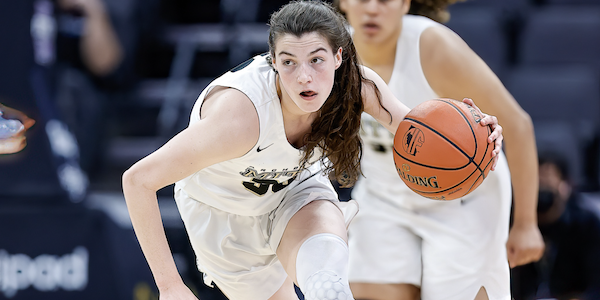 Archbishop Mitty Junior Morgan Cheli Spent Her Summer Winning A World Title And Firmly Establishing Herself Among The Nation's Best Young Talents • Morgan...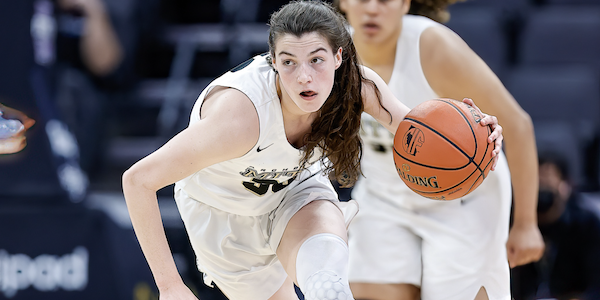 Archbishop Mitty Junior Morgan Cheli Spent Her Summer Winning A World Title And Firmly Establishing Herself Among The Nation's Best Young Talents •
Morgan Cheli is 16 years old. She is confident, chatty and cheerful.
She is also one of the best young basketball players in the world.
Fans of Archbishop Mitty High know this already, of course, as she led the 30-2 Monarchs in scoring (14.8 ppg), 3-point shooting (38%), rebounding (6.9 rpg), assists (3.1 apg) and steals (3.3 spg). As a sophomore.
And at 6-1, Cheli's future is as bright as her personality — as her size, length and athleticism make her a perfect fit for the position-less game that modern basketball has become.
But Kelly Sopak, her coach with Nike EYBL power Cal Stars, sees even more.
"What separates her," he says, "is her work ethic. Not many players with that size and skill set will do what she does. She does things that 5-7 girls who can't shoot or dribble do, all the little things without the ball."
_______________________________
CONNECT WITH US:
Follow SportStars on Twitter & Instagram | Like us on Facebook | Subscribe!
_______________________________
So despite being one of the youngest players on the world champion USA Basketball U-17 team — yes, she has a FIBA gold medal too — Cheli was third in minutes played for the dominant Americans despite not being looked on to score.
"USA Basketball requires a unique blend of talent, basketball IQ and team-first mentality that Morgan bought into," says Sue Phillips, her coach with both Mitty and the U-17 team. "Players have to do what's needed, not what's wanted — Morgan sells out on both sides of the ball."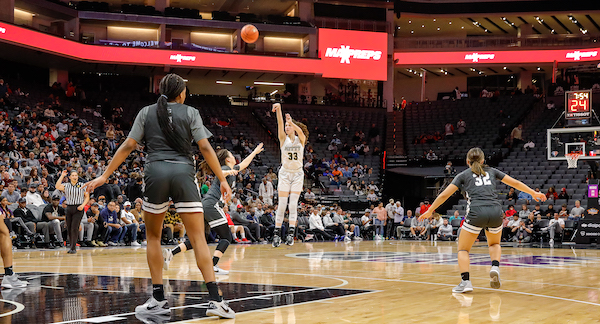 She developed that versatility early, as despite being "the tall girl" growing up, she was lucky enough to have her dad Tom as her first coach.
"He didn't just put me on the block," she says. "He pushed me to play all positions — I learned to dribble, shoot and pass."
She also battled her two older siblings in pickup games. Brother Mack played basketball and baseball at St. Francis-Mountain View, and baseball at Chapman College. Her sister Emma was a basketball player at St. Francis. Her brother is seven years older and Emma is five years older, but little sister wasn't offered any breaks. "They were definitely not going to let me win," she says with a laugh.
Like all young athletes, she played multiple sports, but in fifth grade, she zeroed in on basketball. "I needed to make a choice," she says, "and I loved basketball."
Given her size and skills, she began playing with eighth graders as a sixth grader, and quickly got the attention of Phillips and the Mitty staff. So despite her family connection to league rival St. Francis, Morgan chose Archbishop Mitty.
"Mitty was the perfect fit," Morgan Cheli said, but rather than coming in as a freshman star, she had to work her way up through the veteran Monarch roster. "Freshman year, I was playing with six seniors — I felt I could do other things than I did but I wasn't needed to do them.
"Last year, I was doing everything. I felt I could be me."
"Players like Morgan are smart enough to understand their roles at each level," says Sopak. "They can read the room. This summer, she gained even more confidence with Cal Stars. Before, she wondered if she was good enough
"Now she knows she's good enough."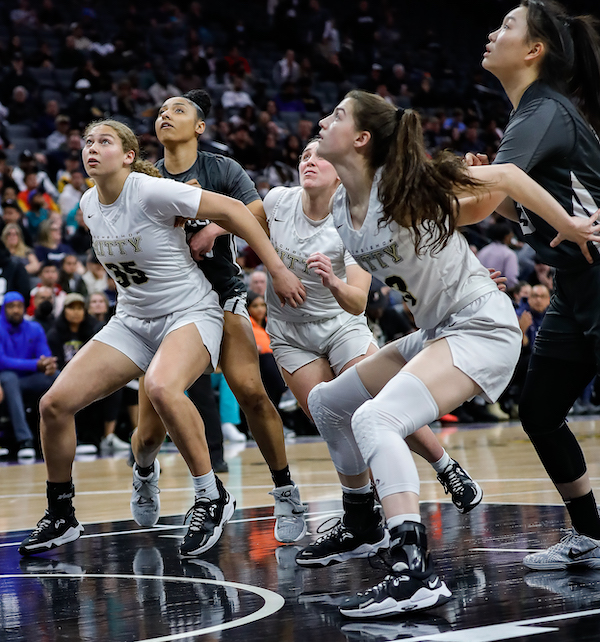 Cheli's biggest challenge at times may be knowing which part of her game to flex. Sopak wouldn't mind seeing her be more offensive minded at times.  
"Her best asset is rebounding – she has a knack for getting the basketball," the CalStars coach said. "But she's also a really, really good shooter. She just needs to shoot more. Eighty-five percent of the time she makes good decisions. The other 15% of the time, she should shoot."
Part of that occasional hesitation might just need to be chalked up to the learning curve of playing such high level AAU games.
"Playing for the Cal Stars was a great experience," Morgan says. "It was very different — there was a different flow to the game. The athleticism, the physicality … I had to learn new things."
The same was true with USA Basketball, as she traveled to Hungary to play in a hostile, unfamiliar environment with no margin for error. "The pressure to win is enormous for USA Basketball," said Sopak. "Losing is not an option. They game-plan like WNBA teams."
And Cheli is both coachable and a quick learner.
"Coming from Mitty, she has a high-level basketball IQ," says Sopak. "She can execute game plans and make in-game adjustments."
Put all of that together, and it's clear Cheli is on track to play at the highest levels. Want proof? UConn's Geno Auriemma flew in from the East Coast in the morning, watched Cheli play one game with the Cal Stars, and then went back to the airport to fly home that afternoon. No coach, much less Geno Auriemma, will make that kind of trip unless the player involved is exceptional.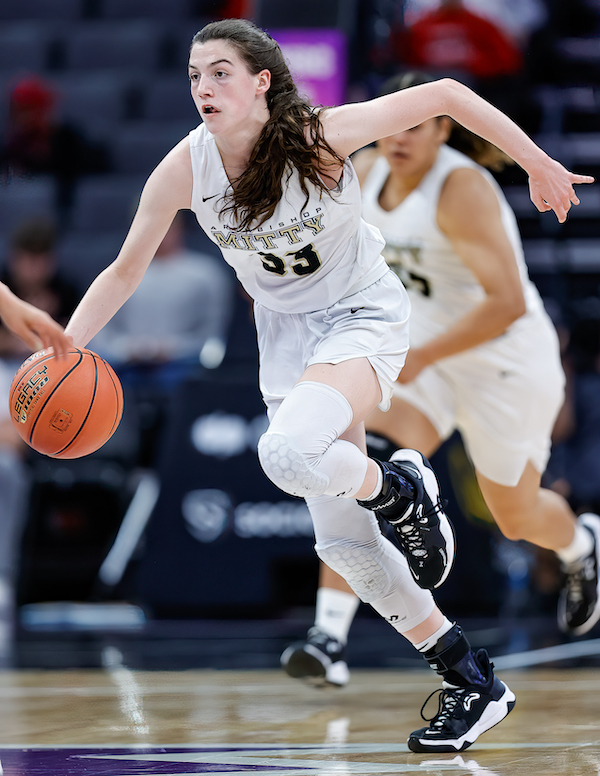 "She has the opportunity to be very, very special," says Sopak. "She's very similar to Sabrina (Ionescu) at this age" — and Sopak would know, as he coached the young WNBA star at Miramonte-Orinda and in club ball. "Morgan's longer than Sabrina, and she can guard taller players."
Phillips sees that same versatility. "She can play one through four," she says.
Cheli, though, is focused on her upcoming junior year with Mitty. "I'm super-psyched for this season," she says. "I know it will be a long season, with ups and downs, but the summer has prepared me — I was playing against bigger and stronger girls. Mentally and physically, I'll be able to withstand more."
And even though she did pretty much everything for the Monarchs last year, expect her to do more this season.
"She could guard the best player on the other team," Sopak says, "or, because of Mitty's depth, she could guard the worst player and just roam.
"She's going to cause havoc at both ends."