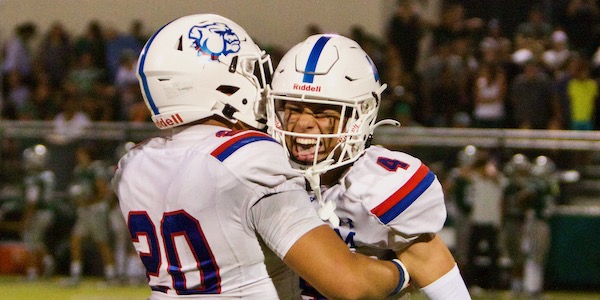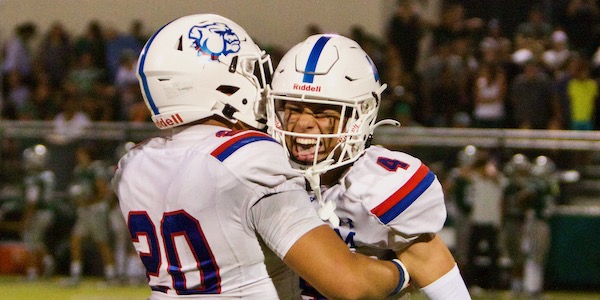 Austin Mack's Touchdown Dive With 15 Seconds Left Lifts Folsom Football To Second Win At De La Salle In As Many Seasons • PICTURED...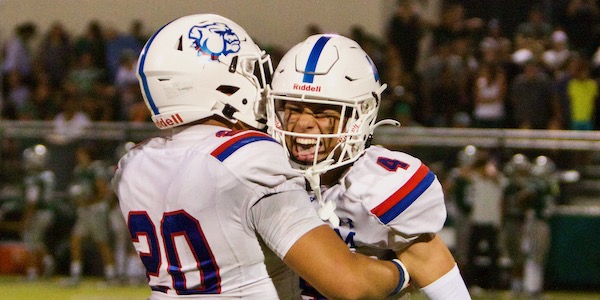 Austin Mack's Touchdown Dive With 15 Seconds Left Lifts Folsom Football To Second Win At De La Salle In As Many Seasons •
PICTURED ABOVE: Folsom's RJ Whitten (4) Hugs A Teammate In Celebration As Time Expires. (Ben Enos photos)
By the end of the season, a 24-20 win over De La Salle might simply stand as another win on the ledger for a Folsom football team with its eyes on a prize much larger than a midseason nonleague victory.
Talk big picture all you want. Some wins mean just a little bit more.
Austin Mack's 1-yard leap with 15 seconds left provided the final points in a back-and-forth affair, but the game's last touchdown only represented one piece of a win that demonstrated several of the qualities that have Folsom fans thinking big for the rest of the season.
For starters, a dominant first half defensively showed yet again that this isn't a Folsom team that needs to rely on shootout victories to be successful.
The Bulldogs (4-1) held the Spartans scoreless over the first two quarters, a true rarity at Owen Owens Field, and limited the hosts to a scant 74 yards rushing in the process.
Mack to the skies for the lead! Folsom leads 23-20 pending PAT. 15 sec left. pic.twitter.com/j7HWUJlB1p

— SportStars™ Magazine (@SportStarsMag) September 24, 2022
"We knew they were going to be physical so we had to load the box, send some pressure sometimes, try to get them out of their comfort zone and not let them run the ball as much," senior defensive back Slade Wilson said. "We got them to throw some screens a little, got them out of their game, and we balled out from there."
The effort came one week after accomplishing another herculean task — limiting a Pittsburg offense that prefers to move the ball through the air.
The ability to shift gears and get physical with De La Salle stood out to Folsom football coach Paul Doherty and underscored the talent level that Folsom will be able to rely on with plenty of big games still remaining.
_______________________________
CONNECT WITH US:
Follow SportStars on Twitter & Instagram | Like us on Facebook | Subscribe!
_______________________________
"Unbelievable. Zero points. Are you kidding me? I think we gave up zero points in 2018 and that was an incredible performance with tons of D-1 guys," Doherty said. "I don't know that this defense is as highly touted or whatever. It should be."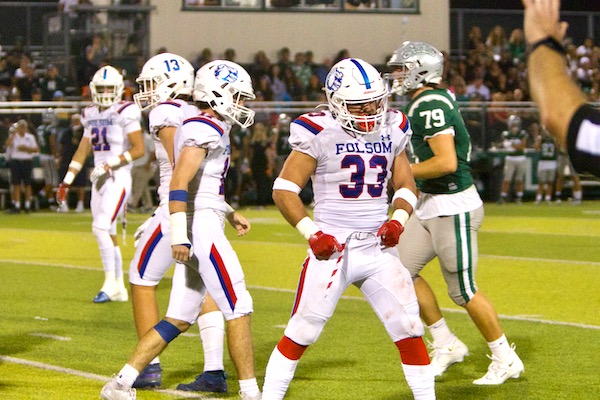 Another characteristic that should portend good things for Bulldogs supporters is the resilience Folsom needed to show late in the game. A pair of Carson Su'esu'e touchdown runs in the fourth quarter put De La Salle ahead 20-17 with 3:42 to play and left Folsom in need of its first true response of the night.
Faced with adversity, the Bulldogs responded. A big kickoff return by senior Greco Carrillo put Folsom at the 50 to start its drive, and it took only five plays to reach the De La Salle 1-yard line and set up a 1st-and-goal situation.
De La Salle (3-2) stiffened, keeping the Bulldogs at bay for three plays, but on 4th and 1, Mack lined up in the shotgun, strode straight ahead, and launched himself over the line for the game-winning touchdown.
"That's definitely a first for me," said Mack, who also connected with tight end Mason Norberg for the Bulldogs first touchdown of the game. "It really all sparked from last season. NorCal game here, on the road, pulled out a close win. For Folsom, this is huge. Two in a row has never been done. I'm so happy for the whole program, my teammates, my coaches."
The reaction that ensued said all anyone needed to know about the impact of the win. For a team that got the proverbial monkey off its back by beating the Spartans in last year's NorCal playoffs, a second-straight win carried added significance.
It also showed the next-up mindset that Folsom has adopted in a season filled with big game after big game.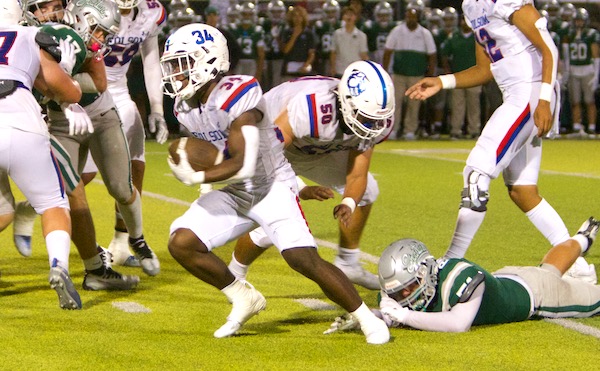 "It's a big win," Carrillo said. "I feel like we should've had another win earlier in the season against Serra. It was a tough one. But we knew this would be a bounce back. We came into this game with a mindset that it's must-win. We came with the mindset that we have to bounce back and be ready for whatever."
Declaring the season's high point at midseason would be foolish under any circumstances, but especially so for Folsom.
The good vibes of a big win will carry through the weekend, but there is no time to rest before jumping squarely into Sierra Foothill League play with a trip to resurgent Oak Ridge-El Dorado Hills (5-0) waiting next.
"Last week was tough. We thought that Pitt team was better than us. We thought we might've stolen one from them," Doherty said. "We thought we had a really good chance today against these guys, but they're not going to give anything It was the same thing three weeks ago. We thought we were better than Serra but we didn't prove it; we didn't earn it.
"So what I learned about my guys in this tough preseason schedule – they can sustain, week after week. Now, the job just gets tougher."