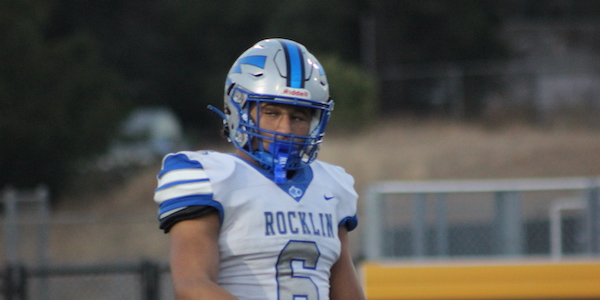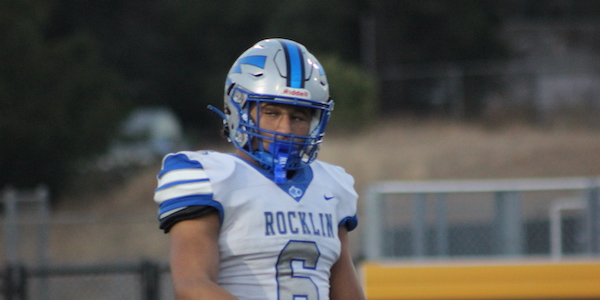 After A Season-Opening Stumble, NorCal Top 20-Ranked Rocklin Football Builds Momentum Following A Third Straight Win Led By Its Rushing Attack • PICTURED ABOVE:...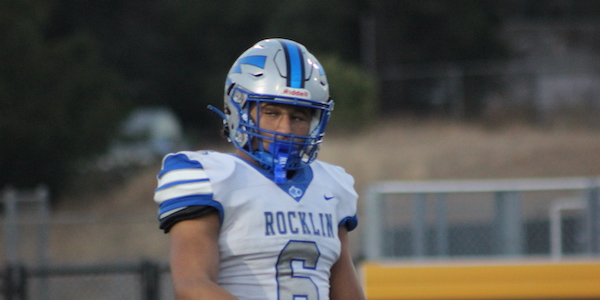 After A Season-Opening Stumble, NorCal Top 20-Ranked Rocklin Football Builds Momentum Following A Third Straight Win Led By Its Rushing Attack •
PICTURED ABOVE: Rocklin Senior Running Back, Elias Brown. (Chace Bryson photos)
There was nothing normal about the Rocklin Football team's week of practice.
With the California heat wave bringing sweltering temperatures of 110 degrees or more, the Thunder had to adapt. That meant setting alarm clocks for 5 a.m. for practices at 6.
Some players actually said they thought it was better. Senior running back Elias Brown was not among that crowd. 
"Not really," Brown said Friday evening. "But it was better than going in 115-degree heat. And we still got the job done, too."
The job was preparing for a road game against Antioch. And yes, Rocklin looked plenty prepared in a lopsided 41-0 drubbing of the Panthers. Naturally, Brown led the way with a massive night of 228 rushing yards and three touchdowns — on just eight carries. 
The win was so thorough that the Thunder outgained Antioch 440-117 in yards from scrimmage.
_______________________________
CONNECT WITH US:
Follow SportStars on Twitter & Instagram | Like us on Facebook | Subscribe!
_______________________________
"We're really young. There's growth, but sometimes it's baby steps," Rocklin football coach Jason Adams said after the win. "This group really likes to play physical football. They know that that's their identity. I thought we improved tonight from a physical standpoint. We wanted to assert ourselves at the line of scrimmage."
Brown had no issues asserting himself.
The 6-foot, 200-pound back scored touchdown runs of 2, 77 and 51 yards. He combined with Mason Silva and Matthew Crowley to give the Thunder 376 rushing yards on the night and average 11.75 per carry.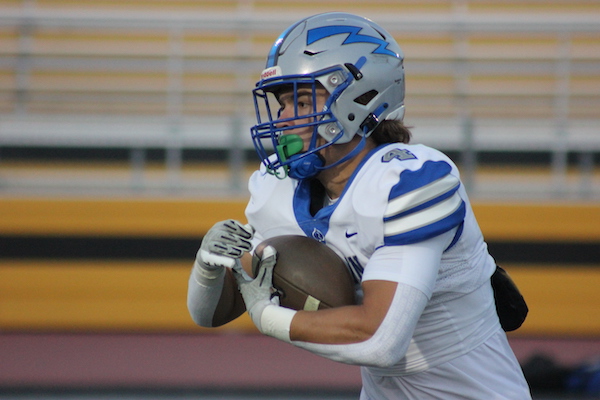 "We knew Elias and Mason were going to be something special," Adams said. "But Elias tonight was off the charts, right? Obviously the holes were there, but he's doing things to extend them. He's got this acceleration and second gear that he worked really hard to have too."
The win was Rocklin's third in a row and moved the team to 3-1 on the season. The Thunder, which began the season at No. 10 in the SportStars NorCal Top 20 rankings had fallen to No. 19 after a season-opening loss to unranked Turlock and a shaky start to a 27-7 win over McQueen-Reno in its second game. 
Those hiccups seem behind the team now, and appear to be fuel for the team as it moves forward.
"We shouldn't have lost that Turlock game," senior quarterback Joey Roberts said. "But we kind of needed a loss, maybe. Just to really carry us into the rest of the season with a chip on our shoulder."
Roberts had a relatively efficient night behind center against Antioch. He completed 5 of 8 passes for 64 yards and two TDs. His first touchdown strike went for 21 yards to a wide-open Austin Adams that gave Rocklin a 14-0 lead midway through the first quarter. Then with 3:46 left in the half, Roberts connected on a 14-yard scoring pass to Kaleb Larson.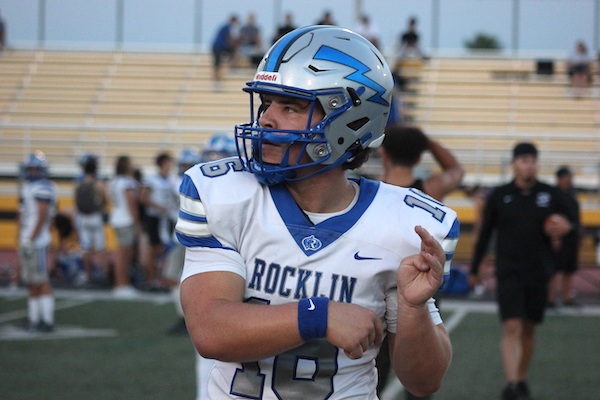 Count Roberts among the Thunder players who actually thought the morning workouts were good for the team.
"It was hard at first, but we adapted," the quarterback said. "It was nice to have the rest of the day to rest and recover. I think we handled it well and had some of our best practices."
Which sort of lined up with what Roberts said he likes best about this year's team.
"We rise to the occasion," he said. "We're tough, and we get it done."
The Thunder will now enjoy its bye week before preparing to host Glacier Peak-Snohomish (Wash.) on Sept. 23. Glacier Peak improved to 2-0 on Friday night.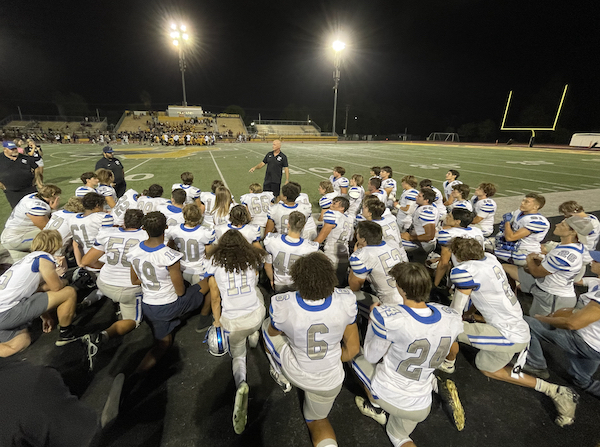 After that game, Rocklin will gear up for its Quarry Bowl rivalry game with cross-town Whitney High. That will mark the first of five games in the ultra-tough Sierra Foothill League. 
Through four weeks of Sac-Joaquin Section play, SFL teams are a combined 16-4. Three teams — Oak Ridge-El Dorado Hills, Del Oro-Loomis and Granite Bay — are unbeaten, and Folsom's only loss was a 17-12 result against NorCal No. 1 Serra-San Mateo.
"We just have to stay humble," Brown said of the team's biggest focus moving forward. "We don't need to change anything. Just keep working hard."