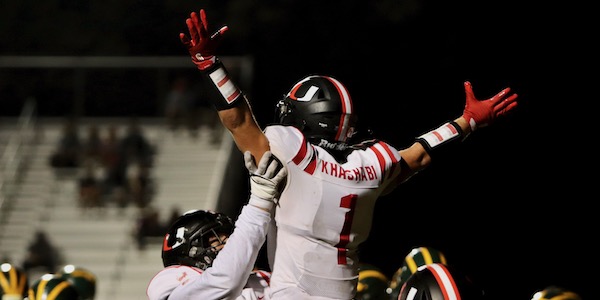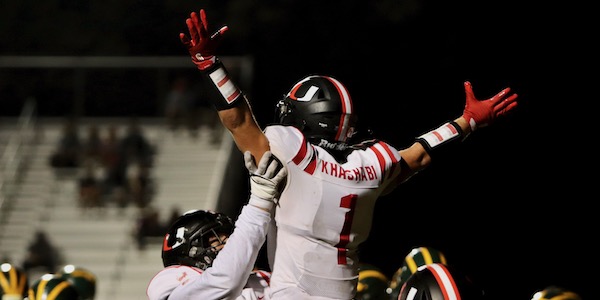 Despite Slow Start To 2022, Clayton Valley Football Stayed Committed To A Spread Offense And Is Now Among East Bay's Hottest Teams • PICTURED...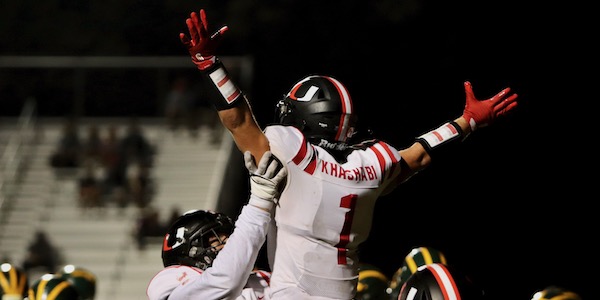 Despite Slow Start To 2022, Clayton Valley Football Stayed Committed To A Spread Offense And Is Now Among East Bay's Hottest Teams •
PICTURED ABOVE: Clayton Valley running back Nicholas Khashabi is lifted up by one of his linemen during a touchdown celebration. (Ben Enos photos)
Sometimes to truly take a step forward, you have to take a leap of faith no matter the results.
That's exactly what Clayton Valley football coach Tim Murphy is doing this season. 
After going through the growing pains of a change in offense, Concord's Ugly Eagles are back on track in a big way. A 42-28 victory over San Ramon Valley-Danville featured equal parts dynamic passing attack and physical run game as Clayton Valley opened its East Bay Athletic League-Mountain Division schedule with an important road victory.
This isn't the Clayton Valley you're used to seeing. Known throughout a highly successful career as a coach who relies on a hard-nosed, run-oriented brand of football, Murphy has threatened for the past few years to convert from his ground and pound attack to a spread offense.
Every time, when the going has gotten tough, he's gone back to the same brand of power football that has yielded great results.
Not this time.
"My instinct is to want to just run power over and over. I just know that's not the make-up of our team and it's not what I promised the kids this year," Murphy said. "I've said we're going to go spread the last three years and then as soon as we don't do well, I just can it. 
"This year, I said 'I promise I won't go back.'"
The early returns weren't promising. After losses to Salinas, Del Oro-Loomis, and Turlock – three heavyweight programs – dropped the Ugly Eagles to 1-3 to begin the season, Clayton Valley entered its bye week with a need to regroup.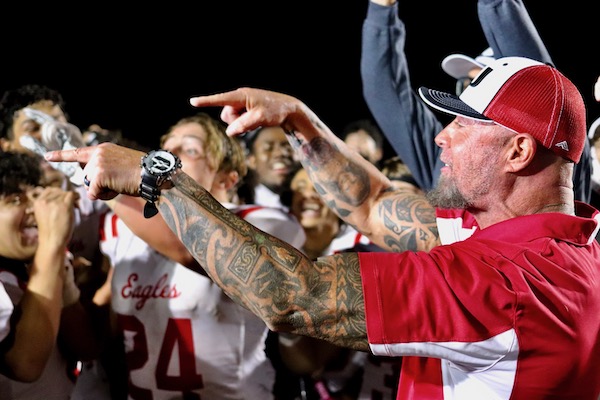 _______________________________
CONNECT WITH US:
Follow SportStars on Twitter & Instagram | Like us on Facebook | Subscribe!
_______________________________
So of course, that would have been the perfect opportunity to jump back into old habits. Murphy could put the power run game back in, and head into EBAL play with the same physical, grinding approach as always.
Instead, the Ugly Eagles focused on their new direction even more. And, the faith Murphy has showed in his players began to translate to game day. After the bye, Clayton Valley scored a combined 82 points in wins over Jesuit-Carmichael and Amador Valley-Pleasanton, setting the stage for a showdown against a San Ramon Valley squad that also relies on a dynamic passing attack to pile up points.
Against the Wolves, the key came in offensive balance. Quarterback Christian Aguilar passed for 273 yards and two touchdowns, but the Ugly Eagles also found plenty of success on the ground. Micah Avery carried 15 times for 123 yards and three touchdowns while Nicholas Khashabi contributed 70 yards and a touchdown of his own.
"We came in (this season) and thought we were ready, and we weren't," Khashabi said of Clayton Valley's early season struggled. "On the bye week, we told ourselves we were going to turn this season around, basically calling it our new season. We had Jesuit, then Amador, then SRV, and we're scoring points in the 40s and our defense is doing a lot better than they were in the first half of the season.
"We call it our new season and we're 3-0. That's basically the mentality we have. Put it all behind us and come out and work."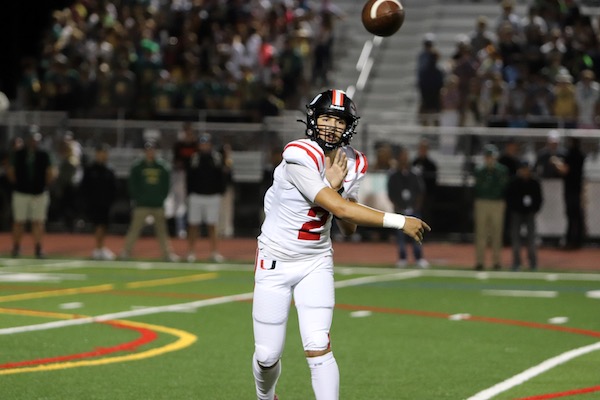 Aguilar's growing comfort level at quarterback was also evident against the Wolves. After splitting time early in the season, the transfer from Pittsburg tossed a complete game against San Ramon Valley and helped lead the way to a win.
The transition that comes with a new school and new coaching staff has certainly been an adjustment for Aguilar, but one part of the move has perhaps been a bit easier for him than his new teammates.
He already knew the spread offense.
"I feel like it really did make it easier. I just kept my flow going. It's not a big difference coming from the spread at Pitt," Aguilar said. "The first few weeks I was still getting into the flow of a new school, but I feel like I adapted pretty quick. We came together as a team in general and we all got it figured out."
The improvement hasn't been limited to the offensive side of the ball. A young Clayton Valley defense has also made big strides, as evidenced by its ability to hold San Ramon Valley and heralded quarterback Luke Baker to a season-low 28 points.
Baker threw for 226 yards and accounted for three touchdowns, but the final score didn't fully indicate just how well the Ugly Eagles managed to limit one of the area's best offenses.
"Our defense held an outstanding team to probably a lower score than they were used to, especially after what they did last week," Murphy said. "Still, you can't hold Baker and those receivers down. They're too damn good. I was proud of what we did against the run game, and we had some really good stops in the first half."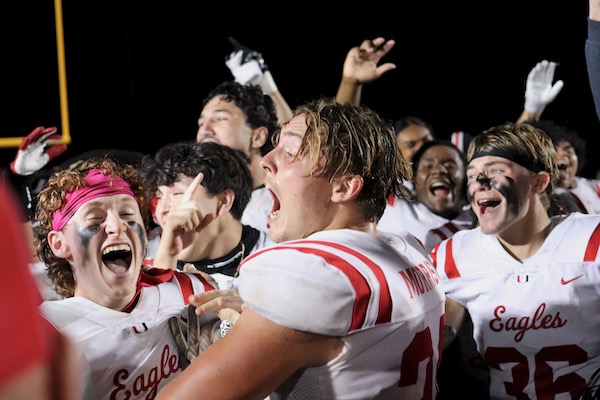 The road gets no easier for Clayton Valley, with games against California-San Ramon and Monte Vista-Danville leading into a final week showdown at home against De La Salle-Concord.
Even as the postseason nears and the stakes get higher, don't expect the Ugly Eagles to suddenly revert to past practice.
"Once you have one foot in the pool, you know you're going to pull the other one out unless you totally commit," Murphy said. "These kids have proven they're really good at running the spread. And, they love it."