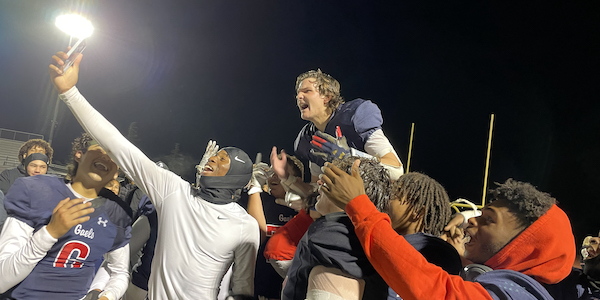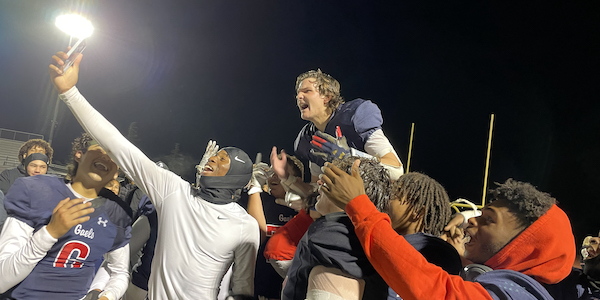 Dublin Football Qualifies For NCS Playoffs With Clutch Win Over Livermore While Campolindo Wraps Up Another League Title • PICTURED ABOVE: Dublin Senior Running...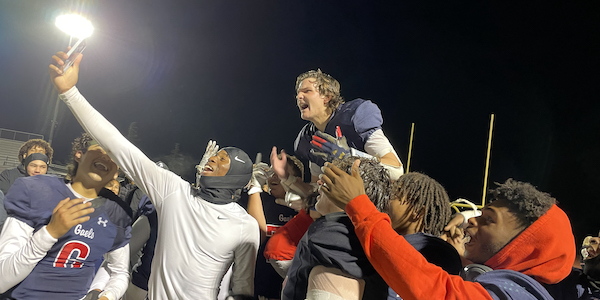 Dublin Football Qualifies For NCS Playoffs With Clutch Win Over Livermore While Campolindo Wraps Up Another League Title •
PICTURED ABOVE: Dublin Senior Running Back Brady Steadman Sits Atop A Teammate's Shoulders As The Gaels Celebrate Their Upset. (Chace Bryson photo)
As wins go, Dublin High's Friday night upset triumph over visiting Livermore was a monumental one. 
It made Dublin football eligible for the North Coast Section playoffs that begin Nov. 11. The win was also the program's first over Livermore since 2017.
It was NOT a win that should've caught anybody by surprise.
Each of the Gaels' losses to start East Bay Athletic League-Valley Division play have been one-score defeats. That included a gut-wrenching defeat to first-place Foothill-Pleasanton just one week earlier. A game in which they let a fourth-quarter lead get away and eventually lost in overtime. 
"It was sickening. It was heart-breaking," Dublin senior quarterback Angel Barraza said. "But last week, that opened the door and showed us we can get it. That's why this week, we got it. Because we knew deep inside that we could."
Senior running back Brady Steadman rushed 34 times for 191 yards and three touchdowns — all season-highs — and the Dublin defense had two fourth-quarter interceptions to help preserve a 28-21 victory. 
_______________________________
CONNECT WITH US:
Follow SportStars on Twitter & Instagram | Like us on Facebook | Subscribe!
_______________________________
"It's bliss right now," Steadman said. "It's senior night. That's the game of my life. I'm so happy now. My O-line is amazing. I love them."
Steadman gave Dublin (5-4, 1-2 EBAL-V) its first lead of the game on a 7-yard scoring run early in the third quarter. But the lead lasted less than three minutes of game time.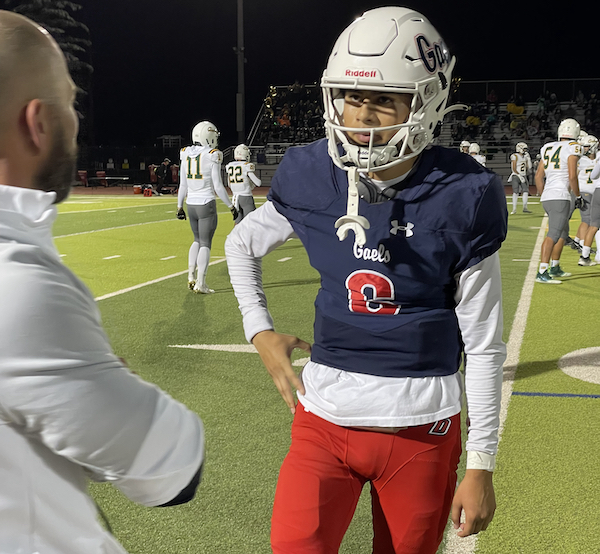 Livermore (7-2, 2-1) answered the score in just seven plays as quarterback Tyler Trudeau completed 6 of 6 passes for 74 yards and Elijah Hodgers tied the game on a 5-yard run. Considering the Gaels' very recent history, the Cowboys' emphatic response may have been an invitation to smash the panic button. 
"These kids. We're young. There's a lot of inexperience going on," four-year Dublin football coach Brandon Black said. "But they just never quit. (After the Foothill loss) our philosophy was, 'We show up on Monday and we get right back at it.' Their work ethic is top notch. We asked them to stay the course. Something is going to turn the corner eventually."
On the very next drive, Dublin marched 72 yards and faced a third down just one time in seven plays. Barraza was 3-for-3, including a 31-yard pass to Garrett Esomonu, and Steadman capped the drive with a 12-yard run.
Dublin had 19 first downs in the win. Steadman converted nine of them to go with his three scores.
"He's a pitbull," Black said of his tailback. "That's something we always call him. He might weigh 150 pounds — and that's me giving him a couple pounds. He's such a tough kid."
The Gaels took the lead 28-21 with a little more than two minutes left in the third quarter, but Livermore would have just two more possessions. The first one reached the Dublin 45-yard line before Esomonu intercepted a long Trudeau pass down the seam. And the second one lasted just one play as Brandon D'Aquisto and Livermore's Dominic Johnson appeared to have simultaneous possession of a long pass down the left sideline before D'Aquisto landed with the ball in his hands.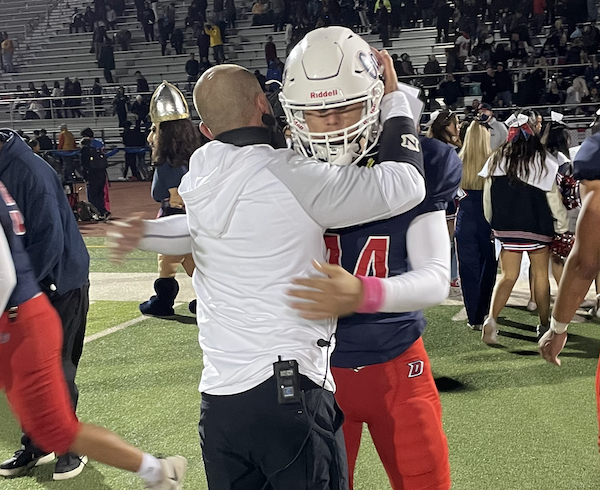 Dublin took possession with 4:57 left in the game and knew it couldn't give Trudeau and Livermore any more chances.
"I just told them, 'Let's get this,'" Barraza said when asked what his message to the huddle was at the start of the possession. "'Let's just run it down, waste the clock. Wait, and celebrate when it's over.'''
Livermore used its last timeout with 2:55 remaining and Dublin facing a 3rd-and-7 near midfield. Dublin ran a reverse pass from receiver Adam Moore back to Barraza for an 8-yard gain and a first down. Steadman ran for another first down on the next play, and the game was over just three plays later. 
"This group is so close," Black said. "They don't want to let each other down. … This is definitely a special one for these kids."
Cougars Claim DAL-Foothill Title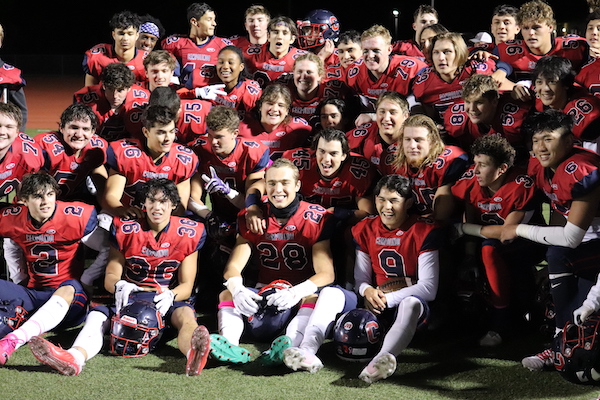 Given its level of consistency under head coach Kevin Macy, Campolindo-Moraga is one of the few programs that can always dream big when it comes to postseason football.
But the road to playoff success has to start somewhere, and thanks to a 42-21 win over visiting Las Lomas, the Cougars got what they hope will be a prosperous final stretch of the season started by locking up a Diablo Athletic League-Foothill Division title.
The win followed a familiar script on offense — Campo's typical grinding style led by quarterback Dashiell Weaver.
The Cougars' senior signal-caller completed 20 of 24 passes with one interception and finished with 260 yards to go along with three touchdowns. He also ran for 75 yards and added a rushing touchdown. Fellow senior Robbie Mascheroni was Weaver's top target, hauling in seven passes for 101 yards and two touchdowns.
"We had a game plan. We knew what plays we wanted to run and knew what we could do," Weaver said. "I do want to thank my offensive line. I did have a few sacks, but besides that, they played absolutely amazing. They gave me lanes to run, receivers got open, everything was clicking tonight."
While the win moves Campolindo to 9-0 overall, there have been a few nail-biting moments along the way. Close road wins at Aptos and Windsor showed what the Cougars might be capable of, and a 27-24 win over Acalanes-Lafayette provided a big leg up in a tough league title race.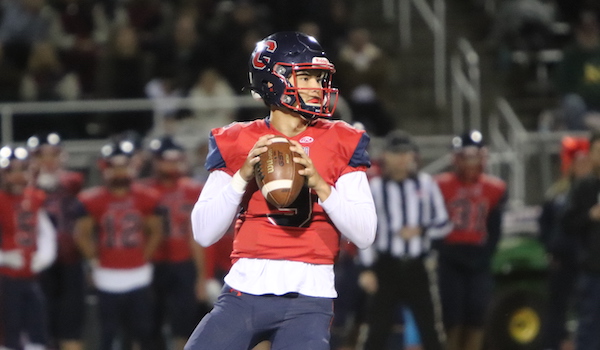 "They've all been so different in some ways. But then again, it's still that simple, old-fashioned grinding wins out," Macy said. "We know we've got a lot of flaws and we try to hide them every week. Teams always try to exploit them and we try to put band-aids on them. It seems like every week, they get a little tense and somehow we (survive)."
While nobody in Moraga will be caught looking past a final week trip to rival Miramonte-Orinda, the chances of securing a top seed in the upcoming North Coast Section Division II playoffs appear bright for the Cougars. 
"Going down to Aptos, we didn't think we were going to win that one," Weaver said. "Going up to Windsor, we didn't think we were going to win that one. Big props to those programs. They're absolutely amazing. Acalanes, we were favored to lose. So, to predict in Week Zero that we would be in this position, we would've said maybe we'd be 6-3.
To be here now at 9-0, it's a pretty special year."
— Ben Enos