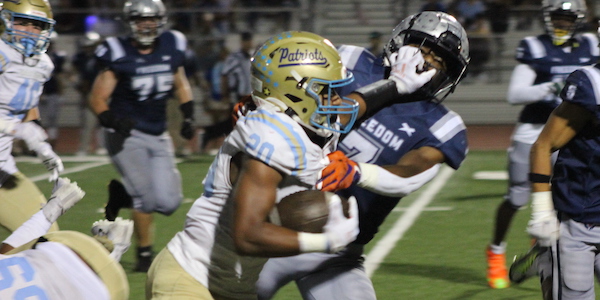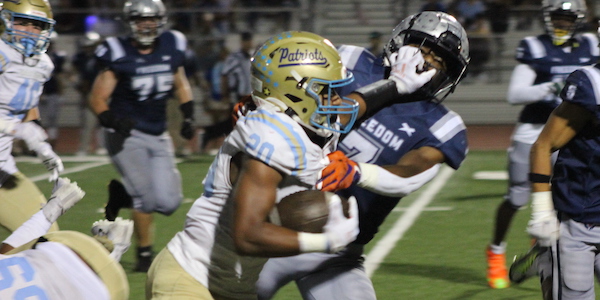 With Multiple Starters Out, The Heritage Football Team Had Big Nights From Devon Rivers And Its Defense In A League-Opening Win At Freedom •...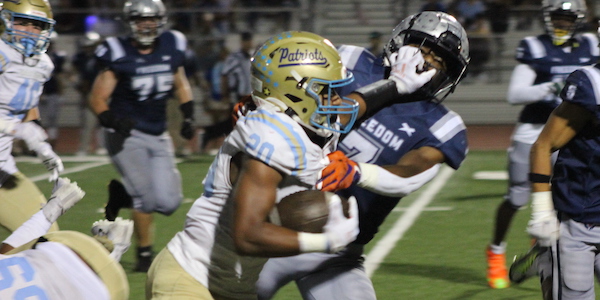 With Multiple Starters Out, The Heritage Football Team Had Big Nights From Devon Rivers And Its Defense In A League-Opening Win At Freedom •
PICTURED ABOVE: Heritage Running Back Devon Rivers Delivers A Stiff Arm To Freedom's Herschel Turner Jr. (Chace Bryson photos)
Even before the first snap of its Bay Valley Athletic League opener Friday, the Heritage football team could be fairly described as rickety.
The Brentwood school rolled into Oakley's Freedom High missing multiple starters due to illness and injury. The starting right tackle for the night, Cole Weatherly, was a sophomore pulled up from the junior varsity just four days earlier.
Two-way starter Jeremiah Ruffin left the game for good with an injury midway through the first quarter. Two other players battled through injuries that caused them to miss plays throughout the game.
By the end of the night, the Patriots had seemingly gone from rickety, to being held together with duct tape.
All of which made their 41-18 win that much sweeter.
"We knew it was going to take everything we had," Heritage football coach Dave Fogelstrom said as he watched starting lineman Austin Rubit hobble by with a giant bag of ice taped to his left knee. "We were down multiple starters. Rubit could barely walk off the field when it was over, but that's the type of effort it's going to take for this group to be successful."
_______________________________
CONNECT WITH US:
Follow SportStars on Twitter & Instagram | Like us on Facebook | Subscribe!
_______________________________
It was probably a sore Saturday, but made a little more comfortable by the fact that the Patriots are now 5-1 overall heading into a much-needed bye week. 
The win over Freedom required something from just about every Patriots player, and from every phase of the game.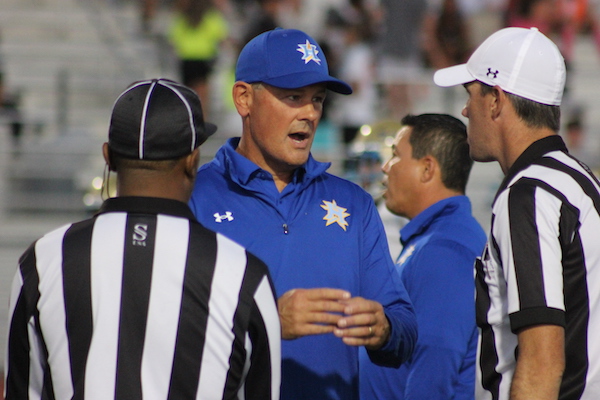 The defense forced six turnovers with five different players getting credit for takeaways. Special teams logged a block punt, and the offense produced six scores without turning the ball over once. 
Leading that offensive effort was senior running back Devon Rivers. After Heritage received the game-opening kickoff, the Patriots called Rivers' number 10 of 11 times on the 67-yard scoring drive. Rivers rumbled in from one yard out for his first of five touchdowns on the night.
Rivers would end up carrying the ball 37 times for 192 yards. A workload he said he could've added more to if needed.
"I'm good. I'm ready to play another quarter if I have to," said Rivers, who also completed a 67-yard pass to Brooks Davis that set up the Patriots' second touchdown of the night. "I'm always trying to work in practice knowing there may be games where I need to carry it this many times."
Through six games, Rivers has rushed for 1,264 yards and 18 touchdowns.
"Pound for pound, he's the strongest kid on the team," Fogelstrom said. "He's lived in the weight room. People don't realize how strong that kid is. Whether he's ripping off a 40-50 yard run or a 5-6 yard run carrying people, he's the backbone of our team."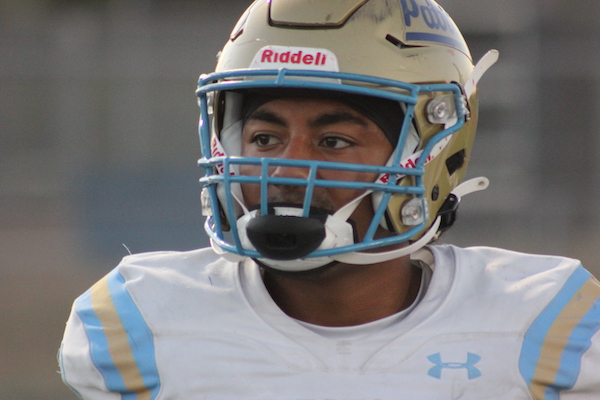 Freedom (3-3) had its first two plays of the game both end in turnovers. A fumble out of the back of the end zone spoiled a perfectly executed reverse flea-flicker pass from Jacob Wasso to Austin Callen and led to a touchback for Heritage. The next possession ended after one play when Ruffin intercepted a pass over the middle. 
Wasso, who was Heritage's starting quarterback in 2021, was starting his first game for Freedom after completing the transfer sit-out period. With emotions understandably high, the quarterback's night was full of ups and downs. He passed for 285 yards with two touchdowns and three interceptions. He also rushed 62 yards on eight carries.
Heritage held a tenuous 14-12 lead at the half, but needed just one play to add on.
On the Patriots' first possession of the second half, sophomore quarterback Austin Peters threw his best pass of the night when he hit Davis in stride on a deep post pattern for a 73-yard score. Davis, a junior playing his first year of organized football, finished the night with 2 catches for 140 yards while also getting credit for a blocked punt.
After a Rivers touchdown run pushed the lead to 28-12, Wasso was able to pull the Falcons within 10 with his own deep touchdown pass to Dominick Tomlin early in the fourth quarter.
The Heritage defense shut off the faucet after that, forcing turnovers on each of Freedom's last two possessions.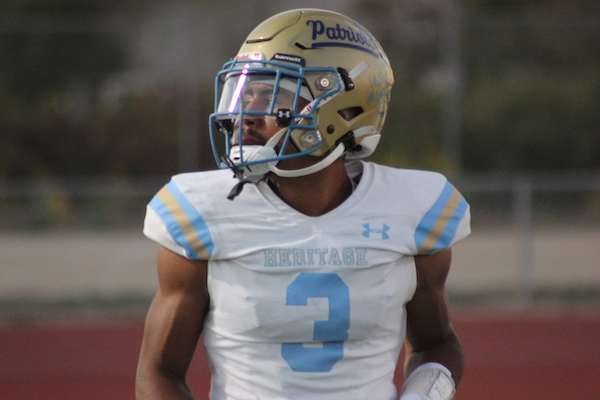 "I feel like our defense is really good," Rivers said. "Without our guys making plays on defense, we wouldn't be able to do the things we do on offense."
Heritage will return to BVAL play on Oct. 14 when it travels to Antioch High. At that point, Fogelstrom is hoping there will be less duct tape. Nonetheless, he's confident of the effort they'll bring.
"They play for each other," the coach said. "They love each other. We've been working for nine months to get to this moment, and I'm proud they are getting the respect they deserve."