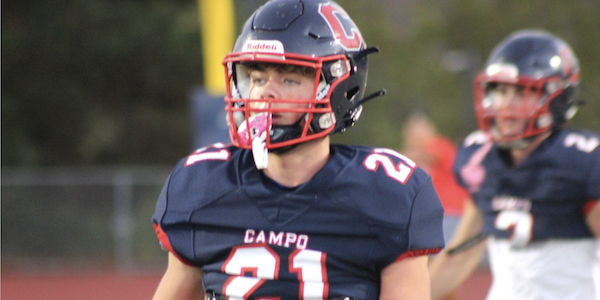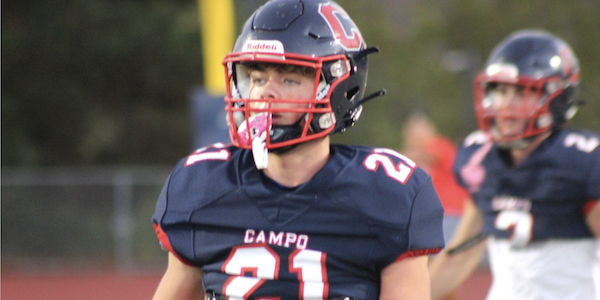 Senior Receiver Sean Spillane's Crucial Catch In Big Win Over Acalanes Offers Another Glimpse Into Cougars Perennial Success • PICTURED ABOVE: Campolindo senior Sean...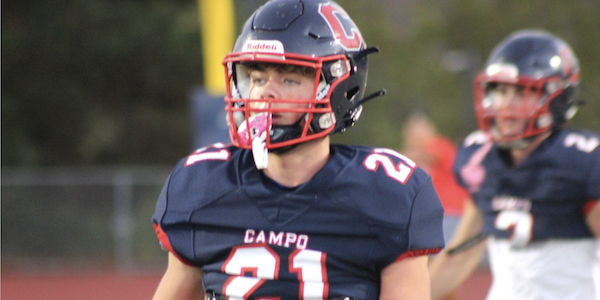 Senior Receiver Sean Spillane's Crucial Catch In Big Win Over Acalanes Offers Another Glimpse Into Cougars Perennial Success •
PICTURED ABOVE: Campolindo senior Sean Spillane. (Chace Bryson photos)
Campolindo football coach Kevin Macy was popular Friday following the Cougars 27-24 rivalry win over visiting Acalanes-Lafayette. 
He spoke to reporters and accepted a number of handshakes and backslaps from parents, students, former players and fellow assistant coaches.
Meanwhile, Sean Spillane waited just outside Macy's orbit of activity. Until finally he had an opening.
The senior receiver got his coach's attention, shook his hand and the two leaned into an embrace as Spillane said, "I just want to thank you for trusting me."
Approximately 45 minutes earlier, with Campolindo clinging to a 21-17 lead early in the fourth quarter, Spillane had his number called for what would be Campolindo's biggest non-scoring offensive play of the night. 
Acalanes had just had a 10-play drive end in a crucial fumble at the Campolindo 25-yard line, and the Cougars hoped to catch the Dons reeling by immediately taking a shot downfield. 
_______________________________
CONNECT WITH US:
Follow SportStars on Twitter & Instagram | Like us on Facebook | Subscribe!
_______________________________
Playing in his first game in six weeks after suffering a broken thumb in Campolindo's season-opener, Spillane lined up in the slot. He'd had one target earlier in the game, an incompletion that was a bit underthrown by quarterback Dashiell Weaver. 
Weaver called for the snap and Spillane ran an in-breaking seam route. The same one he's tirelessly drilled with Weaver after practice. 
This time Weaver put just the right amount of loft under the ball and Spillane was able to run under it and grab it in stride, just a step ahead of the Acalanes defensive back. He was tackled after just a few steps, but not after Campolindo had gained 51 yards and a tidal wave of momentum supercharged by a massive student cheering section.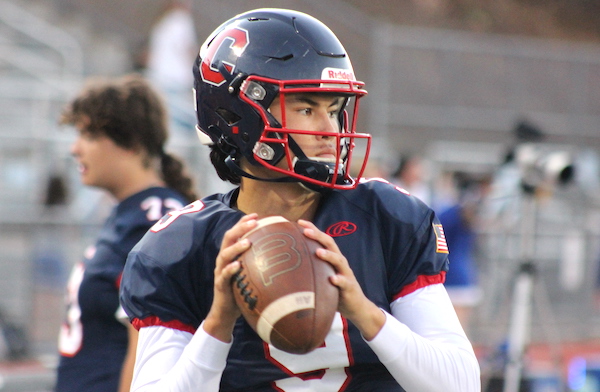 "I've been dropping them the past two years. It's been really hard for me mentally," Spillane said after the game, and after his moment with Macy. "I've stayed after practice with Dash and (backup QB) Isaiah Ortiz, and I run like eight of those routes. I don't stop until I feel satisfied.
"I got that one underthrown earlier in the game, but I knew I was going to get another one. When I saw it in the air, I knew it was going to be mine. It felt so amazing hearing the crowd chant my name."
Seven plays after Spillane's grab, Weaver scored on a 1-yard quarterback keeper that gave Campolindo a 27-17 lead with 7:54 left. It would prove to be the decisive score. The Cougars improved to 7-0 overall and 2-0 in the Diablo Athletic League-Foothill Division, remaining in a first-place tie with Miramonte-Orinda.
"Sean, I love him," Weaver said of Spillane. "He's the hardest worker on our team. I really do believe that. Every day up on this field we're practicing 10-15 extra deep passes, and he was finally able to come through after being hurt for the last six weeks."
Spillane's big night started even earlier than his catch. It started in the locker room before the game — and was another reason he felt compelled to thank Macy after the game. 
"He made me a captain this week," Spillane said, clearly fighting back emotions. "I don't know. I'm at a loss for words. I don't know what to say. He made me a captain, and as soon as he said my name for captain I knew I was going to have a game. He's the best coach. All of the coaches here are amazing. They trust everyone here and we're lucky to have them."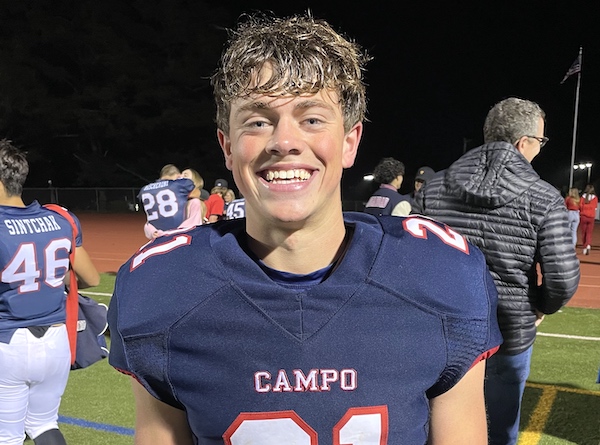 Trust and respect seem to run rampant within the Campolindo football program. It's a big reason why the defending North Coast Section Division II champions remain league, section and CIF state bowl contenders year after year under Macy. 
Weaver provided another example of it well into the postgame celebration.
Finally catching a moment to himself after an on-camera interview and receiving his own line of those looking to congratulate him, the senior quarterback who threw for 273 yards and three touchdowns while also rushing for 49 and another score overheard another parent call out, "Nice game, Dash!"
It was the dad of junior James Erickson, a backup linebacker and fullback for the Cougars.
Accepting the kudos with a "Thank you," would've been perfectly fine and totally the norm. But not fully Campo. Not on this night.
"Thanks! And your son was absolutely clutch for us tonight," Weaver said in response, noting later how Erickson filled in for banged-up senior standout Robby Horst on several downs in the second half. "He came through big time."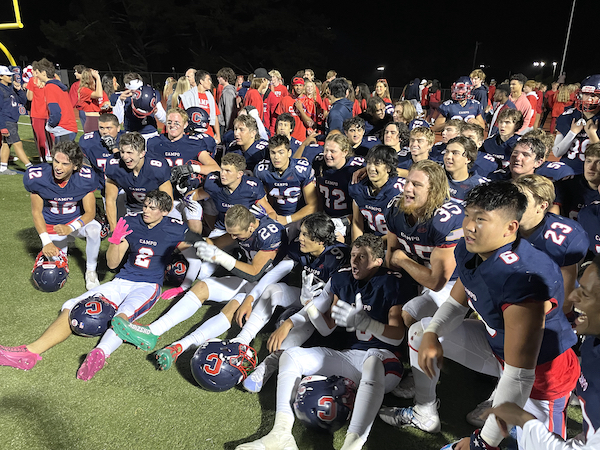 Macy will often note how his program struggles with roster numbers year and year out. But few Bay Area programs embrace community and make the most of what they have better than the one that calls Moraga home. 
The Cougars always seem to have players like Sean Spillane and James Erickson waiting to ride a boost of confidence into a game-changing performance. 
"It's love," Weaver said recently as a guest on SportStars' football podcast 7 Friday Night, "Love for the sport and love for the program. … Every once in a while, we just have to sit down and recognize that Coach Macy has built an amazing culture here."