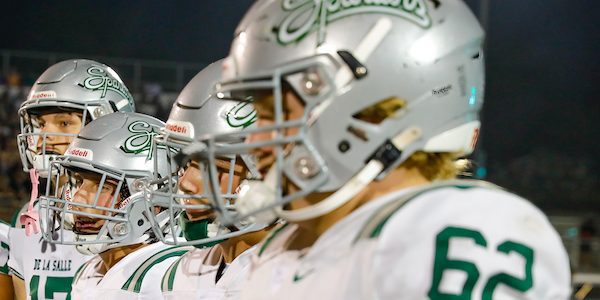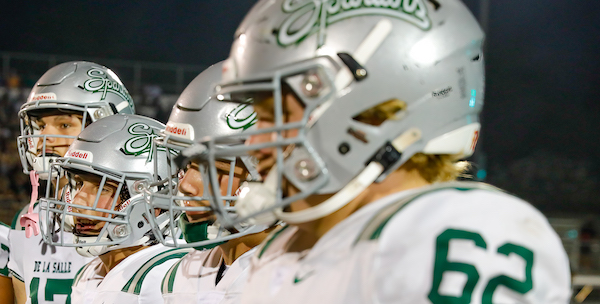 For Those Who May Have Had Doubts About De La Salle Football After An Inconsistent First Nine Games, The Spartans Had An Answer Friday...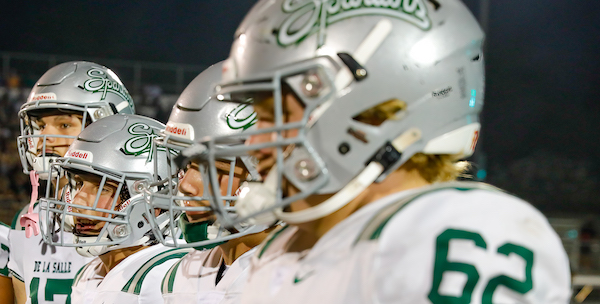 For Those Who May Have Had Doubts About De La Salle Football After An Inconsistent First Nine Games, The Spartans Had An Answer Friday •
Over the last three decades, the De La Salle football team has rarely needed to deliver a statement win.
After losses to three NorCal teams already in 2022, some entertained the thought that De La Salle might've even suffered its first North Coast Section loss in 263 games on Friday at Clayton Valley-Concord. 
Instead, the standing-room-only crowd saw a Spartans team that was the equivalent of Steph Curry strutting down the court shouting, "I'm back!" 
After Clayton Valley forced De La Salle into a 4-and-out on its first possession, the Ugly Eagles went 51 yards on seven plays and took a 6-0 lead on a 14-yard run from Nicholas Khashabi.
De La Salle scored touchdowns on its next four possessions, eventually leading to 42 unanswered and a 42-6 nonleague win that likely earned it a top 2 seed in the North Coast Section Open Division playoffs that will be announced Sunday.
"This is the expectation," senior offensive lineman and captain Derek Thompson said. "This is why you come to De La Salle, and I'm glad we finally played a complete game. I guess we're hitting our stride at the perfect point. Took us a lot longer than we ever wanted to. Hopefully we can ride this into the playoffs."
_______________________________
CONNECT WITH US:
Follow SportStars on Twitter & Instagram | Like us on Facebook | Subscribe!
_______________________________
Thompson and fellow senior lineman Cooper Powers were both simultaneously healthy for the first time in a number of weeks, and it showed. They imposed their will at the line of scrimmage to the tune of nearly seven yards per rush attempt.
Sophomore quarterback Toa Faavae bookended a pair of Derrick Blanche touchdown runs with two of his own as the Spartans took a 28-6 lead into halftime. Blanche's scoring runs went for 21 and 13 yards, while Faavae got in from 1 and 6 yards.
De La Salle has now scored 21 unanswered as Derrick Blanche rumbles in from 13 for his second TD of the night.

De La Salle 21, Clayton Valley 6
6:21 left in half pic.twitter.com/a9D8acML4g — SportStars™ Magazine (@SportStarsMag) November 5, 2022
De La Salle (7-3) won every phase of the game at Clayton, a fact best demonstrated by the teams' first possessions of the second half. Clayton Valley (6-4) drove right down the field to set up a 1st-and-Goal from the 4-yard line. The Ugly Eagles eventually lost nine yards over the next four plays. 
Meanwhile, the Spartans scored in just four plays of their own. Charles Greer rumbled 74 yards for a touchdown and a 35-6 De La Salle advantage.
"This is the first time I've watched the whole game and thought that's a De La Salle Spartans team out there," De La Salle football coach Justin Alumbaugh said. "We weren't perfect or anything like that, but our defense was flying around. Our special teams were flying around. Our offensive line was moving guys; our runners were making guys miss, and our quarterback was making good decisions."
Faavae, who has split time all season with junior Carson Su'esu'e, took all the snaps against Clayton Valley after illness sidelined Su'esu'e for most of the week. Faavae could not have had a better night. In addition to his two rushing scores, the sophomore completed all four of his passes for 72 yards. That included a 51-yard touchdown pass to Johnathan Guerrero that completed the scoring with 3:36 left in the third quarter. 
Clayton Valley entered having won five straight and six of its last seven games. The Ugly Eagles hadn't scored less than 33 points since Sept. 2.
"We just made a lot of mistakes that we haven't made in awhile," Clayton Valley coach Tim Murphy said. "That's a testament to them, forcing those mistakes on us."
Murphy took the loss in stride, despite his disappointment in feeling his team was set up to perform better than it did.
"I didn't feel like we were the favorite or anything, but I felt like we'd play better than that," said Murphy, whose team will likely host an NCS Division I playoff opener next Friday or Saturday. "(De La Salle) obviously played really well. They out-physicaled us. … They were hitting us harder than we were hitting them, that's for sure."
The Spartans controlled the ball for the entire running-clock fourth quarter. They finished with 405 yards of offense and an average of 8.3 yards per play. Blanche finished with 98 yards on 16 carries and Greer had 104 on just four carries. Sophomore Dominick Kelley added 64 yards rushing.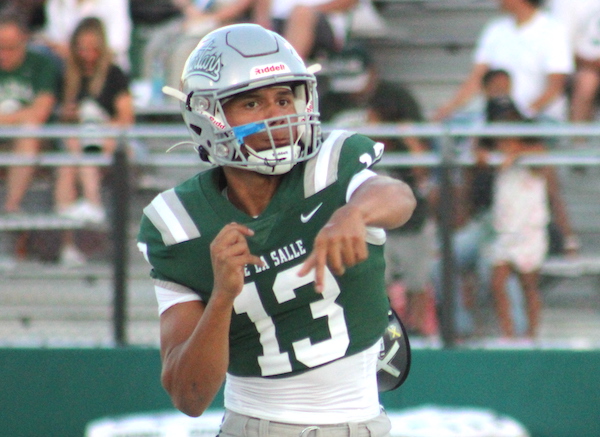 Defensively, De La Salle came up with four sacks and an interception. The Spartans held Clayton Valley to just 289 yards of offense.
"I think we were all really eager," Alumbaugh said. "It's been a strange year. We haven't put it together as a team; we haven't. I understand why people would pick Clayton (to win). They're a really good team."
After the game, Thompson stood proudly in the locker room with a slight smirk as he watched teammates celebrate.
"It means everything," the senior said. "You can see how excited everybody is. This is what it should've been all year. I'm super happy with the way we played tonight
"We have to do this all the time. It can't be a one-time thing."