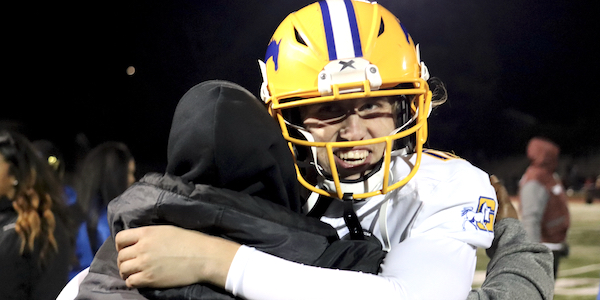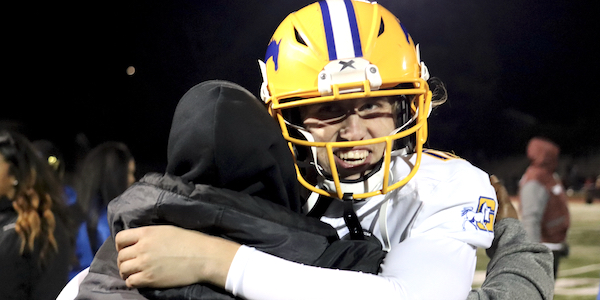 Quarterback Joseph McCray Accounted For 3 TDs As Grant Football Punched Its Ticket Back To The CIF State Bowls With Rout Of El Cerrito...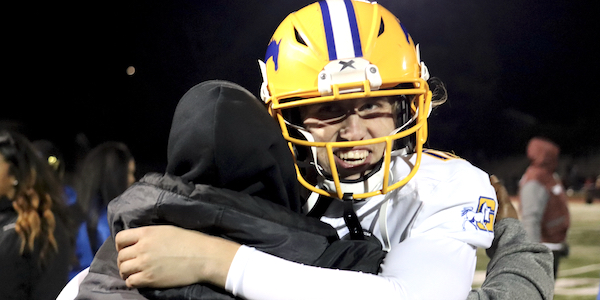 Quarterback Joseph McCray Accounted For 3 TDs As Grant Football Punched Its Ticket Back To The CIF State Bowls With Rout Of El Cerrito •
PICTURED ABOVE: Grant High QB Joseph McCray Embraces A Coach As The Pacers Celebrate Their 36-7 Win At El Cerrito. (Ben Enos photos)
Carl Reed needed less than a second to think of a response when asked what it means that his Grant Football team will be the lone Sacramento-area program taking the field on California Interscholastic Federation state bowl weekend.
"How fitting. How fitting is it that Grant High School is the only team playing next week. Because we are Grant," Reed said. "The team that everybody counted out as dead is back playing in Sacramento. Please put that in there for sure."
One of Sacramento's most storied programs is indeed the last one standing in 2022 as the Pacers used a spirited effort on both sides of the ball to defeat previously unbeaten El Cerrito 36-7 in the CIF NorCal Division 3-AA Regional and keep their season going for one more week.
The win doesn't just ensure that Grant gets to play on. It also means that there is more football to be watched in Del Paso Heights.
The Pacers will host San Jacinto on Saturday night in the CIF 3-AA State Championship Bowl Game, which gives the Grant faithful one more chance to turn out and support a team that has climbed back into the highest echelon of Northern California football.
To earn a spot in the state final, Grant (11-2) had to first deal with an El Cerrito team that entered with a spotless 13-0 record.
_______________________________
CONNECT WITH US:
Follow SportStars on Twitter & Instagram | Like us on Facebook | Subscribe!
_______________________________
A 45-yard pass from Michael Vanhook to Kamani Jackson put the Gauchos (13-1) on the scoreboard first, but that first-quarter touchdown would end up the only points El Cerrito could celebrate all night.
Once Grant got rolling, it never stopped. 
Quarterback Joseph McCray got the scoring started with a 4-yard touchdown run, then the senior helped put the Pacers ahead with a 26-yard pass to Kenyon Shabazz and 61-yard pass to Kyrell Goss-Pruitt that made it 22-7 at halftime.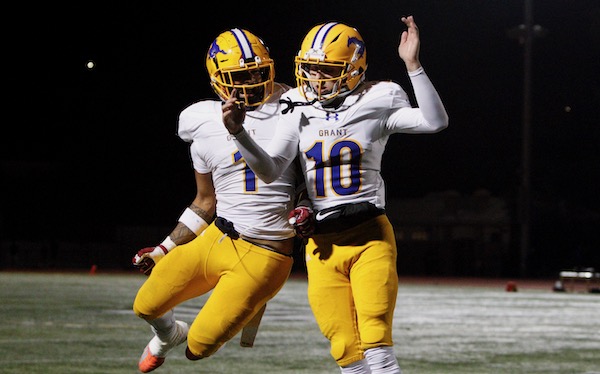 El Cerrito did what it could to stay in contact, but after an intended punt ended in a 13-yard loss instead, Grant took over at the Gauchos' 25 and Joshua Hamilton scored on a 5-yard run three plays later to add to the advantage. Semaj Mafu-Hart, who rushed for 72 yards on the night, finished the scoring with a 20-yard run in the fourth quarter, and the celebration was on.
"Like I say all the time, we went 0-9 last year. Who would've thought we would've made our run for a state championship this year," McCray said. "It's like a big family. Even the community. We all went through that 0-9 together. We all came back; we worked as hard as we could, and we bonded as a family."
With 251 yards passing against El Cerrito, McCray surpassed the 3,700-yard mark for the season. He also added two passing touchdowns, giving him an otherworldly 48 to 5 touchdown to interception ratio. And, he added a rushing score, his eighth of the season, bringing him to 56 total touchdowns on the year.
"If you looked at him last year, people don't believe that's the same quarterback still," Reed said. "That tells you a lot right there. Is that the same guy? Yeah, that is the same guy. But that's a tribute to his quarterback coach, for sure."
When Grant welcomes San Jacinto to Mike Alberghini Field, it will do so with its eyes on adding to a long history that already exists.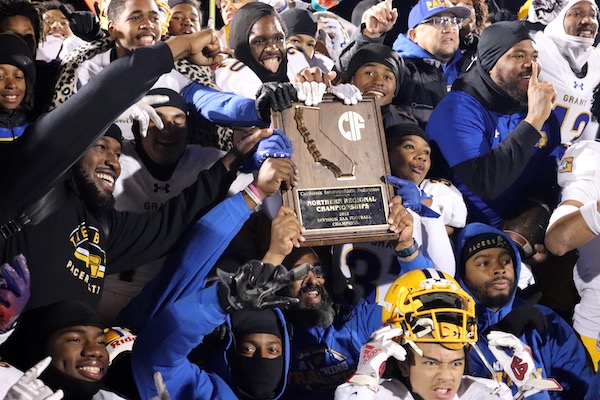 A win over Christian Brothers-Sacramento gave the Pacers their eighth Sac-Joaquin Section championship, and the lone area team ever to win a CIF Open Division state bowl game certainly knows what it means to play on the final week of the season.
"Tradition at Grant means a lot," Goss-Pruitt said. "It's a brotherhood. It's a family. We don't call it the 'G' for no reason. It's not just calling it the G. The G means hard work and effort. It means everything in the book."
It's a book that the Pacers hope has one more chapter left to be written.