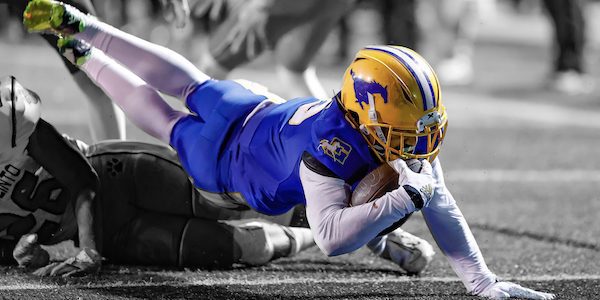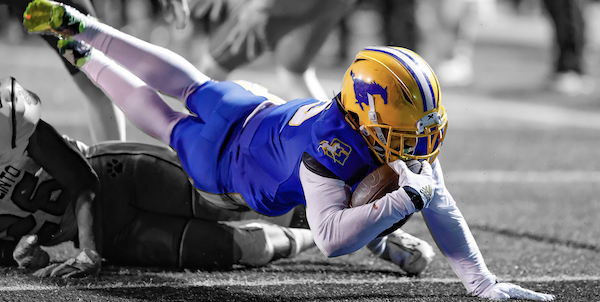 Grant Football Program Goes From Winless To Limitless After 2008 State Champion Alumni Inspire Bowl Game Greatness In Wild Finish PICTURED ABOVE: Grant's Kyrell...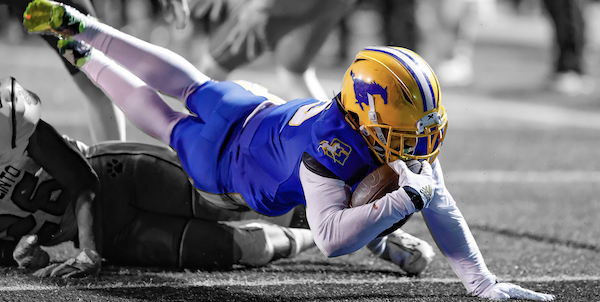 Grant Football Program Goes From Winless To Limitless After 2008 State Champion Alumni Inspire Bowl Game Greatness In Wild Finish
PICTURED ABOVE: Grant's Kyrell Goss-Pruitt Dives Over The Goal Line For A 2-Yard Fourth-Quarter TD Run. (David Gershon photos)
In North Sacramento, what's behind you can help you overcome the obstacles ahead.
With under 20 seconds left in the CIF Division 3-AA State Championship Bowl Game, and all timeouts expended, Grant junior receiver Kyle Ryan stretched to the one-yard line, but found himself retreating from the San Jacinto end zone, courtesy of a surging San Jacinto defense.
A tackle could have given San Jacinto a state championship, but instead, a collective push won it for Grant.
Ryan's Pacer teammates hit the pile en masse, launching the scrum forward into the end zone for the final score of a 36-34 come-from-behind thriller. San Jacinto had 18 seconds to score, but Hakim Reynolds intercepted Dereun Dortch to spark game-ending bedlam at Mike Alberghini Field.
"You couldn't paint a better picture," Grant co-head coach Carl Reed said, still trying to catch his breath during the ensuing celebration. "Everything we been through, the bounce back, coming from behind.
"We did it."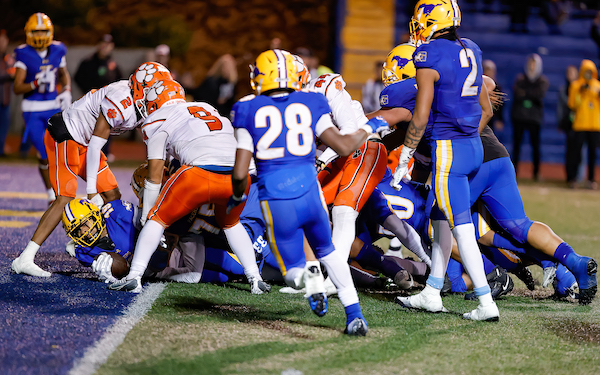 The state title completes an otherworldly turnaround for a program that went 0-9 last year and hasn't had a winning season since 2016.
That history had little impact on the 2022 Pacers, but lore of a 2008 Open Division state championship sure did. Like they did Saturday, Pacers got behind the team when it was most needed.
Several members of that 2008 squad spoke with the team after Thursday's practice under the lights.
"They talked to us about how they faced adversity as well in their state championship, and how they pushed through it," USC-bound Grant lineman Alani Noa said. "Having their presence there to motivate us, it was so great to have them."
_______________________________
CONNECT WITH US:
Follow SportStars on Twitter & Instagram | Like us on Facebook | Subscribe!
_______________________________
That alumni group included Howard Warren (San Francisco City College), Darvin McCauley (Nevada), Kipeli Koniseti (Arizona State), Alesana Laban (Sacramento State), Jordan Wallace (Washington) and Marvin Lamb.
Lamb grabbed a late interception in Grant's 25-20 upset over Long Beach Poly for the open division title back in 2008. McCauley, considered the hero of the game, had two touchdowns, including the game-winner from Koniseti with 1:11 to play.
He paced the Grant sideline with great emotion Saturday.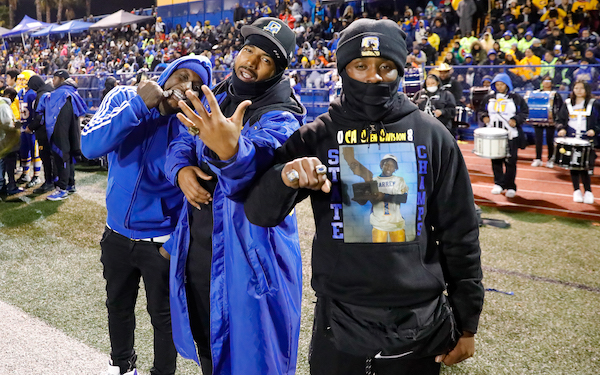 "These kids definitely deserve it," McCauley said. "They experienced rock bottom, a winless season, a one-win season, and for them to be able to turn it around this season is beautiful.
"It's a beautiful thing."
On Saturday, Warren rocked a section championship ring from 2006 and of course the gaudy 2008 state ring, but a sweatshirt with a photo of him holding the open division trophy really painted the picture.
A player who lived across the street from Grant, coaches Grant football (receivers coach for the junior varsity) and has attended every home game since he graduated in 2009, is as Pacer as you get.
"(Winning the state title) was the most beautiful thing I have ever experienced in my life," Warren said. "Being from North Sacramento, we were expected to go out there and lose by a lot, and we went out there and overcame.
"We knew what was at stake, and knew that we were playing for more than just our area, we were playing for Sacramento."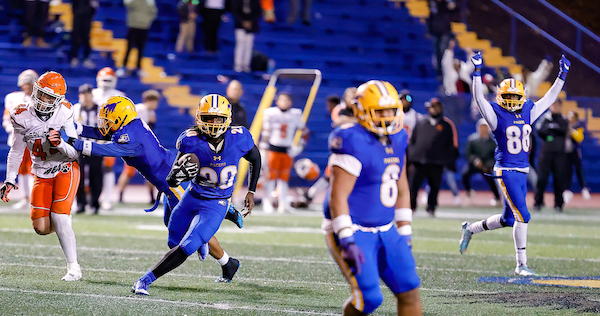 It's why, as McCauley said, the alumni motto is "Pacer for life."
"This is the heart of our community," Warren added. "Being a Pacer brings everyone together, from different lifestyles, together as a family, and that's the best thing about it."
The 2022 version of McCauley could be Kingston Lopa. The heavily recruited wideout caught seven balls for 104 yards and a 35-yard touchdown to begin Grant's recovery from a 20-8 third-quarter deficit. He also brought Grant into the red zone in the final moments while the Pacers battled a dwindling clock and an all-black scoreboard (malfunction).
"This was the best moment of my life," Lopa said. "I never thought I would be here, but here we are.
"I love my team."
Ryan had three catches for 63 yards, including the game-winning score. It helped quarterback Joseph McCray overcome four sacks and finish 11 of 15 for 163 yards and two touchdowns.
Semaj Mafu-Hart was terrific early, and led Grant ball carriers with 75 yards on 15 touches. Joshua Hamilton also ran 17 times for 55 yards and a touchdown, while Kyrell Goss-Pruitt ran for a three-yard score and converted three two-point attempts.
Dortch finished 9 of 18 for 183 yards and three touchdowns, all to junior sensation Dillon Gresham, who had six catches for 143 yards. Gresham also returned a fumble 83 yards for a touchdown.
The Grant defense struggled late, but also delivered big moments. London Miguel popped Dortch after a bad snap and set up Marque Green Jr. for a 23-yard scoop-and-score on the game's second play. Jeziah Lopez recovered a San Jacinto fumble and Tim Silmon dumped the San Jacinto punter for a 32-yard loss and turnover on downs in the fourth quarter.
In a game where contributions came from everywhere, the Pacers rallied behind each other when it mattered most.
It's what champions are made of.