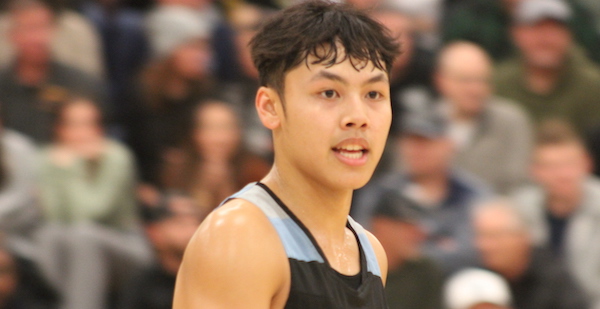 NorCal No. 3-Ranked Dougherty Valley Basketball Exudes Joy And Toughness In Topping No. 9 Granada For 2-0 Start To League Play • PICTURED ABOVE:...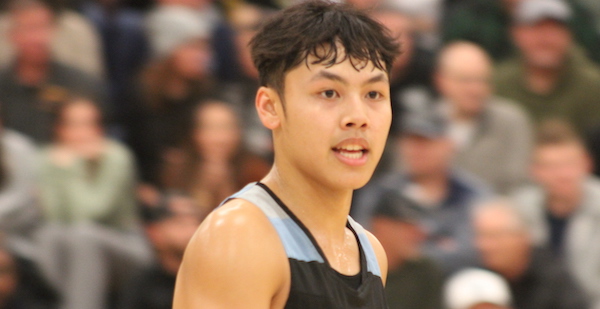 NorCal No. 3-Ranked Dougherty Valley Basketball Exudes Joy And Toughness In Topping No. 9 Granada For 2-0 Start To League Play •
PICTURED ABOVE: Connor Sevilla Looks On During The First Half Of Friday's Game At Granada-Livermore. (Chace Bryson photos)
Connor Sevilla drained the 3-pointer from about 23 feet and instantly flashed a wide grin as he shot a glance at his teammates on the Dougherty Valley bench.
Fellow Wildcat guard Ryan Beasley following two of his 24 points during the San Ramon school's 53-46 East Bay Athletic League road win at Granada-Livermore on Friday night.
This wasn't showboating or taunting. It was just plain having fun. And the Wildcats from San Ramon are having a lot of that of late. 
"When we're winning, it's very fun," Beasley said with a chuckle after the game.
They are definitely winning. The win over Granada pushed NorCal's No. 3-ranked team to 17-1 on the season and gave them a 2-0 start in the EBAL — a league that featured six teams inside the Jan. 11 release of the SportStars NorCal Top 20 Rankings Granada was No. 9. 
"It's always rough here. They're good," Dougherty Valley coach Mike Hansen said of Granada. "They're long and big and we're still coming back from some sickness. We'll keep getting better, and to go 2-0 to start the week in the EBAL with two road wins at San Ramon Valley (Danville) and here? Shoot, I'm going to sleep well tonight. That's for sure."
_______________________________
CONNECT WITH US:
Follow SportStars on Twitter & Instagram | Like us on Facebook | Subscribe!
_______________________________
Dougherty Valley trailed 15-9 with a little less than a minute to go in the first quarter. The Wildcats would go on to allow the Matadors just seven points for the rest of the half. 
"We're locking up on the defensive end," Beasley said. "46 points tonight, that's big in this league. If we're able to lock up like that, we know we can score enough. That's why defense is the biggest thing for this team."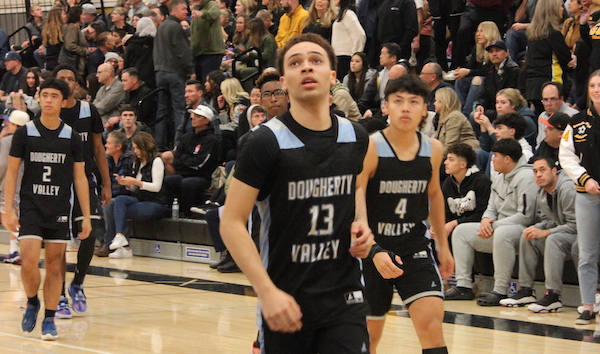 Granada (14-4, 1-1 EBAL) still led 22-21 with less than four minutes to go in the half before Beasley helped spur a 9-0 run over the last three minutes for a 30-22 intermission advantage. 
Beasley and Sevilla may comprise the East Bay's best two-way backcourt. The two combined for 40 points on Friday while also forcing at last six steals. They play with a chemistry that's been forged from more than eight years playing with one another.
"He makes my job so much easier," Sevilla said of Beasley. "Since playing together in middle school and even elementary school, I knew he would always find me — get me the ball when I need it, and try to get me involved."
Sevilla scored seven of his 16 points in the third quarter as the Wildcats pushed their lead to 12.
Granada wasn't going to go quietly, though. The Matadors used their own dynamic duo, 6-foot, 11-inch center Andrew McKeever and 6-7 wing Tyler Harris. McKeever had nine of his 24 points in the fourth quarter as Granada was to pull within three. The Saint Mary's-bound big man converted a three-point play to make it 49-46 with 41.8 seconds left.
The Matadors then got a stop on the defensive end as McKeever pulled down his 13th rebound. They had two shots at tying or pulling even closer, but came up empty. Beasley converted four of six free throws inside the final 20 seconds to seal the win. 
Afterward, Hansen pointed to his team's toughness as his favorite part about coaching the group right now.
"Obviously it starts with Ryan and Connor, but it's just every dude. I can put anybody out on the court and they're going to play," the coach said. "There's no fear. No fear of failure. They're gonna go. They're gonna make shots, they're gonna miss shots. They're gonna make plays, they're not going to make plays, but they're gonna keep going. And they do it for each other and I think that's why we're so successful right now."
Blake Hudson, a transfer from Saint Mary's-Berkeley, joined Beasley and Sevilla in double figures for the Wildcats. He finished with 10 and added seven rebounds and two steals. 
"Blake – he's like that one piece that we needed," Sevilla said. "He runs the floor. He locks up on D. He's definitely helped us out a lot."
The 6-3 senior wing admits he couldn't have asked for a better landing spot.
"They immediately accepted me as a person and a player," he said. "It's been easy to come in and just do what I do to help the team. … We just need to stay locked in."
Then he cracked a big grin, too.
"Everything is fun right now."