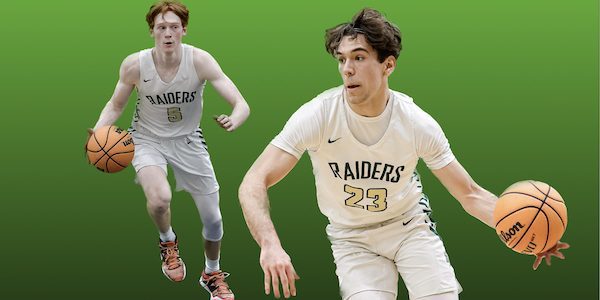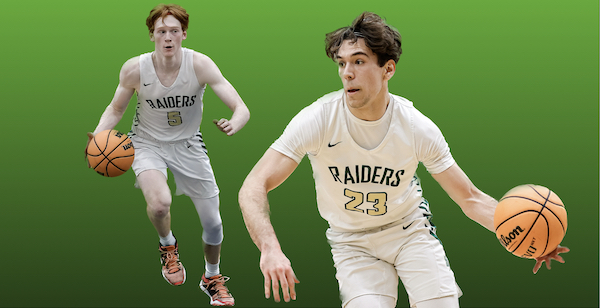 Fueled By A Senior-Heavy Roster Aiming To Overachieve, Rio Americano Basketball Can Claim A Capital Athletic League Crown This Week • PICTURED ABOVE: Rio...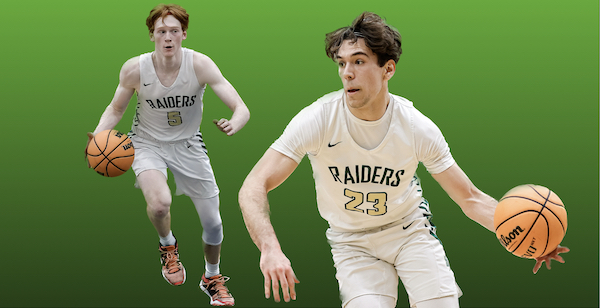 Fueled By A Senior-Heavy Roster Aiming To Overachieve, Rio Americano Basketball Can Claim A Capital Athletic League Crown This Week •
PICTURED ABOVE: Rio Americano Seniors Dylan Newberry (5) and Miles Lake (23). (David Gershon photos)
It's been more than 20 years since Rio Americano basketball won the last of its four Sac-Joaquin Section championships. And its 2018 Capital Athletic League championship was one of just two outright league titles earned by the Raiders in coach Chris Jones' first 14 years at the helm of his alma mater.
In short, Rio Americano is not known for hoops domination through the years.
In fact, it has long been a struggle to even earn the title of neighborhood champs with SJS basketball power Jesuit-Carmichael situated basically across the street from Rio Americano.
The 2022-23 Raiders, though, are making strides and quietly inserting themselves into the local and regional hoops conversation. The quiet Raiders made some noise in December when they handed Folsom its first defeat of the season and the still Bulldogs' only loss to a Sac-Joaquin Section team, but Jones and his team are content to calmly collect wins to the tune of a 22-4 record as they head into the final week of the regular season just two wins away from an outright CAL championship.
"Every practice and game feels peaceful," Jones said of his current squad, which has already matched the program's most wins (22) since he took over in 2008. "We've had some good teams in the 15 years I've been here, but I have not been able to enjoy a team like I enjoy these guys."
The players share the same feeling about the senior-dominated squad that's been riding its good vibes to a great record.
_______________________________

CONNECT WITH US:
Follow SportStars on Twitter & Instagram | Like us on Facebook | Subscribe!
_______________________________
"I have been on teams that worked well together, but culture-wise this team is the best," said Dylan Newberry, a three-year varsity player and one of the Raiders' three captains. "We are all friends and hang out together.
"No one gets down on anyone, and I can be myself and not ever feel pressured to do anything outside of my role."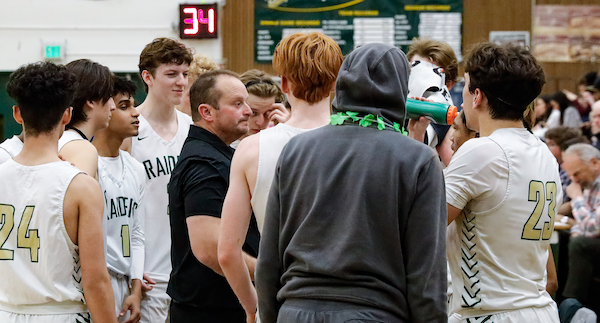 Jones points to his team understanding and accepting roles as a key to Rio Americano's success. 
Four-year varsity starter Luke Mason is the scorer at shooting guard, leading the Raiders' with a 16.8 points-per-game average on 53-percent shooting from the field and nearly 40 percent from beyond the arc. Senior point guard Miles Lake is the floor leader who uses his high basketball IQ to act as an extra coach on the court. Lake is averaging more than 11 points and four assists per game, and has recorded three double-doubles this season. Two with double-digit rebounds and one with double-digit assists.
Sophomore sharpshooter Jace Thompson is a rare underclassman on the roster, but his long-range shooting has caught the attention of upperclassmen teammates and opponents alike. Earlier this season, Thompson broke the record for most 3-pointers in the Jack Scott Tournament that Rio Americano has hosted for nearly 50 years. He is shooting 40 percent from distance while averaging 12.7 points per game.
Meanwhile, Newberry's primary role is to shut down the opponent's playmaker or scorer with offensive output being an added bonus.
"In the fall, a lot of the returners from last year's team knew what their roles were going to be and it didn't take long for everyone to show their strengths and understand and accept their roles." Mason said. "Everyone is comfortable and confident in each other."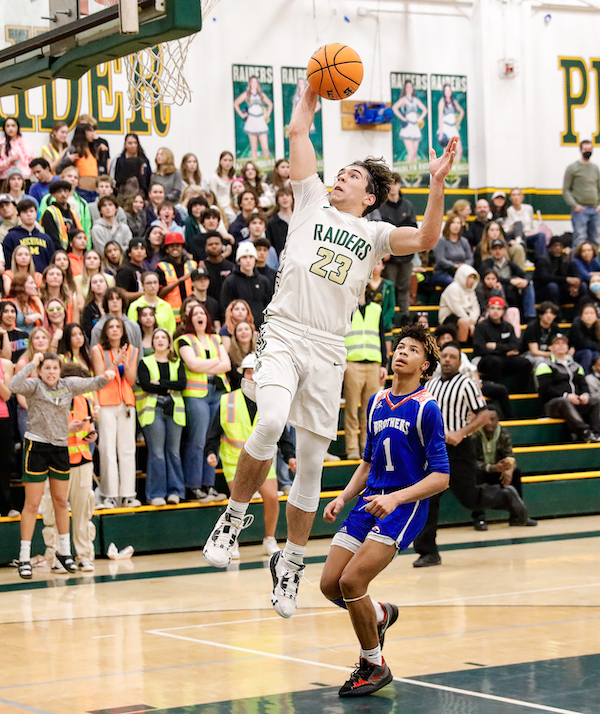 The Raiders' season has not been without some discomfort, but the team has leveraged the rare missteps to motivate themselves and make the improvements to quickly correct course.
After winning the Jack Scott Tournament, Rio Americano went into its neighborhood showdown with Jesuit full of the confidence that a 6-0 start can build. The Raiders were humbled by an 84-46 trouncing at the hands of the Marauders that could have derailed their solid start to the season.
Instead, Rio Americano rebounded to stun the section's top team, Folsom, on its home court to claim the Stan Harms Championship with an eye-opening 67-64 victory.
"The Jesuit game was a wake-up call," Thompson said. "We knew we had to look at ourselves and keep working hard to improve. It made us hungry and we became a better team from it."
In the Raiders' league opener against Capital Christian, they blew a lead down the stretch that immediately had them looking up at the usual top teams in the league. However, Rio would turn things around in the road rematch where they were able to put the Cougars away and avoid another league loss.
"We kind of fell apart down the stretch in the first game against Capital," Jones said, "but we were able to learn that lesson to put teams away when we can and not let them hang around.
"It was a learning lesson, and I hope that it's our last learning lesson gained from a loss."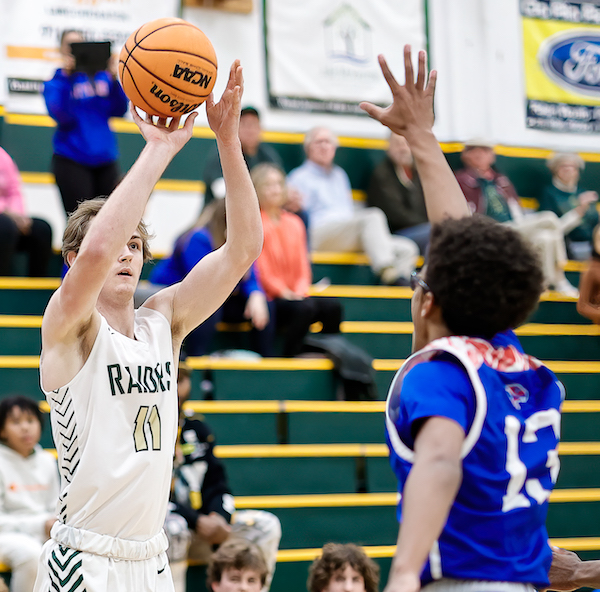 Jones has long taught his teams that goal-setting should be simple. Rather than just striving for league and/or section titles, the Raiders have always had the same goal under Jones: over-achieve.
"In the preseason, our only goal as a team is to over-achieve and we will learn at the end of the season if we've reached our goal."
With the postseason on the horizon, Rio Americano has indeed over-achieved — going from a team on no one's radar to a surprise threat with playoff aspirations. Heading into the final week of league play, the Raiders can claim the CAL crown if they win out at home against second-place Sacramento and on the road at Vista del Lago-Folsom.
"We have had some moments where we have over-achieved, but we have also had a few moments where we did not," Mason said. "We still have a league championship to try to win."
"We want to over-achieve and take it one game and one goal at a time. We are all in for the ride and we're loving it, but we're not satisfied yet. We want more."