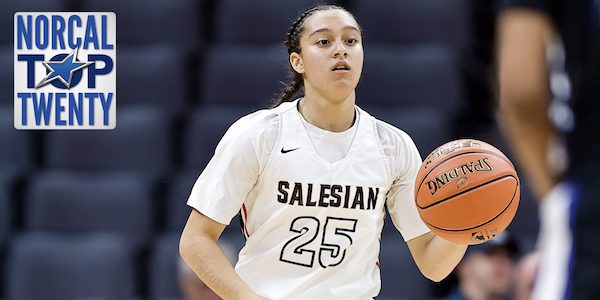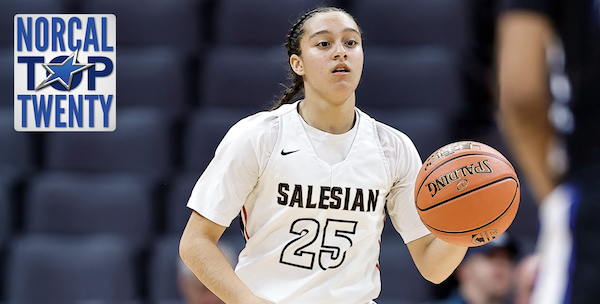 Another Week Bereft Of Upsets Leaves The NorCal Girls Basketball Rankings Unchanged Yet Again As Section Playoffs Begin On Feb. 14 • NorCal Girls...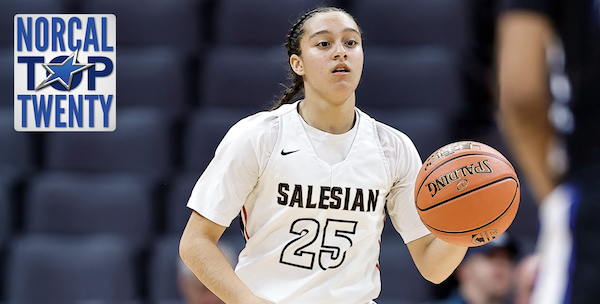 Another Week Bereft Of Upsets Leaves The NorCal Girls Basketball Rankings Unchanged Yet Again As Section Playoffs Begin On Feb. 14 •
NorCal Girls Basketball Rankings
All records are through Monday, Feb. 6. Previous rank in parenthesis. Records obtained through MaxPreps.com
PICTURED ABOVE: Senior Guard Sofia Fidelus Of No. 5 Salesian-Richmond. (David Gershon photo)
1. (1) Piedmont  22-0
2. (2) Archbishop Mitty-San Jose   20-2
3. (3) Folsom   20-2
4. (4) St. Mary's-Stockton   19-8
5. (5) Salesian-Richmond   21-4
6. (6) Oakland Tech   21-5
7. (7) Sacred Heart Cathedral-S.F.   18-2
8. (8) Cardinal Newman-Santa Rosa   20-6
9. (9) San Ramon Valley-Danville   22-3
10. (10) Acalanes-Lafayette  17-6
11. (11) Carondelet-Concord   20-5
12. (12) Antelope  22-3
13. (13) Vanden-Fairfield   19-7
14. (14) McClatchy-Sacramento   21-5
15. (15) Bishop O'Dowd-Oakland   14-7
16. (16) Heritage-Brentwood   20-4
17. (17) Pleasant Valley-Chico   23-3
18. (18) Pinole Valley   18-8
19. (19) Colfax   24-2
20. (20) Marin Catholic-Kentfield   21-5
DROPPED OUT: None
5 TEAMS KNOCKING:
Chico (20-5), Christian Brothers-Sacramento (24-2), Los Gatos (18-3), St. Francis-Sacramento (20-4) and St. Patrick-St. Vincent-Vallejo (19-5)
FAST BREAKDOWN
After a somnolent week in the rankings — even No. 6 Oakland Tech's rousing comeback win over No. 11 Carondelet didn't change things — it's time to focus on section playoffs, which start next week. We'll begin with the most interesting …
SAC-JOAQUIN: Unlike most of the big sections in the state, the Sac-Joaquin does not have an Open Division, which means No. 13 Vanden and No. 19 Colfax won't have to mix it up with No. 3 Folsom, No. 4 St. Mary's-Stockton, No. 12 Antelope and No. 14 McClatchy. The last four, though, are all in the Division I bracket, and with St. Mary's point guard Nia Anderson out for the season, Folsom looks like the clear favorite. Who's No. 2, though? That is definitely up in the air.
NORTH COAST: Six teams will get into the Open, and from here, it looks like any of the six could win it all — and any could lose in the first round. (Note that Piedmont cannot go into the Open, due to the compromise that allowed NCS to have an Open Division. No teams from divisions IV through VI can be moved into the top bracket.)
_______________________________
CONNECT WITH US:
Follow SportStars on Twitter & Instagram | Like us on Facebook | Subscribe!
_______________________________
Salesian and San Ramon Valley will likely get the first-round byes, though Cardinal Newman, which hasn't lost in 2023, could slip into the second spot. Then again, the Santa Rosa school could conceivably slide to fourth, behind Carondelet. Carondelet is ranked below No. 10 Acalanes, which could get the fourth spot. Or, if the NCS committee goes a little wacko, the Dons could jump to third. The final spot will go to either No. 15 Bishop O'Dowd or No. 16 Heritage, and will likely depend on whether the committee values strength of schedule (O'Dowd) over a glittering record (Heritage).
CENTRAL COAST: No. 2 Archbishop Mitty and No. 7 Sacred Heart Cathedral look like locks for the Open final, so the real question is whether 10-9 Pinewood (which plays Carondelet Saturday) is given enough credit for its brutal schedule and joins the eight-team Open or is dropped all the way down to its natural division (Division V).
NORTHERN: No. 17 Pleasant Valley travels to 20-5 Chico on Thursday, but expect those two to meet again the Division III finals (the highest division in the Northern Section). Don't be surprised, though, if Foothill-Palo Cedro manages to pull an upset somewhere along the way.
OAKLAND: No. 6 Oakland Tech is so dominant in Oakland that it's likely its JVs could win the postseason playoffs. Any margin of victory less than 40 should be considered an upset.
SAN FRANCISCO: This section's best team, according to the computer, is ranked 395th in the state. That would be Washington, which has only played 14 games. However, Lowell won the only meeting between the two. Then again, 12-13 Lincoln is in first place in the standings, so the section playoffs are pretty much a tossup.