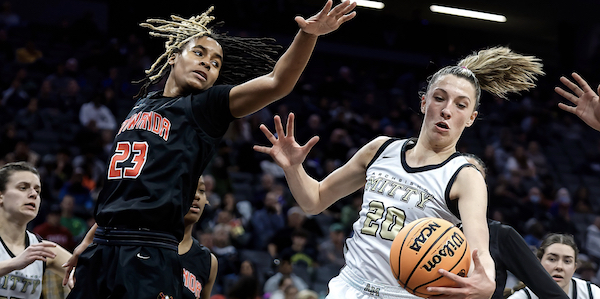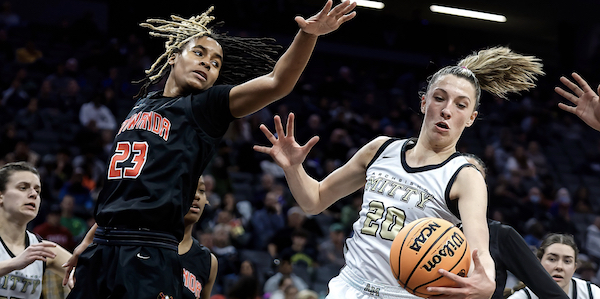 Archbishop Mitty Girls Basketball Left To Regroup, Recommit After Battle Of National Top 10 Teams Ends In A Buzzer-Beater Defeat To Etiwanda • PICTURED...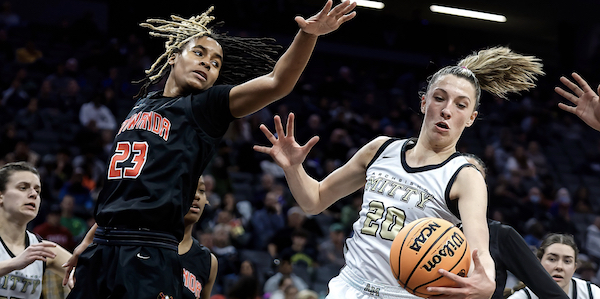 Archbishop Mitty Girls Basketball Left To Regroup, Recommit After Battle Of National Top 10 Teams Ends In A Buzzer-Beater Defeat To Etiwanda •
PICTURED ABOVE: Mitty Star Freshman McKenna Woliczko Grabs A Rebound During The CIF Open Div. State Final. (David Gershon photos)
Sue Phillips, the legendary Archbishop Mitty girls basketball coach, said all the right things. 
She consoled her team, applauded its monumental effort and praised the Monarchs' opponent: A gritty, well-coached, battle-tested team from the Inland Empire of Southern California, the Etiwanda Eagles. 
Winner of nearly 800 games (789) against just 137 defeats, a former McDonald's All-American head coach, and current leader at USA Basketball, Phillips has won everything there is to win, lost all there is to lose, and been in every type of setting to offer wisdom and perspective and a big-picture view of any game, big or small.
But make no mistake. This one stung. It burned badly.
Because this game — the Open Division championship game at Sacramento's Golden 1 Center — was in Mitty's back pocket, only to lose 79-77 in one of the most thrilling, intense and well played games in girls state championship-game history. 
And what made it pinch most was that for almost 30 minutes, Phillips' Monarchs of San Jose accomplished everything they wanted in their quest to beat the nation's No. 6 team. 
_______________________________
CONNECT WITH US:
Follow SportStars on Twitter & Instagram | Like us on Facebook | Subscribe!
_______________________________
Led by the team's elite 6-foot-2 players, 5-star junior guard Morgan Cheli (24 points, six rebounds, five assists, four steals) and freshman McKenna Woliczko (18 points, 10 rebounds), the Monarchs played fearlessly. They attacked the basket, utilized their deep bench, and most surprisingly, dominated the Eagles in rebounding (43-31 by game's end).
It all led to a seven-point advantage, 64-57 with 2 minutes, 28 seconds remaining.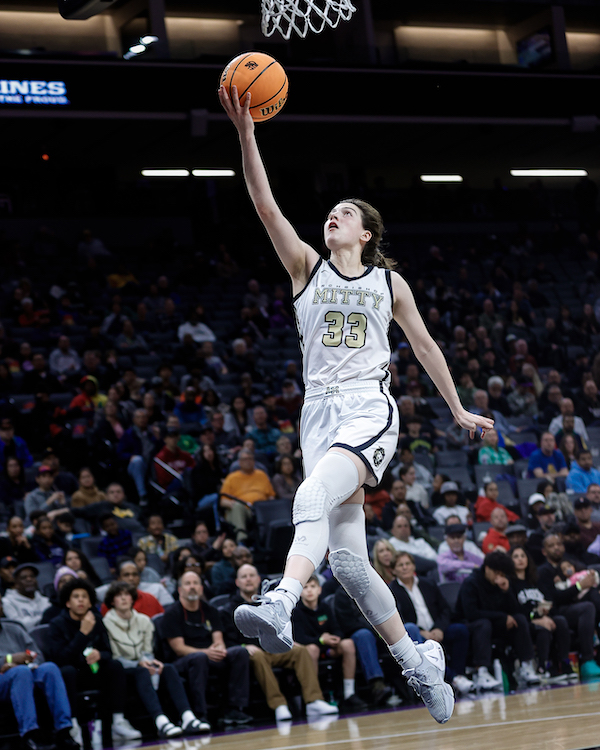 "You think you have it, right?" Phillips said. "Everything was aligned." 
But a key turnover, some missed shots, a gallant Etiwanda 10-3 comeback, and then the ultimate dagger: A putback at the buzzer by reserve Jada Sanders. Just like that, Mitty's night and season of near perfection went poof.
Etiwanda prevailed 69-67 leaving the No. 10 national Monarchs (28-3), winners of 21 straight, in a flood of tears. The Eagles (32-3), buoyed by its likely All-American, 6-foot-1 junior Kennedy Smith (30 points, 13 rebounds, six steals and four blocks), mobbed then tackled Sanders after winning in the program's first state title game.
"That's a tough pill to swallow," said Phillips, in her 30th season at Mitty. "Gotta credit Etiwanda for their resolve. They continued to persevere. We outrebounded them, which was a goal. We were 20 of 22 from the free-throw line, which is fantastic.
"It came down to a one-possession game. I couldn't be prouder. They're a pleasure to coach. None of them should have their heads down."
The Eagles could have looked down, considering the position they were in.
Two starters had fouled out and two others, including Smith had four fouls, when they made their run. But Etiwanda coach Stan Delus said his team had been in this situation many times before. This was the team that shocked national No. 1 and defending CIF Open champion Sierra Canyon-Chatsworth 54-53 on Tuesday to reach the state title game.
Delus' message to the team when down seven was "We know how to fight back from adversity. Don't get rattled. You just gotta play."
And they did.
Sanders made a driving lay-up. Smith had a putback. Arynn Finley added a 3-point play. Just like that, the game was tied at 64 with 1:25 remaining.
The teams exchanged three free throws apiece when the Monarchs threw an inbounds pass out of bounds with 40 seconds left. Smith missed a shot, Mitty couldn't secure the rebound, a loose ball was tied up and the possession arrow went to Etiwanda with 19.4 seconds left.
After a timeout, the Eagles got just the shot they planned with the right player. Smith took a hard dribble right for a midrange jumper from the right wing. It spun in and around the basket twice. Sanders was in the right place and flipped it back in just before the horn.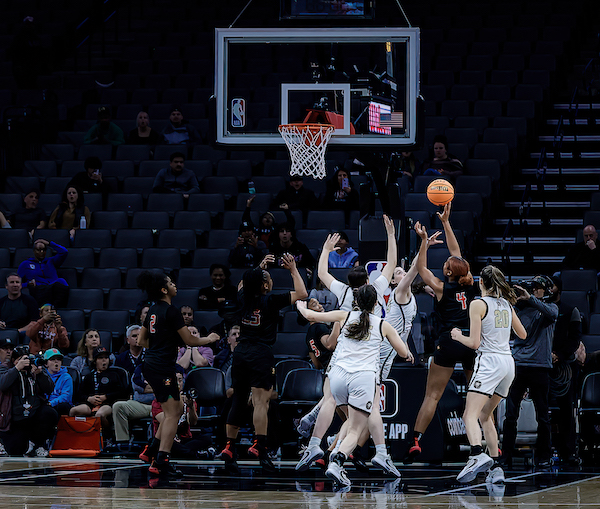 "We executed just what we wanted," Smith said. "I was on my toes as the ball rolled around. I thought it was in. But Jada got the rebound. She got the basket. I'm so proud of her."
It was her first rebound of the game and her third and fourth points. Despite playing just under 12 minutes, Sanders, not Smith, turned out to be the hero.
Sanders said she never made a game-winner in high school.
"I couldn't breathe. I'm on the ground and everyone is on top of me and then a camera is in my face and I thought. … Really?"
Of Smith's jumper, Sanders said: "I thought it was going to spin back in, but it ended up coming out. I knew I had to rebound."
And Mitty, which had owned the glass all night, fell to 0-3 in Open Division games. The Monarchs have won six others at lower levels and own the most finals' appearance (15) in state history.
But this one hurt.
Phillips healed her team afterward. But 15 minutes later she was still shaking her head to herself.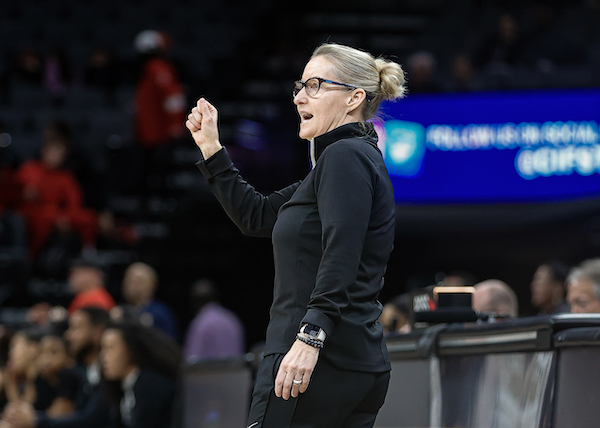 In recalling the game's final sequence, she said: "I was elated. I was thinking it was going to go out and it did. But they got it. 
"Unfortunately it wasn't in the cards. It's really tough, especially not being able to get the ball back. … Basketball is a funny game sometimes. I can live with losses, but this one was well within our grasp."
It was. Not like last year when Sierra Canyon swamped the Monarchs 85-61 in the same game. With Cheli and Woliczko along with seven other likely college-bound players back for next year, the future is bright for the Monarchs to get over the hump.
But even for those coming back, that didn't make the loss any less painful.
"We were determined to come out and win," Cheli said. "So to fall short is not the best feeling. Etiwanda played great. For the people returning, we want to come back (to Golden 1 Center)."