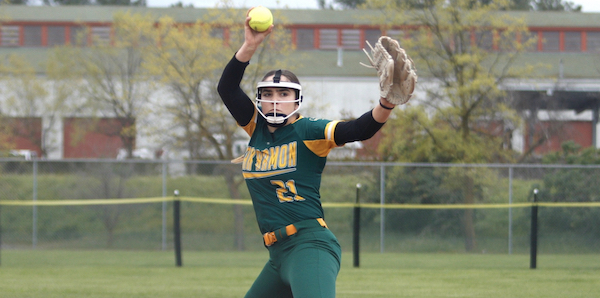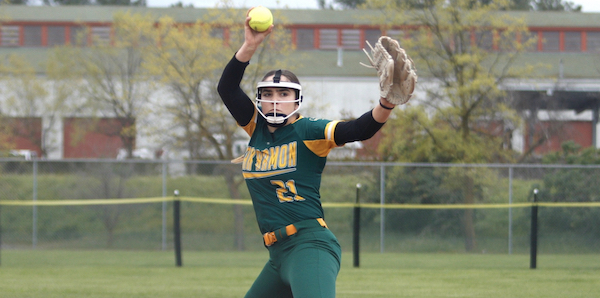 Danville's San Ramon Valley Softball Is Using Stampede To Announce Presence With Authority; NorCal No. 1 No-Hits No. 2 • PICTURED ABOVE: San Ramon...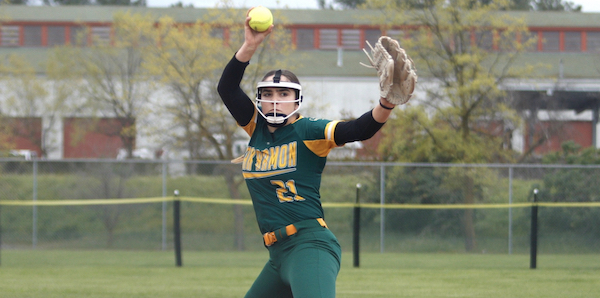 Danville's San Ramon Valley Softball Is Using Stampede To Announce Presence With Authority; NorCal No. 1 No-Hits No. 2 •
PICTURED ABOVE: San Ramon Valley Senior Pitcher, Paige McLeod. (Ben Enos photo)
As it looks to make noise in an always-crowded East Bay Athletic League softball hierarchy, San Ramon Valley-Danville isn't much interested in hiding its ambitions.
The Wolves are ready to compete.
Making its first appearance at the prestigious Livermore Stampede in head coach Lori Smith's 12-year tenure, SportStars' No. 5-ranked San Ramon Valley finished off a 3-0 showing in pool play with a convincing 7-0 win over No. 18 Whitney-Rocklin at Ernie Rodrigues Softball Complex.
The victory sends San Ramon Valley (11-1) into Saturday's Championship Flight where it will face Livermore at 5 p.m. A win in that game would mean another big step forward—and another big opportunity—for a hungry bunch of Wolves.
"I think our energy and our team camaraderie is higher than ever," said senior pitcher Paige McLeod. "We didn't go as far as we wanted to last year so we're all really hungry. And, we have a lot of returners who are ready to go deeper than last year."
Bound for Illinois State, McLeod has been a catalyst for the Wolves this season and the win over Whitney was no different. She limited the Wildcats to just two hits, walked two and struck out four in a complete game that took five innings due to the tournament time limit.
_______________________________
CONNECT WITH US:
Follow SportStars on Twitter & Instagram | Like us on Facebook | Subscribe!
_______________________________
"Paige has paid her dues. Her first two years, she sat the bench and she's worked her butt off and earned it," Smith said. "She pitches so well that sometimes it's easy to forget she literally carries the team on her back many times and she doesn't need to. We should be backing her up.
"I just smile every time I watch her. She's just relaxed and she does her job."
McLeod's day wasn't limited to the circle. She also delivered the game's biggest offensive blow, crushing a 3-run home run to key a decisive five-run third inning.
"Honestly, it was a little bit elevated right in my zone. My eyes kind of widened and I took an absolute monster hack," McLeod said. "I was waiting for that pitch all day. I got it and I took advantage."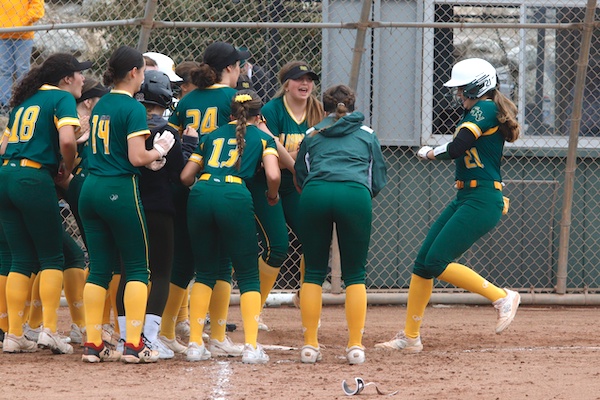 Samm Shah, Bella Ryan and Gianna Baccei all collected two hits for the Wolves, who tallied nine as a team.
The Wolves' hot start has put them squarely in the conversation when it comes to EBAL title contenders. In recent years, that has been a discussion centered more around the schools that call Livermore and Pleasanton home rather than Danville.
"We are competing this year. That's why we're here," Smith said. "I've been at San Ramon 12 years. In those 12 years, we've never come here. Partially, I think there wasn't room, but also we couldn't compete. We can compete now. These athletes at this end of town, I think they're looking out."
Early returns certainly suggest San Ramon Valley is ready to make its voice heard.
ST. FRANCIS-MOUNTAIN VIEW 1, GRANADA-LIVERMORE 0: For all the titles St. Francis won in 2022 — including the CIF Division I NorCal crown — NorCal's top-ranked team came up short in the Stampede. It's a trend the Lancers are committed to ending in 2023 — and they took another big step by vanquishing the defending champion in a NorCal No. 1 vs. No. 2 pitching duel that closed out play in Pool C on Friday night.
"This is a tough tournament. We've been in this position before," St. Francis coach Mike Oakland said. "You grind through the pool play, and you get to bracket play and you have to do it all over again. We've been in the position where we've got to the championship bracket and we've lost in the semis, so it would be nice to figure out how to get through that."
Last year it was a 6-4 loss to Sheldon-Sacramento that kept the Lancers from reaching the final. (They didn't lose again the rest of the season.) This year's semifinal opponent will be upstart Amador Valley-Pleasanton, which upset No. 4-ranked Mitty-San Jose to win Pool D.
On Friday night, St. Francis (12-1) was powered by pitcher Kate Munnerlyn. The junior fired her third no-hitter of the season, striking out eight and walking three over six innings (time limit).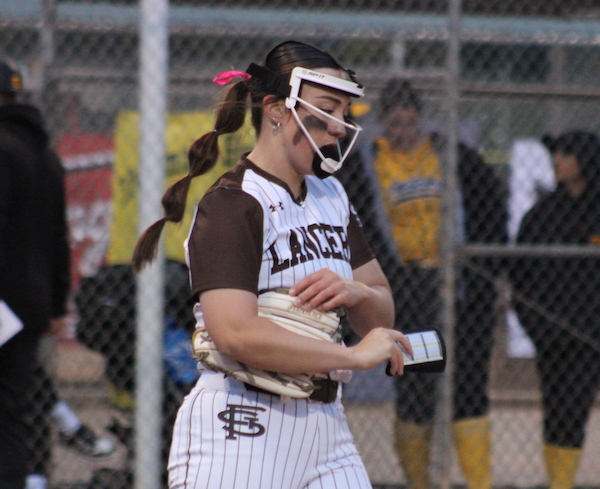 Munnerlyn's night nearly started with a double surrendered to Granada leadoff hitter Lauren Deplitch. Luckily for Munnerlyn, her centerfielder Lexi O'Gorman plays on the same club team as Deplitch and had a pretty good idea of what was coming. She followed the ball to the left-center gap and made a nice diving grab to her right.
"When she caught that ball, it was like "Holy cow!'" Munnerlyn said. "She totally saved me. It was impressive, too. I knew this game was going to be good after that catch."
When O'Gorman made the catch, the Lancers were already protecting a lead. St. Francis got on the board in the top of the first when freshman outfielder Jaime Oakland singled in senior leadoff hitter Carly Cummings.
Oakland's hit was one of just five for the Lancers against Granada senior pitcher Alex Mello. It was also the only hit to reach the outfield grass.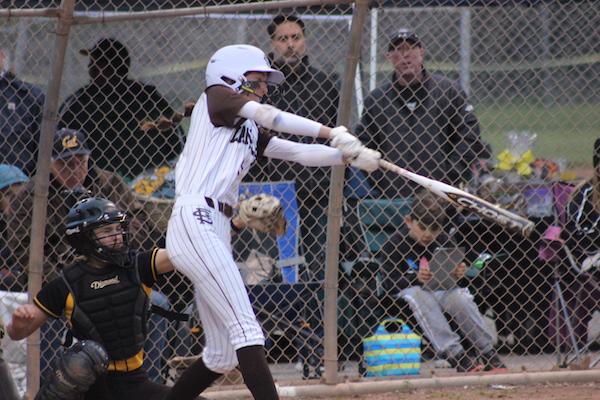 Granada coach Johnny Heinz was going to be hard pressed to find much fault with his Matadors (8-2) after the loss. Sometimes the other pitcher just has your number.
"I just told them to stay the same way (they played tonight)," Heinz said. "I'm more proud of them tonight than any game we've played this year. We played together. When we play together we're going to be a tough team to beat."
ARCHBISHOP MITTY-SAN JOSE 6 , BENICIA 0: The No. 4-ranked Monarchs didn't have to wait long to put a loss to unranked Amador Valley behind them as Ava Markert tossed a complete game shutout, Alyssa Onyeagwa drove in two and Mitty bounced back to beat the Panthers.
After dropping a 3-2 decision to the Dons earlier in the day, Mitty (9-2) wasted no time in its second game. The Monarchs plated three runs in the first inning with McKenna Woliczko, Mia Rodriguez, Cara Edwards and Onyeagwa all contributing singles in the rally.
Mitty added single runs in the third, fourth and fifth innings to build the final margin of victory. Markert wrapped up the win with a scoreless sixth inning as the game finished after six innings due to the tournament time limit.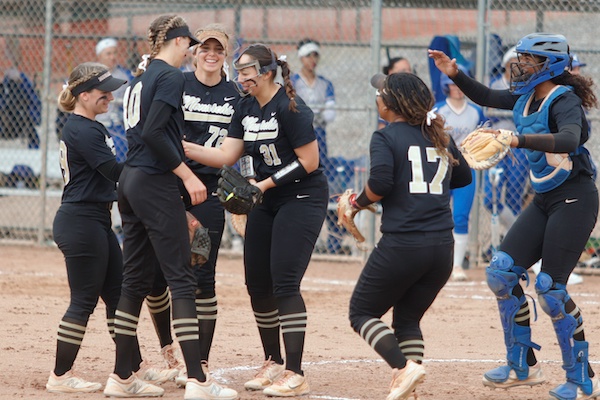 The Monarchs' senior right-hander scattered four hits, struck out four, and didn't walk anyone in earning the victory. Saint Mary's-bound Braxton Brown led Benicia (5-3-1) with two hits on the afternoon.
"I've always told my group of girls when we play our game and we do what we need to, play loose and play for each other, it's going to be successful and that's what happened in the second game," Mitty coach Megan Yocke said. "They were able to flush and get rid of that first game. But that's what I love about this tournament. It does not matter who's who and everybody's good and everybody's going to compete. I feel like it's always tough-fought games when we're here."