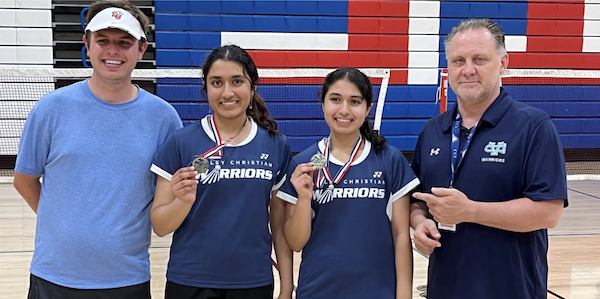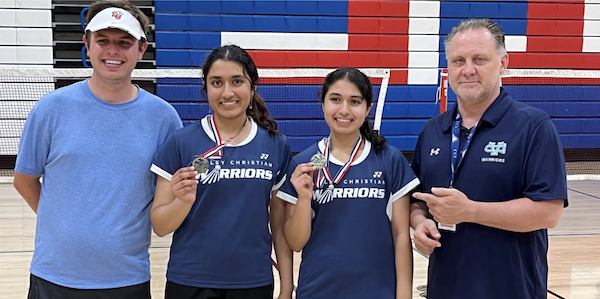 Nationally-Ranked Players, Sumaswara And Suneri Chinthalapati, Take No. 2 Seed Into CIF Doubles Tournament For Valley Christian Of San Jose • PICTURED ABOVE: Sumaswara...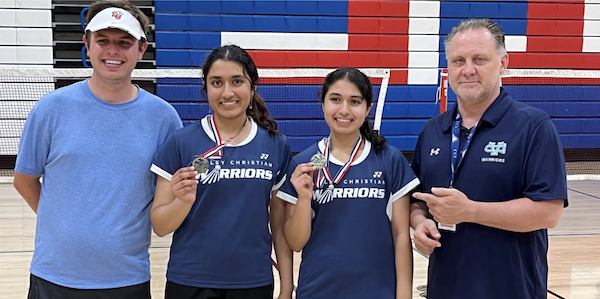 Nationally-Ranked Players, Sumaswara And Suneri Chinthalapati, Take No. 2 Seed Into CIF Doubles Tournament For Valley Christian Of San Jose •
PICTURED ABOVE: Sumaswara Chinthalapati (Inside Left) And Her Sister Suneri Show Off Some Of Their Championship Hardware With Coaches Mark DeLuca (Far Right) And Davis Gunter. (Contributed Photo)
After years of leading many high-caliber boys basketball teams at various Bay Area schools, Mark DeLuca once again finds himself leading a top team into the CIF regional tournament.
Just not in a sport he would've ever expected to be doing so.
After hanging up the hoops whistle a few years back, DeLuca was asked to help out with badminton for the 2022-23 season. And has subsequently found himself doing whatever he can to get the word out about sisters Sumaswara and Suneri Chinthalapati.
Sumaswara is a Cornell-bound senior who USA Badminton has ranked as high as No. 8 nationally in the 19U division. Suneri, a freshman, has already topped the national rankings for the 17U division.
"Their play all year long has been at the elite level," DeLuca said. "I've had former athletes go onto the NFL, NBA and had teams advance to the state championship games, and I must say the sisters' pure dominance is on par with any of my former great athletes or teams.
"Their consistency, skill level and mental toughness is amazing."
_______________________________
CONNECT WITH US:
Follow SportStars on Twitter & Instagram | Like us on Facebook | Subscribe!
_______________________________
The Chinthalapati Sisters haven't dropped a single set all season, claiming Blossom Valley Athletic League and Central Coast Section titles. The CCS badminton title was the first in Valley Christian school history.
The pair were handed the No. 2 seed in the CIF NorCal Championship doubles tournament that will play out on May 20th at Independence High in San Jose. The top seed at the other end of the bracket belongs to Chloe Ho and Mia Zhang of Washington-Fremont.
"My sister and I cover each other really well on the court," Sumaswara said. "We communicate verbally and non-verbally. We love playing with each other. It's made us closer for sure."
She added that playing for a lifelong basketball coach hasn't been too bad, either.
"Coach DeLuca had made this season really fun for us," the senior said. "And during the breaks, he reminds us about attacking the weakness of our opponents."
DeLuca, in turn, has grown a deep appreciation for the sport and its athletes.
"I agreed to coach Badminton at Valley Christian simply because it was a new challenge, and I love the school," he said. "I had zero clue what I was getting into.
"It's funny: I've been in leagues with (powerhouse schools like) De La Salle, Bishop O'Dowd, and most recently in the West Catholic Athletic League. I also coached some great teams at St. Elizabeth, Berkeley and Pinole Valley. Having said that, the high school badminton community of coaches and players is just as competitive as football, basketball and baseball. I will continue to be an advocate for high school badminton for the rest of my coaching career."
On Saturday, the sisters might just help him add another championship ring.