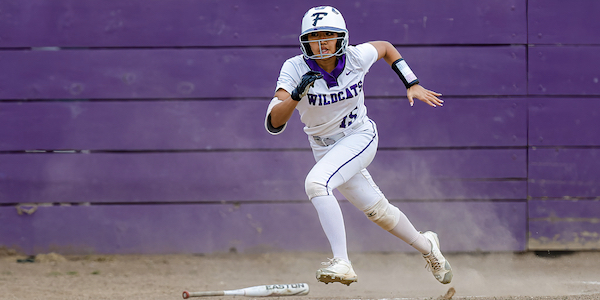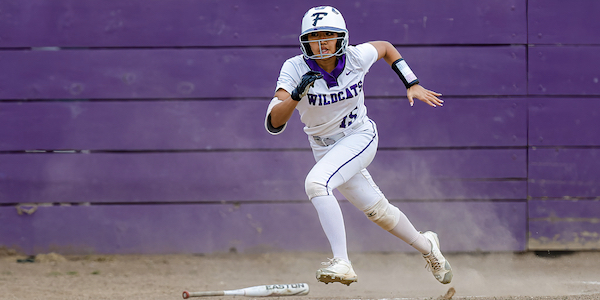 After Six Straight Losing Seasons, Franklin Softball Is Enjoying One Of Its Best Years Ever Behind A New Coach & Balanced Roster • PICTURED...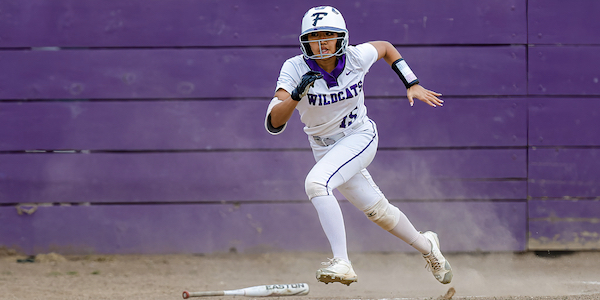 After Six Straight Losing Seasons, Franklin Softball Is Enjoying One Of Its Best Years Ever Behind A New Coach & Balanced Roster •
PICTURED ABOVE: Franklin Senior Kealani Nitta Sprints Toward First Following A Hit Against Pleasant Grove-Elk Grove On May 5. (David Gershon photos)
Jon Gudel's first season as the varsity softball coach at Elk Grove's Franklin High School began with a four-item checklist. 
That list challenged the Wildcats to win one game against a key nonleague opponent, win one game against any of the Delta League's top three programs (Sheldon-Sacramento, Elk Grove and Pleasant Grove-Elk Grove), win a Delta League title and make the Sac-Joaquin Section playoffs.
The players, some of whom were in their third preseason talk with their third different coaching staff, met the goals with some understandable skepticism. 
"They kind of gave us the side-eye and the look that said, 'OK, Coach. We've heard it before,'" Gudel said.
Then the Wildcats went and won their first 15 games.
Now with the Sac-Joaquin Section playoffs set to begin Tuesday, the list of Franklin Softball accomplishments this season is longer than Gudel's preseason checklist.
• Best start to a season: 15-0
• First winning season since 2015
• First winning record in Delta League play since 2014
• First 20-win season since 2008
• First regular-season sweep of Delta League power, Sheldon-Sacramento. Ever.
• Second most regular season win in school history
There's the potential to add even more to that list as they open the SJS playoffs with a 21-6 overall record and are the No. 6 seed in the Division I bracket. They will host No. 11 seed Lincoln-Stockton (16-11) in a Tuesday opening-round game.
How did they get from preseason side-eyes to hosting playoff games? Talent and buy-in, basically.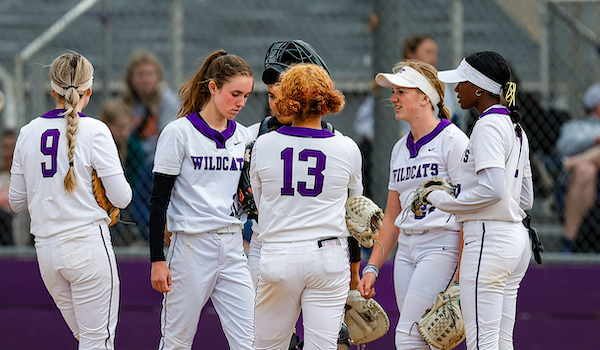 "We knew we had a lot of good returning players," Gudel said. The first-year varsity coach moved up from the JV level where he went 20-7 in his first season a year ago. "We felt good about the roster, but you really never know."
But the players recognized differences pretty quickly.
"The real difference is that I saw us come together as a program," senior pitcher and three-year varsity player Scarlett Riddle said. "The JV and varsity spent time together."
That was all part of Gudel's plan, of course.
In addition to asking his players to make Franklin Softball a priority for three months, he wanted to create a culture that stretched program-wide. His early season practices included both the varsity and JV teams stretching and warming up together before breaking into separate groups.
Things got real in just the third game of the season, though. The Wildcats accomplished one of the preseason checklist items with a 9-4 nonleague win over Oak Ridge-El Dorado Hills. Then 10 days later the team came back from a 7-2 deficit to beat Pioneer-Woodland 9-8 in nine innings and improve to 6-0.
"After that, my coaches and I walked away thinking, 'We've got something here.'"
Four-year senior and Cal-committed shortstop Nailyn Marshall was getting similar vibes.
"We'd have these talks before games and we'd hype each other up," Marshall said. "We started to believe in the bond we'd created and knew that we all had each other's backs, no matter what." 
_______________________________
CONNECT WITH US:
Follow SportStars on Twitter & Instagram | Like us on Facebook | Subscribe!
_______________________________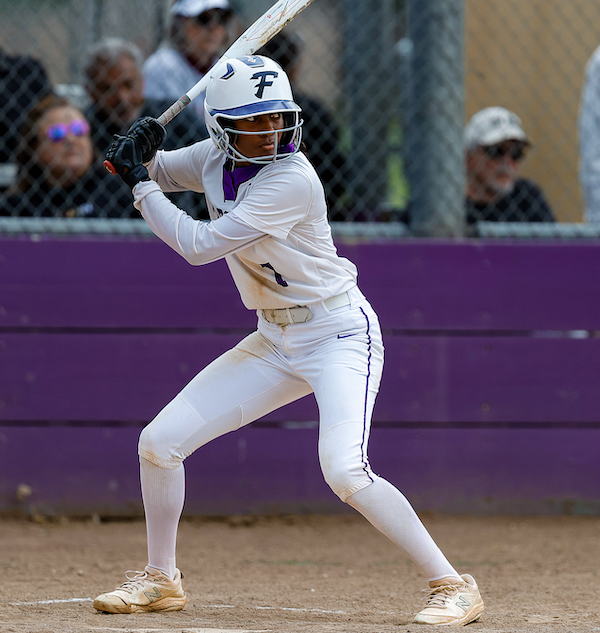 Then came win No. 10 on April 3 — 8-5 over Sheldon. Scratch No. 2 off that preseason checklist.
"We had some girls literally shaking in excitement after that win over Sheldon," Gudel said.
After that, Marshall — whose previous Franklin teams were 0-4 against Sheldon while being outscored 64-5 — was convinced.
"We were in a groove," the shortstop said. "Everybody just started believing, 'We have the talent. We're a high-caliber team. We deserve to win.'"
Marshall led by example, too. In addition to anchoring the defense, she led the team in home runs (5), triples (8) and RBI (40) across 27 games. In her last at bat of the regular season, on Senior Day, she hit a three-run walk-off homer to beat Liberty Ranch-Galt 8-5.
"Cal got a good one there," Gudel said.
Fellow four-year senior, Fresno State-bound centerfielder Kealani Nitta posted 45 hits and a team-best 40 runs. She had 63 at bats before her first strikeout of the season.
"If I wasn't her head coach, I would pay money to watch her play," Gudel said. "She's the best defensive outfielder that we have in the region. Gonna miss her a ton next year."
The talent goes far beyond the seniors, however. Sophomore infielder Micayla Arlotto leads the team with 52 hits to go with 30 RBI. Fellow sophomore Ashley Fields has 32 hits and 18 RBI while senior Emma Nelson and junior Emily Azemar have 27 hits each and have combined for 40 RBI.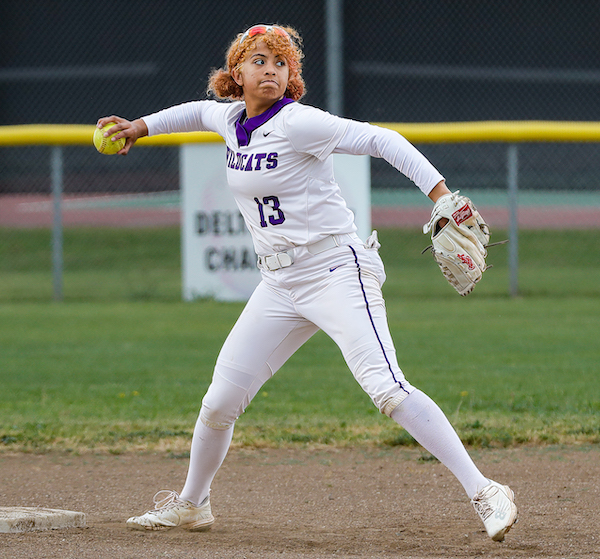 By the time the Wildcats suffered their first loss (12-7 to Del Oro-Loomis) on April 14, they'd already qualified for playoffs. That scratched No. 3 off the preseason list and No. 4, the Delta League title, was within reach. 
But one hiccup turned into three. Franklin got back on track with another win over Sheldon and eventually entered May with a 19-3 record. After a win on May 1, the team lost three in a row again and missed out on the league crown that eventually went to Pleasant Grove.
"When you haven't had a winning season, or competed for a league title, you don't know what that pressure is like," Gudel said. "Franklin is the talk of the town, and it's fantastic, but how do you handle that pressure? We just didn't rise to the challenge.
"How we handle that adversity can only benefit us moving forward. It's only going to get more intense as it becomes win-or-go-home."
Riddle backed up that sentiment, believing that the late collapse will make the team better.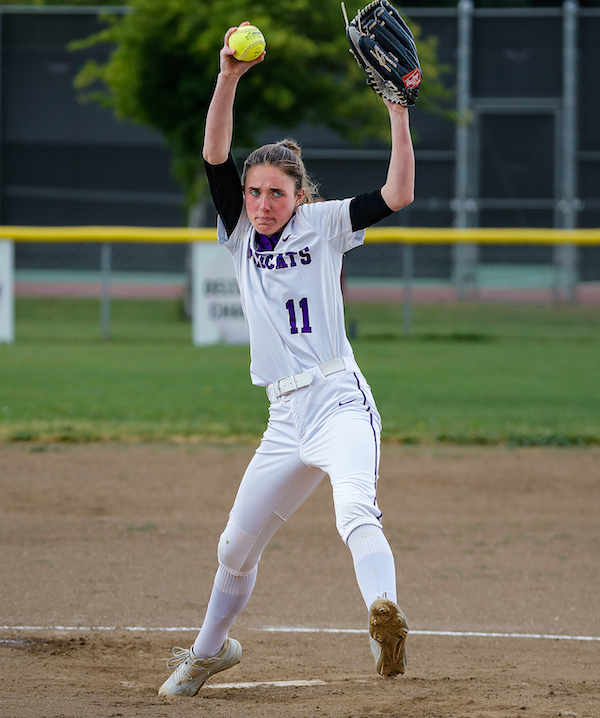 "That's sports for you, you're not always going to be on your best game," the pitcher said. "It was good that we went through that. We've seen and felt what it's like to be undefeated and what it's like to play horrible. Having gone through all of those ups and downs with each other, I think we'll be able to come out on top."
For all of the program's recent struggles, Franklin does have a section title from 2008. This team has already far outplayed any expectations, which makes it dangerous. The top seed in the Division I field is Pleasant Grove — a Delta League team the Wildcats know they can beat. Because they did, 3-0, on April 12. 
Perhaps that means setting a new goal. And leaving out the side-eye.