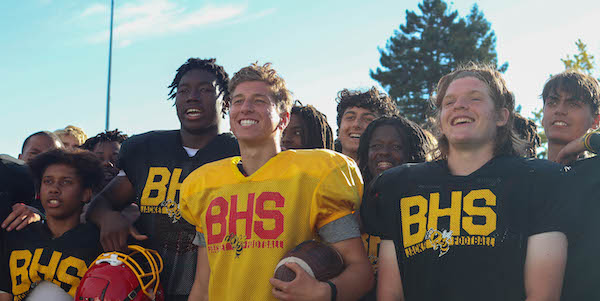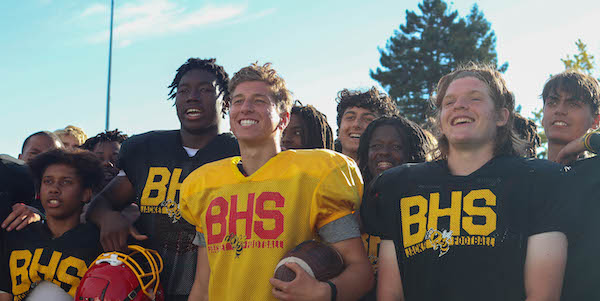 After Winning Seven Games And A League Title In His First Season, Coach Dave Perry Has The Berkeley Yellowjackets Thinking Bigger For 2023 It's...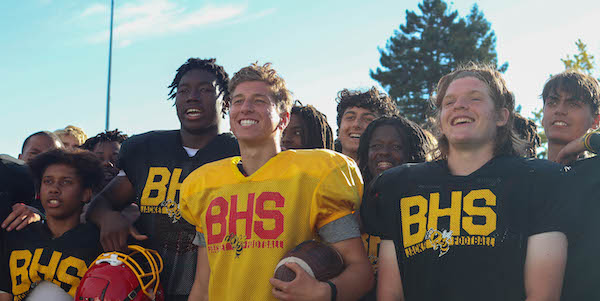 After Winning Seven Games And A League Title In His First Season, Coach Dave Perry Has The Berkeley Yellowjackets Thinking Bigger For 2023
It's the middle of training camp, and Berkeley High football coach Dave Perry is talking mindset with his team at the end of one particular practice.
"Be a great student, a great listener, a great leader," he says.
"Don't focus on what you can't do.
"Say I can."
In year two at the helm of his alma mater, Perry knows what his team can do.
A 7-4 season in 2022 represented the Yellowjackets' first winning campaign in over a decade, and a 5-0 record in West Alameda County – Mission Division play clinched the program's first league title since 2011-12.
_______________________________

CONNECT WITH US:
Follow SportStars on Twitter & Instagram | Like us on Facebook | Subscribe!
_______________________________
As a result, hope springs eternal as the 2023 season gets underway.
Longtime followers of Berkeley football will know that talent has never been an issue on a campus with over 3,000 students.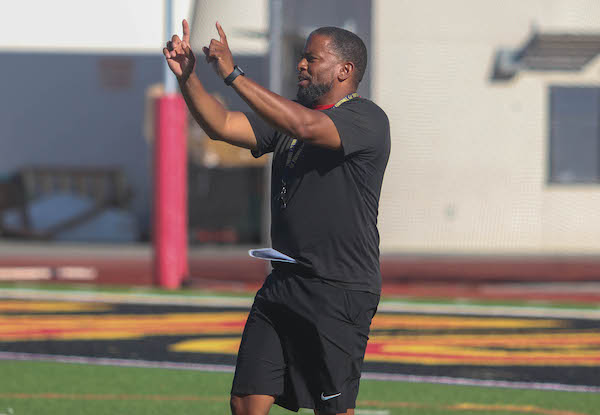 So, what needed to change?
"I would say for folks who understand the history of this school, we used to be a powerhouse and used to put some amazing teams out there," Perry said. "We've adopted that Positive Coaching Alliance mindset of trying to get the right coaches up here that are really going to be pushing these kids not only to be better athletes but to be better people.
"That's been a big focus of mine. Coming in my first year, it was all about bringing the culture back. Not only being great athletes — we've got those — but just being great people."
It didn't take long for that culture change to grow roots.
Drew Henderson manned the quarterback position as a junior in 2022, and he'll be under center again when the Yellowjackets begin the 2023 campaign at Miramonte-Orinda on August 25. Faced with learning a sophisticated offense while also leading a team in search of a turnaround wasn't the easiest assignment for Berkeley's signal-caller.
He started by putting his faith in his new coach.
"He doesn't just say things. It comes to fruition," Henderson said of Perry. "He does what he says; he's a man of his word, and our program listens because we know we can trust him."
That trust earned immediate results. Henderson piled up 38 touchdowns to only five interceptions, and to hear Perry tell it, had a complete grasp of the offense by midseason despite having only been introduced to it in July.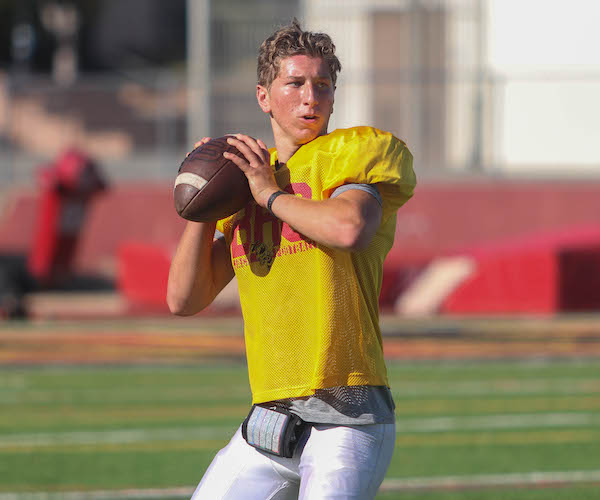 It also didn't hurt to inherit an undiscovered talent ready to become a star. In receiver Jackson Harris, Perry found a player who had the athleticism and talent to occupy the top line on any opponent's scouting report. Now at Stanford, Harris caught 73 passes and scored 24 touchdowns en route to earning SportStars All-NorCal honors at season's end.
While Harris' singular talent helped shape Berkeley's turnaround, it will be the collective that helps the Yellowjackets take their next steps forward.
After starring in the backfield last year, Jalen Harris returns to his familiar post and will help fill at least part of the void left by his older brother's graduation. In 2022, he rushed for 660 yards and eight touchdowns and added 10 receptions for 199 yards and three more scores.
"The roof is so high for Jalen," said junior two-way standout Benjamin Thurman. "He's just an athlete and a playmaker at all times. Anytime he's on the field, he's making plays and you can see other teams game planning against him."
Just like Harris, Thurman has earned his own recruiting hype after a productive summer. A 6-foot-4, 210-pound junior with game-changing speed and the type of personality that can carry a team, he will lead the receiving corps when he's not starring as a pass rusher on defense.
"I'd say we're probably more skilled than we were last year and that we were heavily reliant on, no mistake about it, Jackson Harris. That's what everyone talks about. We talk about it too," Henderson said. "We've got a ton of skilled guys all around this field and I'm excited to see everyone get the ball this year."
The list of key returners goes even further. Receiver Dash Guerreiro-Ramos, linebackers Lucas Cord and Palenapa Mataafa, lineman Eli Moulton and defensive back Ashton Dotson, a San Leandro transfer, all earned mention as potentially vital pieces in the Yellowjackets' 2023 puzzle.
Even Henderson has some company this time around. McClymonds-Oakland transfer Deontae Faison will also factor at quarterback at some point this season, presenting Perry with the challenge of balancing reps between two talented upperclassmen.
He sees it as an opportunity to leverage two unique talents with two unique skill sets.
"What I see in both those guys is they can both play on the college level. It's my duty to make sure they can get some film out there," Perry said. "If they choose and really want to go on to the next level, I've got to find a way to get them on the field. As long as we can find ways to win with either quarterback, we're going to do that."
With a varsity roster that Perry anticipates will jump from 34 in 2022 to about 51 this year, the Yellowjackets are certainly trending in the right direction from a competitive perspective.
But what about off the field?
Progress is coming there as well. With a team GPA approaching 3.0 and a focus on the team's four pillars — faith, family, future and finally football — the student body is again starting to embrace the program as part of the larger school culture.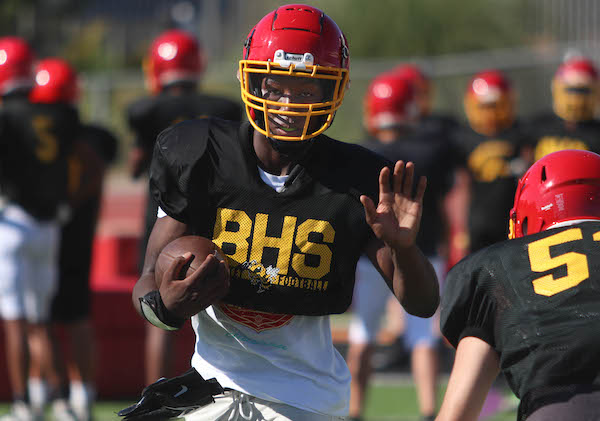 "I feel like it's been brought more to life now that Coach Perry is here. I feel like we have a better rep," Jalen Harris said. "Especially with winning the league last year, I feel like there will be a lot more students filling these stands on Friday nights. The atmosphere is going to be a lot different."
Perry credits school administration for its work in trying to instill a winning culture across all sports, not just football. His players credit their coach for putting them in positions to be successful, both on the field and in the classroom.
"On the football side, the standard will never change. I coach to win championships," Perry said. "We lost in the first round of the playoffs. So, we have to be a round better. We have to find ways to get to the second round, get to the semifinals, get to the championship game.
"In the grand scheme, beyond all this, my goal is always to see if I can get everyone to go to college. That standard will never change. I want to encourage kids to be amazing human beings and go off to college somewhere. I truly believe if these kids can take care of business in the classroom, really love each other and play for each other, we can do something special."
If it all comes together, there's no telling what the Yellowjackets can do.