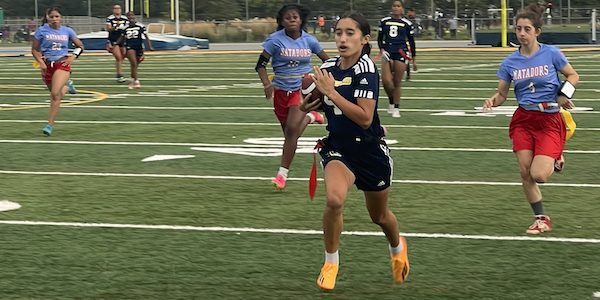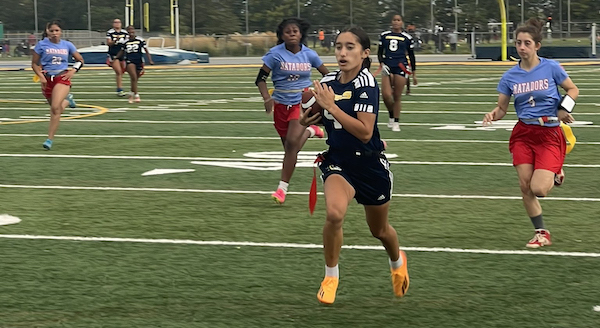 A Longtime Coach Running His First Varsity Program And Several Striving Female Athletes Learn On The Fly For Inderkum Flag Football PICTURED ABOVE: Micky...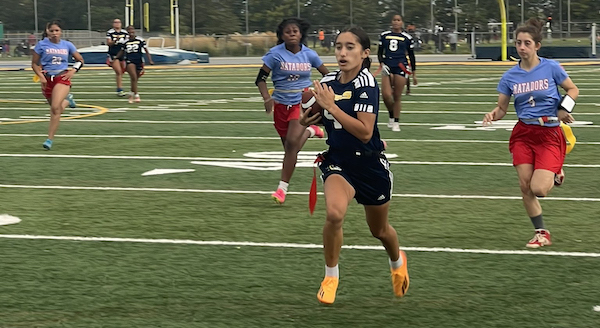 A Longtime Coach Running His First Varsity Program And Several Striving Female Athletes Learn On The Fly For Inderkum Flag Football
PICTURED ABOVE: Micky Garcia races into the end zone as Inderkum High won its first girls flag football game in program history on Aug. 21 against visiting Mira Loma. (Courtesy of Suzanne Baker/Natomas Unified School District Athletic Director)
Terrance Leonard looks up from his playsheets and roster, his interest piqued by the flag football debate at hand. "I hear they're spinning in the Southern Section," the head coach interjects.
"Are they!?" Inderkum High School assistant coach Chris Miller responds, surprised and a bit perplexed having dutifully studied the rulebook on girls flag football, in its inaugural season as a California Interscholastic Federation sport. Two weeks into the season, nuances of the game are still being ironed out. Perhaps ball carriers down south are getting away with illegal moves.
"Each referee crew has its own style," insists Miller, a social studies teacher, during warmups before a Sept. 6 game under the lights at Woodcreek High in Roseville.
It's understood that ball carriers can't leave their feet, stiff-arm or guard their flag to prevent it from being pulled off the belt (the flag football equivalent to a tackle). But the spin move is a football staple, perfected by Barry Sanders in the 1990s, and a move Tigers coaches hope becomes legal.
A Tigers player hovers over a sideline garbage bin, a bit nauseous, ready to heave her lunch. "Can you make it to the bathroom?" Leonard calmly asks. She takes off, covering her mouth.
Two other players dig through their bags. "Hey, what are you doing?" the coach inquires. The girls freeze. It's the same voice that commands their respect in the high school hallways, where Leonard has served for a decade as Inderkum campus security and, to many, as a mentor.
"Looking for our mouthpieces, Coach."
"What do you need your mouthpiece for? We're running. We need to be together. Catch up!"
Another Tiger precariously carries a water cooler over her head from the team bus, which is parked just outside the Woodcreek stadium fence. "Aww, we shouldn't have left you to do that alone," Leonard says before thanking the player. "Catch up. Run half a lap and come back."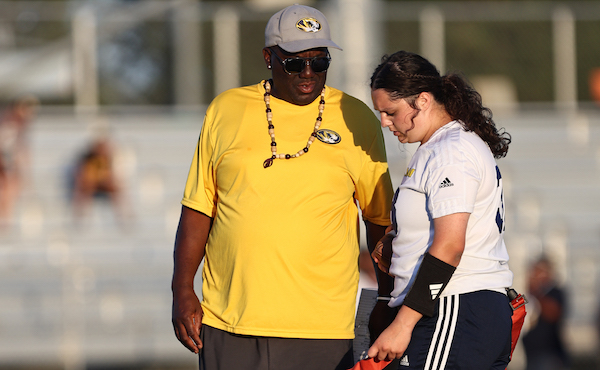 Mercifully, the temperature has now dipped below 90 degrees in Roseville this evening, minutes before the second road game of the Inderkum conference schedule. Lexie Lucas sets a brisk pace for the Tigers' warm-up lap around the 80-yard flag football field.
Quarterbacks lead. It's tradition, and girls flag football is no exception.
Terrance Leonard never saw himself coaching girls flag football. He played just one season of high school tackle football in the Bay Area before the heavy hitting took its toll. He worked in a Richmond community center, opening the gym in early mornings, carrying a pocket notebook to scribble football plays in his free time. He left Richmond in 2001 with a heavy heart, moving in with his brother in Sacramento after his mother passed away, and football on his mind.
Inderkum High opened to the sprawling North Natomas community in 2004. It was named for a dairy farmer, Frank Inderkum, who once owned the land and delivered milk to schools into his 70s. Leonard became coach of the Junior Tigers, a youth football feeder team that Sacramento-area high schools use to build stability. Leonard was eventually hired to help ensure campus safety for a public school of more than 2,000 students. He assisted with the school's football teams.
When longtime Inderkum varsity football coach Terry Stark stepped down in 2020, Leonard applied. He didn't get the job. Leonard chose to assist at other programs. When girls flag football was unanimously approved by the CIF this spring, 51 years after Title IX legislation ensured equal funding to women's sports, Inderkum athletic director Justin Reber reached out to Leonard.
He now has his first varsity head coaching position.
Rocked In Roseville
Inderkum didn't hold spring practices like some schools, and only a handful of girls showed up when a coaching staff was assembled in July. However, word of the new team spread when the school year opened and nearly 30 players dressed for the inaugural game on August 21, a 20-6 home victory over Mira Loma. The Tigers finished their nonleague slate 2-4, with both wins against Mira Loma and each loss by at least 20 points.
Some players have no previous experience with organized team sports. For those with football experience, it has come from the "Powder Puff" games during homecoming week when boys football players help coach the girls. Patronizing, perhaps, but any excuse to play a sport they grew to love through television and video games.
_______________________________
CONNECT WITH US:
Follow SportStars on Twitter & Instagram | Like us on Facebook | Subscribe!
_______________________________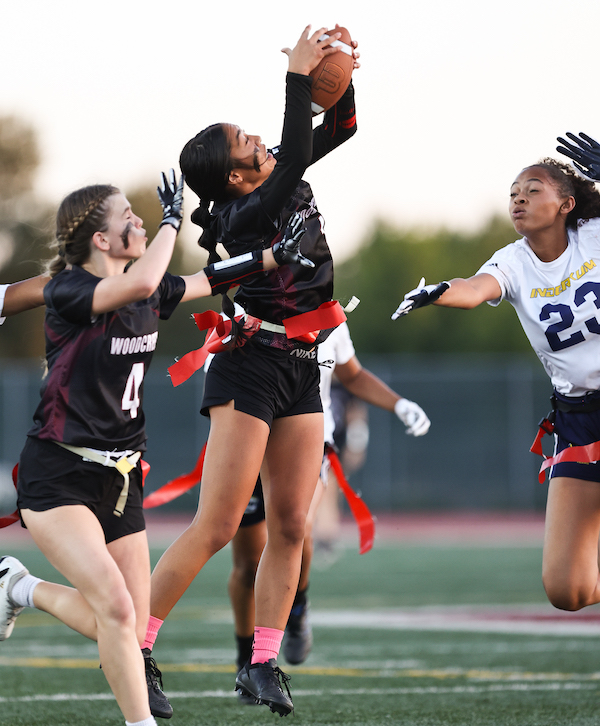 Now girls across the state have their own leagues (Inderkum plays in the six-team Capital Valley Conference), coaches, referees, stat keepers and stadium lights, too. The schedule plays out more like basketball, with two or three games per week in a season that runs through October.
A handful of parents trekked the 20 miles east to Roseville to watch Inderkum take on unbeaten Woodcreek High. Within the game's opening minutes, any momentum gained from the previous night's victory at Oakmont High is dashed. The offensive precision of Woodcreek, which began flag football practice in the spring and touts a junior varsity team, leaves defenders in a daze.
The Timberwolves girls basketball team won 25 games last season, and that talent is translating to the gridiron. Izzy Deveroux hits basketball teammate Amaya Grant in stride 30 yards down field, then throws underneath to leading basketball scorer Ryan Nair. Inderkum defensive backs can't backpedal fast enough, and seem too focused on their assignments rather than making plays.
"Nobody out here wants to be a dog right now!" shouts Cebrina Jackson, who is an Inderkum assistant coach along with her daughter Shauna, an Inderkum graduate.
"Go into man!" bellows coach John Knowles. The coverage might expose his defense further, but Inderkum needs to give Deveroux a different look. "We're going to see who gets roasted!"
A defensive back misinterprets a call from the sideline and botches her assignment. "I'm not going to lie, Coach," she confesses, jogging to the sideline, "I was confused."
Sensing the game slipping away early, Leonard attempts to settle his players: "Stay composed!"
The Inderkum defense holds and Woodcreek elects to punt (in flag football rules, a punt results in the defending team getting the ball on its own 20-yard line). Lucas, who grew up playing catch in the yard with her older brother and father, finds her rhythm at QB. She connects on an out pattern pass to receiver Alaysia Godbold, then finds Micky Garcia on a swing pass. Garcia, a varsity soccer and softball player, is dangerous in the open field and turns on the jets for a 30-yard touchdown, her team-leading fifth of the season.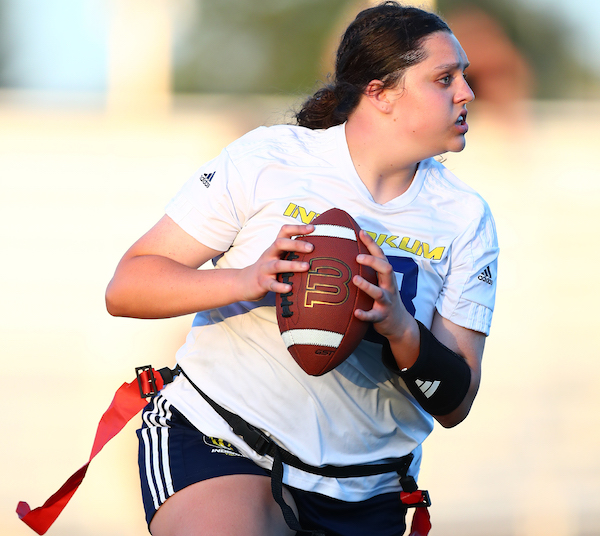 The halftime deficit is 28-6. There's no chance of a comeback if the defense continues to play passive. Senior Mi'arie Richmond, or Cornbread as she likes to be called, takes charge in a players-only huddle: "Forget the flags; play the ball!" After a few overthrows, Lucas implores her receivers to stick to their routes: "I'm the one getting yelled at!" Cornbread asks freshman Hailey Flores, always eager to dance and yelp, to break the huddle: "Hailey, get us hyped!"
On the opening play of the second half, Deveroux hits Nair over the middle. The basketball star shakes a defender and completes a brilliant 60-yard touchdown that cements Inderkum's fate.
Deveroux has been too comfortable in the pocket, and on the next defensive series Knowles calls for a blitz. Sophomore Caleya Kitcher applies the pressure, forcing the quarterback to throw on the run. Senior Paris Broadway collects an interception. With pride at stake, the Tigers take solace in holding Woodcreek scoreless over the final 19 minutes.
On offense, Garcia and Lucas rotate at quarterback. Signal-callers are allowed to run once per series of downs, and Garcia finds plenty of room. Lucas keeps the defenders on their toes with option tosses. On third down, Garcia, the softball team's starting shortstop, shows her impressive arm strength by slinging an off-balance spiral to open receivers. They lose their footing, however, and the ball bounces through the end zone. The dejected receivers get supportive high-fives from Garcia.
Leonard huddles his team. The longtime coach isn't upset by the final score, 35-12, but rather that a player wasn't prepared to enter the game when called upon. "This isn't about everybody playing," he explains, eschewing any notion of varsity flag football being a participation sport. "It's about everyone getting ready to play. … We've all had tough days. We have to get tough."
"Got To Get There"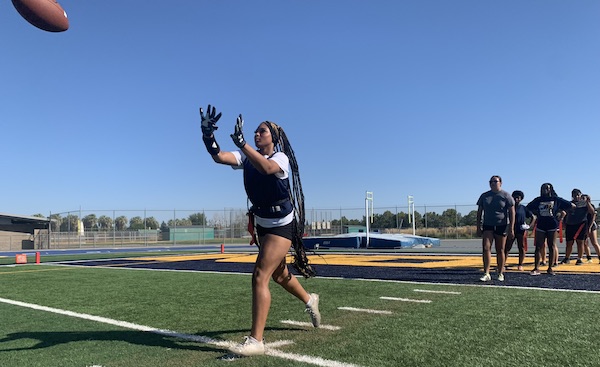 The final school bell of Thursday classes has rung and athletic director Justin Reber directs the traffic outside of Inderkum's bustling football stadium. The varsity team, which has outscored its last two opponents 128-0, will soon prepare for Friday's game at Cosumnes Oaks-Elk Grove. The junior varsity team has practice as well and the freshmen team — looking to bounce back from a tough loss to Rocklin — is hosting Oak Ridge-El Dorado Hils on recently refurbished turf in 90 minutes.
Metal detectors and security are in place for this football-crazed community. Pads and helmets line the perimeter fence. Around 50 football players are eager to take the stadium field, with more to come whenever the Oak Ridge bus driver navigates through the packed parking lot.
A few dozen girls in gym shorts and t-shirts rest in the shade, finding some solitude outside the stadium, reliving last night's thumping at Woodcreek. The girls are resigned to practicing on the muddy soccer fields today. Coach Terrance Leonard, or Coach T as he's known on campus, emerges from the gym with a wide smile. Apparently he has put last night's game behind him. The girls and assistant coaches follow their flag football coach to a padlocked gate that secures the soccer fields. Leonard fumbles his keys. He rattles the padlock a few times. "Is this the soccer team?" a loitering student asks the girls, with a snicker. The girls ignore him.
"Hey, they're leaving!" one girl alerts the group. Coach Leonard turns to the stadium. Sure enough, the freshman team is picking up its gear and exiting the stadium. "We got the field?" another girl murmurs, almost in awe. It's a new day in California high school football. Leonard has a quick conversation with Reber and, after team stretches, huddles his players in the end zone. "Ok, we have an hour on this field before the freshman game; we can not waste time."
Leonard wears a black hat and white t-shirt, both featuring "TMP ELITE" in bold letters, branding for the renowned 7-on-7 football academy he has coached for a decade in high school football's offseason. Research has revealed the lasting head trauma that tackle football can cause, and 7-on-7 football allows potential college recruits to refine their skills without taking big hits. There are similarities to flag football as well: Neither allows tackling (7-on-7 is touch), and both emphasize route running and speed.
Leonard's experience has earned the trust of his assistants and players, but even the venerable coach scratches his head at times. Unlike 7-on-7 football, flag football has a center who snaps to the quarterback and is then allowed to run a route. There is no kicking. Defenders standing at least seven yards from the line of scrimmage can blitz. Offenses need 20 yards for a first down. And the 20-minute halves, with running clocks until the final two minutes, are over in a flash.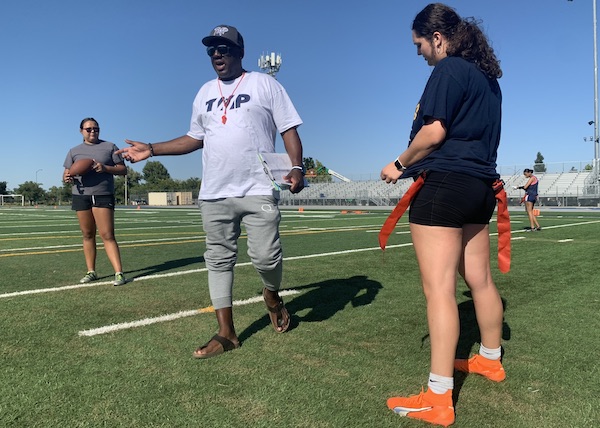 Olivia Lopez lines up at left receiver. The junior had high hopes of playing quarterback when joining the Inderkum flag football team. Her brother played quarterback at Inderkum before earning a college scholarship to play linebacker. But between Lucas and Garcia, the Tigers have plenty of arms. Leonard, however, is never shy of adding an offensive wrinkle, and here was a play that called for Lopez to catch a lateral from Lucas and fire a pass downfield.
Lopez broke to her right, sweeping behind the quarterback and receiving the ball. She looked down the field, cocked the football over her right shoulder and … tucked it by her hip, sheepishly bowed her head and turned around. "Throw it!!!" cries a frustrated Mi'Arie Richmond, who surely has heard her teammate's quarterbacking fantasies all season.
Lopez, with some renewed competitive spirit, turned around and fired a pass 20 yards directly into her receiver's hands. "Look at that! Beautiful!" Richmond, the animated vocal leader whose braids nearly reach the grass, screams across the field. "I love to see you guys support each other," Leonard tells reserve players lined behind the offense.
By now the Oak Ridge and Inderkum freshman padded players have begun to trot through girls flag football practice, taking both sidelines. Soon, Leonard will direct his team to the soccer fields. Leonard's tone has changed. It's time to work on defense. "I want the fastest players to huddle," Leonard says. Coach Knowles helps pluck the seven swiftest Tigers.
Following Wednesday's defeat in Roseville, Leonard and Knowles agreed that, more than skill or experience, the defense needs speed and hustle. There's no better source to identify those traits than Knowles, Inderkum's track and field coach who also operates Sac Speed Factory Track Club and annually sends kids to the Junior Olympic Track and Field Championships.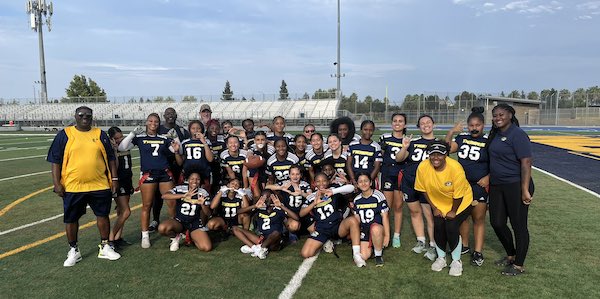 Before turning practice over to his defensive coordinator, Leonard makes one final plea to his defense. "You gotta get to the upfield hip!" he mandates, with his volume reaching unfamiliar decibels. "You got to get there!!!" he screams, staring dead into their eyes. "Got to get there!!!"
It's a boiling aggression previously reserved for boys wearing pads and helmets. For kids who need structure, something to reach for and, in many cases, a role model. It's rooted in a pursuit for perfection under Friday night stadium lights that, at times, rides the line between motivation and fear.
Whether the Inderkum defenders can get to the quarterback in time to turnaround their inaugural season remains to be seen. But they're here, under the lights, and that's what counts.