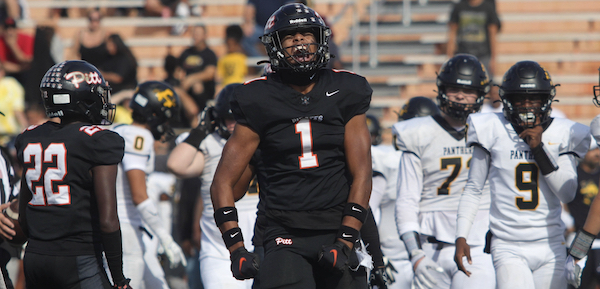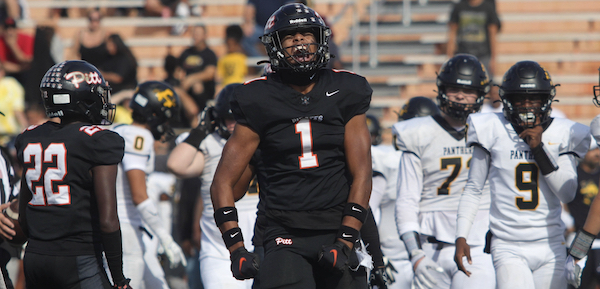 Museum Visit Helped Prep Pittsburg Football Prior To Pirates Routing Rival Antioch To Finish Regular Season At 10-0 A few days before the 105th...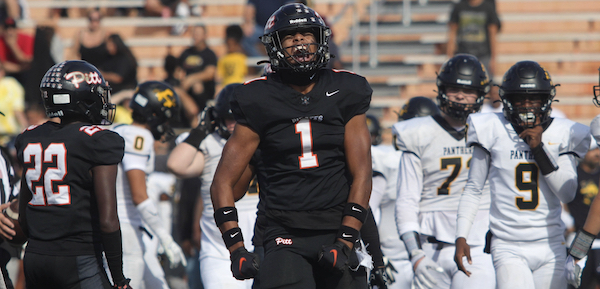 Museum Visit Helped Prep Pittsburg Football Prior To Pirates Routing Rival Antioch To Finish Regular Season At 10-0
A few days before the 105th edition of the Big Little Game, Pittsburg High coach Charlie Ramirez took his team on a field trip.
With rival Antioch set to come to Pirate Stadium, Ramirez wanted to provide a bit of perspective for his players. This wasn't simply a lesson in football motivation; instead, Ramirez wanted his players to learn the history of their own town, understand why Pittsburg football is so beloved and get a sense of why the Big Little Game has meant so much to the community for so long.
For a group that seems to have a knack for making history of its own, the lessons from the Pittsburg Historical Museum visit hit home.
A 55-6 Pittsburg victory sent those clad in orange and black home happy on an uncharacteristically warm November afternoon. There were highlights aplenty, as the Pirates grabbed seven interceptions against an Antioch team missing its usual starting quarterback, led by two from Jadyn Hudson. Elijah Bow ran for three touchdowns and Noah Quesada returned a punt 52 yards for a touchdown in addition to snagging an interception of his own.
With the win, Pittsburg wrapped up what Ramirez believes is the first 10-0 regular season in school history. A 9-0 season in 1964, as well as a few seasons with zero losses and a tie, produced unbeaten campaigns but the 2023 Pirates will go down as the first to do it with 10 in the win column.
"It means a lot to put the city on our backs and go 10-0," Quesada said. "It's a huge thing for Pittsburg and the city itself and it's a huge accomplishment for our head coach, Coach (Ramirez). It's well deserved for him."
_______________________________
CONNECT WITH US:
Follow SportStars on Twitter & Instagram | Like us on Facebook | Subscribe!
_______________________________
For Ramirez, it has been a season of embracing the past while pushing his team into the future. Alongside a coaching staff that also understands the community-first nature of Pittsburg's program, the first-year head coach has stayed true to the program's longtime traditions while at the same time putting his own spin on things.
"I wanted them to see (the museum) because a lot of them are new families to Pittsburg. A lot of them aren't families who graduated here. That's just how the Bay Area is. The Bay Area has changed, the demographic has changed," Ramirez said. "It's giving them some education and at the same time showing them how big Pittsburg football is, how important it is, where it's come from, the town and why it's as diverse and multicultural as it is. A lot of kids now, their museums are all on their phones. This was something they could see, actual physical, tangible things. They ate it up.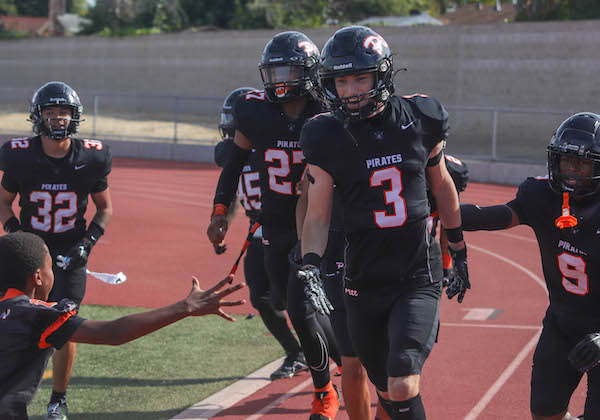 "it's something I want to keep doing, especially during this week because it's the pageantry that this game deserves. The history behind it is important to the community and it's important that the kids know it."
The changes implemented by offensive coordinator Jimmy Shipe, most notably to speed up the offense's tempo, have taken hold, and with their 55-point output against Antioch, the Pirates finished the regular season averaging 43 points per game.
Quarterback Marley Alcantara has been the conductor of that freight train, and along the way he made sure to make a bit of history himself. With two touchdown passes against the Panthers, he finished the regular season with 31, a Pittsburg single-season record.
"It's hard to live up to the hype, whether it's the media, or you're putting it on yourself or it's your coaches," Ramirez said. "Our staff has known, and I've known, and our offensive coordinator Jimmy Shipe has known, Marley's capability and his potential. He's literally lived up to it. He really has fulfilled all expectations. He's one of the fiercest competitors I've ever coached."
Beating Antioch and finishing 10-0 carried enough significance to the entire Pittsburg program that Ramirez earned a Gatorade bath from his players in the game's closing seconds.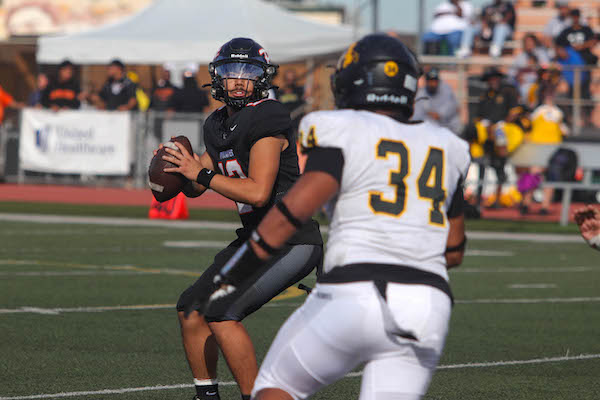 But they know the hard work has only just begun. Despite the undefeated season, Pittsburg landed the No. 3 seed in the North Coast Section Division I playoffs. The Pirates will host No. 6 Amador Valley-Pleasanton in the first round.
The blue-collar nature of Pittsburg's program, along with a playoff seed that might feel a bit lower than deserved, has the Pirates approaching the postseason with a chip on their shoulder even if they continue to occupy space as one of Northern California's most renowned programs.
"It really means a lot to us because we've been working hard, very hard," junior defensive end Juju Walls said of beating Antioch. "Coach Ramirez, it's his first year and everybody doubted that we were going to be good but we proved them wrong. And we like to do that."
For a team that understands its history, making a little more is a goal worth reaching for.