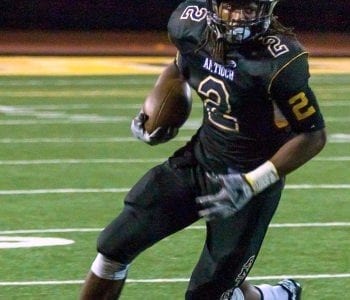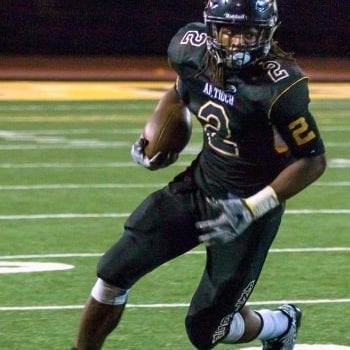 Football 2016: Selfless, Motivated and Immensely Talented, The Nation's Top Football Recruit Plots A Championship Finish. There's something about Najee Harris that immediately puts...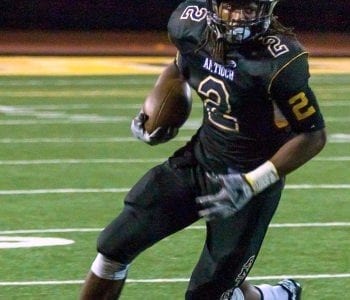 Football 2016: Selfless, Motivated and Immensely Talented, The Nation's Top Football Recruit Plots A Championship Finish.
There's something about Najee Harris that immediately puts a person at ease.
It's one part his easy-going grin, one part the way he carries himself and one part the way he makes a pointed effort to make a connection with the people he's with.
It only takes a few minutes with Harris to realize that he's not the center of his own universe. And that's an awful hard thing to avoid when a 17 year-old is considered the best high school running back in the country.
On this late morning in early August, in a very brief car ride from the Antioch High football campus to the small upstairs apartment where he lives with his mom, Harris is the one asking questions of the reporter.
He asks about my two children, and how my wife — who he sounded surprised to learn was an Antioch graduate — and I ended up meeting. He listened. He asked follow-up questions.
It didn't feel like small talk.
It was this three-minute car ride that illustrated so much about Harris, and showed why his seemingly selfless teammate persona is far from an act.
"It's amazing with all the attention he gets how he stays focused (on us)," Antioch coach John Lucido said after the Panthers wrapped up practice just four days prior to their season-opener on Aug. 26 at home against Lincoln-Stockton.
"He's not going to hold himself out of anything and say, 'I'm going to save myself.' He's not like that. We have to hold HIM back. We have to stop him from working out.
We have to hide the keys and hide the equipment. We actually had to pull his pads out of his locker. He wants to play for his team and for his coaches. You don't always see that with players at his level."
Let's talk about his level. Just for a moment.
Harris is a fast, nimble and powerful running back chiseled into a punishing 6-foot-2, 228-pound frame. The popular scouting and recruiting site, Rivals.com, lists Harris as the No. 1 overall senior prospect in the country.
He's been committed to Alabama since his sophomore season and is coming off a junior year in which he rushed for 2,744 yards and scored 300 points on 39 touchdowns and 66 two-point conversions.
Had he scored 302 points, the Panthers would've likely reached a North Coast Section championship game for the first time since 1977.
Harris was stopped a mere inch shy of the goal line on a two-point attempt with a little more than one minute left in the NCS Div. I semifinal against visiting Foothill-Pleasanton. Antioch would lose 55-54 — its only defeat of 2015.
"That's last year's stuff," Harris said during a candid lunch conversation on campus during the first week of school. "I ain't going to say I scored; I didn't. It's last year's stuff. It's a new year, and hopefully we get to play them again and beat them this time."
Harris would gladly take the same scenario over again:
The team counting on him to get two yards to clinch a finals berth — or perhaps, even the program's first section title of the modern era.
However, he jokingly admits that having the game put on his shoulders was the very reason he didn't like running back when he was first put in the position while living in Seattle.
"I was honestly scared at first," said Harris, who said he began football at age 6 when his parents decided he had too much time on his hands and it was leading to mischief. "At one point, I had the game put on me and I'd never played the position. I fell short. But I got used to it."
The Nation's Top Football Recruit
Harris was born in the Bay Area, but has called a number of cities home. He admits that his three-plus years in Antioch have probably been his longest stay in any one place. And he had to negotiate for his fourth year.
"We were supposed to move again because we don't like the area we're living in right now," Harris said.
The apartment he and his mother call home is located in a neighborhood of Antioch notorious for street violence. In fact, Antioch Police officers were canvassing a nearby apartment complex looking for a suspect during our quick visit to his place.
"I told my mom, 'If you move, I'm going to have to figure out a way to stay with someone else,'" Harris said. "I just can't leave my senior year."
There's that selfless dedication and commitment shining through again.
Harris is locked in on his final season with the Panthers, and he's not shy about it. His two-plus year connection to Alabama remains, but it hasn't stemmed the parade of schools and recruiters hoping to change his mind. But right now, he's showing them the hand.
"I just push it away," he said, while not necessarily saying he didn't plan to listen to other suitors when the time was right.
"I tell them all to wait until I'm done with my season. I still have one more year in Antioch. I get asked where I'm taking my official visits, and I don't even know myself. I'm just worried about my season more than I'm worried about these colleges."
That's fine with the Panthers, who despite having plenty of speed and athleticism up and down the roster, will still need Najee to be Najee if they want to approach or surpass their historic season from a year ago.
Antioch will have just as many new starters as it has returning ones, so there will be a learning curve in the early going.
The Panthers will be starting a sophomore at quarterback in Willem Karnthong. He's only 5-foot-9, but both Harris and Lucido spoke highly of his abilities.
"Willem is one of those old-school football players," Lucido said. "He's a smart kid who has a cannon for an arm. He makes good decisions, but sometimes he wants to throw it down field or into tight windows and test guys. He's got a little Brett Favre in him in that respect."
On the bright side, there's no greater friend to a sophomore quarterback than the best running back in the country.
Lucido and Harris also talked up junior running backs Dalaan Green and Omari Harris. However, Omari will be out for the first half of the season as he recovers from a broken ankle.
Defensively, Antioch will be relying on some returning talent up front and in the secondary as it breaks in an entire new core of linebackers.
Lucido has depth at linebacker, saying he had as many as six he felt comfortable rotating, but the group will need experience.
Senior defensive backs Isaiah Dunn, Antoine Tanner and Isaac Freytes will be counted on as defensive leaders.
"I think they are all getting a little antsy," Lucido said of the roster. "We have a good group and they just want to go at it and repeat.
There are some of these young guys who don't know what it's like to lose. So hopefully they don't get too complacent. They need to stay hungry."
And Najee knows he can't do it alone.
Asked who were some new faces that were looking good in camp and looked like they may make impacts this season, he started to answer with specifics and then stopped.
"I'm happy with just everybody, because everybody needs to play a part," he said. "We need people to step up. I hope everybody plays a part because that's what we need. People need to step up and we'll get it done. Together."