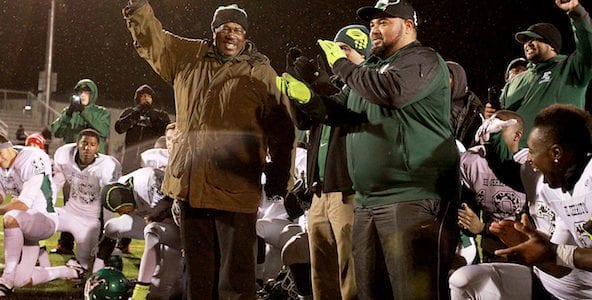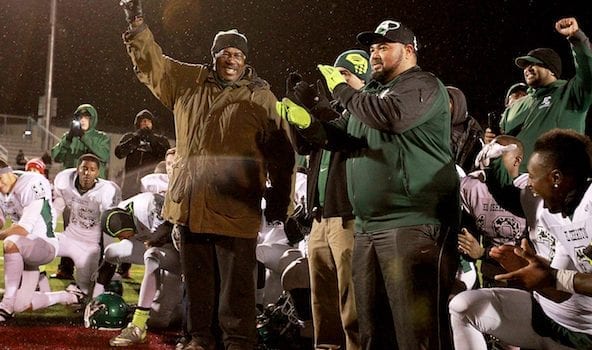 For More Than 30 Years, George Austin Was A Pillar To All Things El Cerrito High • Story By PHIL JENSEN | Photo By...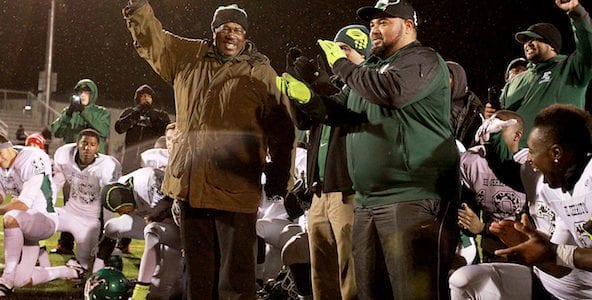 For More Than 30 Years, George Austin Was A Pillar To All Things El Cerrito High •
Story By PHIL JENSEN | Photo By DENNIS LEE
George Austin touched lives.
The sentence is simplistic, but the meaning certainly is not. Austin touched generations of lives at El Cerrito High as a teacher, football coach and athletic director — from his first football season of 1983 to June 28 of this year, when he passed away at age 69 due to complications of orthopedic surgery.
Austin touched the lives of the people packed into Hope Lutheran Church in El Sobrante, as well as rows of people outside the sanctuary, for a service remembering Austin on July 8.
He started his coaching career as El Cerrito's head junior varsity coach for 10 seasons before moving up to varsity positions as offensive line coach, defensive line coach and defensive coordinator in the next nine seasons.
"For 19 years, we had a great run," said El Cerrito coaching legend Frank Milo, who retired as a head coach for El Cerrito after the 2001 season. "During those years, El Cerrito had to be one of the top three to five programs in the Bay Area, and George played a very important role in it."
Austin was head coach for the Gauchos' varsity from 2002-2006, and also in 2016. In his last five seasons, Austin's teams had a 36-19-2 record, including an 18-8 mark in league play.
He was also El Cerrito's athletic director from 2002-2017, and taught in the El Cerrito social science department for more than 25 years.
Lamont Thompson, who graduated from El Cerrito in 1997 and had a six-year NFL career, said Austin "was the first coach I had any interaction with." Thompson remembers talking to Austin in his classroom about football. "To me, he was more of a calming presence. … I believe he put the kids first. He was honest with them, straightforward with them."
Terrell Roberts, a 1999 El Cerrito graduate who played three seasons for the Cincinnati Bengals, remembers a junior varsity game during his sophomore year.
"(On a touchdown) I started dragging my feet in the end zone. I started doing something I saw Deion Sanders do on SportsCenter. Coach Austin said after the game, 'You will be dragging your feet on Monday,'" Roberts said. "(Monday), I was doing gassers.
"He taught me about discipline and respecting coaches … He was a good football coach, but he was a very compassionate person. He cared about students … I had him for history, and he challenged me to excel."
Kenny Kahn, a 2000 El Cerrito graduate, was a lineman coached by Austin and an El Cerrito junior varsity assistant line coach in 2006-2007 before coaching the varsity from 2008-2015.
"He was like a father to me," said Kahn, who was in middle school when he met Austin. "He was instrumental in so many ways in my life. I don't know if anyone could compete with how many student unions and clubs he was a sponsor for.
"You can't spell Gauchos without G-A. That's George Austin straight-up."
Steve Alameda, longtime football coach at Kennedy-Richmond and Pinole Valley, respected Austin and became good friends with him.
"He was known throughout the district. He had a tremendous amount of respect," Alameda said. "I guess what stands out the most is that over the years, we beat them and they beat us. It didn't matter who won, when we met at the 50-yard-line, you got the same handshake, the same smile. That meant a lot to me."
Austin, who played defensive end at Kent State, was a giant man.
"He would have a kid off the ground, demonstrating a technique, and not realize it. That's how strong he was," said Steve Werren, who was on the El Cerrito varsity staff from 1979-2006 and the head coach in 2007. "He is such a rare individual. This man could literally crush you with his bare hands, but he is the kindest, gentlest, caring person you could meet."
Indeed, he is remembered for many things beyond his physical strength.
"George would always take the extra 45 minutes or hour to talk to a parent about a student's progress," said Randy Enos, a former school board president and assistant principal at El Cerrito. "George was the consummate teacher. He never walked away from anybody."