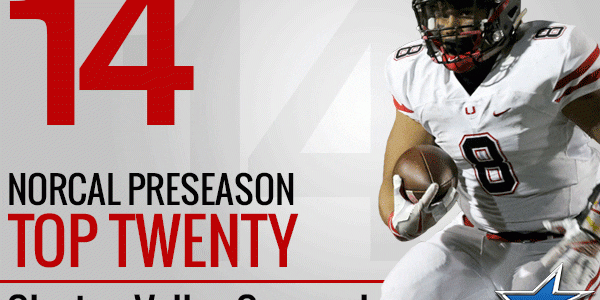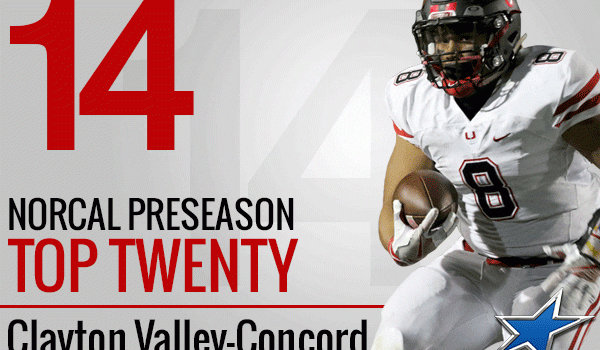 We begin our 2017 Football coverage by revealing teams #20-11 in our NorCal Preseason Top 20 in a daily countdown to Aug. 24 when...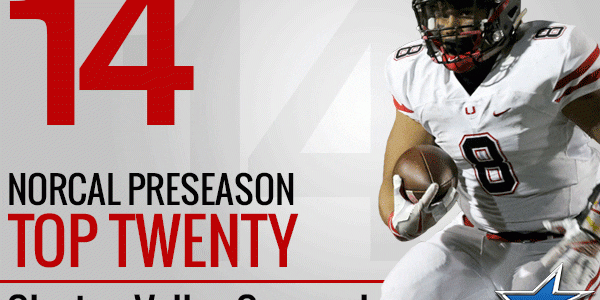 We begin our 2017 Football coverage by revealing teams #20-11 in our NorCal Preseason Top 20 in a daily countdown to Aug. 24 when #10-1 are revealed in our 2017 Football Preview Special. Today we delve into #14 ranked, Clayton Valley Concord Football.
If you need to catchup, here are links to previous entries:
| No. 20 Foothill (Aug. 14) | No. 19 Oakdale (Aug. 15) | No. 18 Capital Christian (Aug. 16) | No. 17 Campolindo-Moraga (Aug. 17) | No. 16 Marin Catholic-Kentfield (Aug. 18) | No. 15 Elk Grove (Aug. 19) |
No. 14. CLAYTON VALLEY CHARTER-CONCORD
2016 REVIEW: 9-2 and No. 5 in our final rankings
COACH: Tim Murphy, sixth season
WHY THEY'RE HERE: The Ugly Eagles are very proficient at collecting W's. Under Murphy, they have never lost more than twice in any season. And they don't make game-altering mistakes. One stat Murphy points to is over those past five seasons, Clayton Valley has averaged just one turnover over every 3 1/2 games. We've become accustomed to viewing Clayton Valley Charter as a state power, and there is little reason to think that perception will change.
YOUTH MOVEMENT: This will be the youngest team Murphy has coached at CVC, with 17 juniors starting, and just one returning defensive starter. But defensive tackle Kitione Tau and middle linebacker Cade Carter are examples of defenders who have put in the work, on the field and in the gym.
AIR FARE:  The Ugly Eagles are known to be extra heavy with the run game — they averaged 334 yards a game on the ground and just 71 in the air last year. But they are going to air it out more this season. They have two steady hands at QB, senior Kenny Gardner and junior Logan Sumter, a transfer from Monte Vista. Being a senior, Gardner holds a little edge, but both QBs should see plenty of action, Murphy said. They have the benefit of the pass protection led by offensive line anchor Brandon Mello, a 6-7, 295 tackle who recently committed to Cal.
NAMES TO NOTE: We still anticipate the Ugly Eagles maintaining a solid running game. Senior James Teofilo and junior Thomas Alatini provide important veteran experience, with each stepping up to larger roles this season.
THE SCHEDULE
8/25 @ Reed-Reno (Nevada)
9/1 v. MILILANI (HAWAII)
9/8 @ Canyon Springs-North Las Vegas
9/15 @ Antioch
9/22 v. DEER VALLEY-ANTIOCH
10/6 v. MIRAMONTE-ORINDA
10/13 v. CONCORD
10/20 @ Acalanes-Lafayette
10/27 v. LAS LOMAS-WALNUT CREEK
11/3 @ Campolindo-Moraga
LAST WORD: With a lesser experienced squad, Clayton Valley could find early-season wins tougher to come by. The Ugly Eagles start off at Reed-Reno, which nearly won a sixth straight Nevada 4A regional title last season, and then host Hawaii's defending Division I state champion Mililani. Add in a rare matchup with Antioch and the nonleague slate looks rather imposing. But Clayton Valley has answered the call before and responded with victories.