NorCal Preseason #20: Foothill-Pleasanton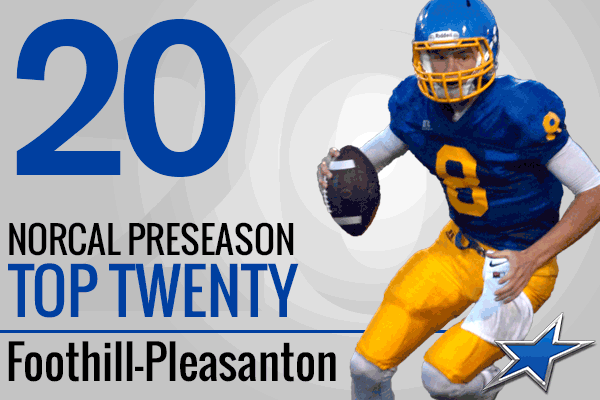 We begin our 2017 Football coverage by revealing teams #20-11 in our NorCal Preseason Top 20 in a daily countdown to Aug. 24 when #10-1 are revealed in our 2017 Football Preview Special. First up: Foothill-Pleasanton.
  NO. 20 FOOTHILL-PLEASANTON
  2016 REVIEW: 6-5 and unranked in our final rankings 
COACH: Matt Sweeney, 30th season
  WHY THEY'RE HERE: Experience and skill. Sweeney has a modest six returning starters on both sides of the ball, but they all return in some very key positions. The Falcons return their quarterback, top running back, receiver, offensive lineman and  defender from a season ago. Traditionally, Foothill teams with that kind of experience tend to flourish.
  BIG BEN: Third-year quarterbacks are a luxury, and Fresno State-bound Ben Wooldridge should be set-up for a big season with the Falcons. Wooldridge will have reliable target Ricky Diaz back from last season and will also get a new downfield weapon in Roman Sahagun, a speedy transfer from California-San Ramon.
  TRENCH LEADER: Sweeney's teams at Foothill — including some of his best — have never been particularly know for their size. This team won't be any different, but senior Zach Walsh will certainly stick out with his 6-foot-3, 290-pound frame. Look for him to lead the way on plenty of rushing attempts by returning tailback Jake Jackson.
  NAME TO NOTE: AJ Schabbing, RB, Sr. — Another transfer who will add to Foothill's skill position experience, Schabbing comes to the Falcons after helping Bishop O'Dowd-Oakland win a CIF 5-AA State Bowl title a year ago. Schabbing averaged 8.2 yards per carry in spelling Dragons feature back, Austin Jones, last season. He rushed 71 times for 585 yards and seven TDs. His quickness and small frame will also make him a difficult coverage matchup for linebackers as a pass threat out of the backfield.
 THE SCHEDULE
8/25 v. SAN LEANDRO
9/8 @ San Ramon Valley-Danville
9/15 @ Monte Vista-Danville
9/22 v. DUBLIN
9/29 @ California-San Ramon
10/6 @ Granada-Livermore
10/13 v. DE LA SALLE-CONCORD
10/20 @ Dougherty Valley-San Ramon
10/27 v. LIVERMORE
11/3 v. AMADOR VALLEY-PLEASANTON
  LAST WORD: With Wooldridge leading the way and promising weapons at his disposal, Foothill should be right on par with many of the top offenses in the East Bay. If the returning experience on defense can help reduce the 21.5 points against average from a year ago, the Falcons could be a juggernaut by season's end.