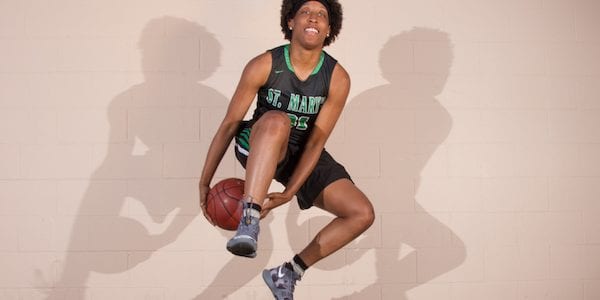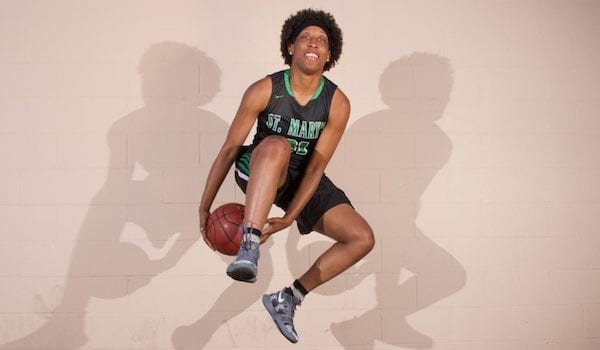 2016-17 Final Records Included 1. ST. MARY'S-STOCKTON (21-9) The No. 2 team in MaxPreps' national Xcellent 25 has one of the most talented starting...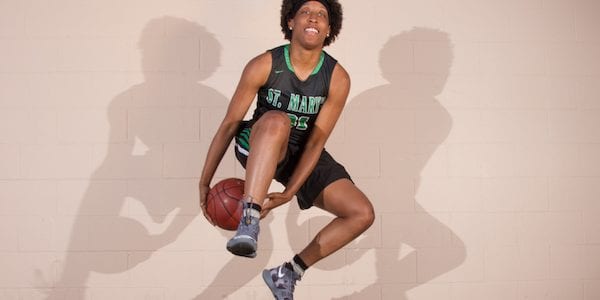 2016-17 Final Records Included
1. ST. MARY'S-STOCKTON (21-9)
The No. 2 team in MaxPreps' national Xcellent 25 has one of the most talented starting lineups in the country. It starts with elite senior Aquira DeCosta (pictured above) — who has signed with perennial national power Baylor — and also contains two more Power 5-level seniors: Ariel Johnson (Florida) and Neenah Young (many Power 5 offers but decided to go to Princeton). Depth is a bit of a concern, but only five have to play at a time.
2. ARCHBISHOP MITTY-SAN JOSE (28-3)
Despite losing four Division I seniors to graduation, Mitty starts the season No. 5 on the Xcellent 25 list, and two of the reasons are junior Haley Jones (a MaxPreps' preseason All-American) and senior Karisma Ortiz (Penn State). Add in great depth, outstanding coaching and a tradition of success, and Mitty, like St. Mary's, is a big step ahead of the rest of Northern California.
3. PINEWOOD-LOS ALTOS HILLS (25-4)
In a normal year, without two teams ranked in the top five nationally, this edition of Pinewood would be considered a regional powerhouse. With junior Hannah Jump leading the usual horde of 3-point shooters (and strong defenders), the strong freshman class will add enough depth and size for Pinewood to be a serious threat to knock off one or both of the top two.
4. SALESIAN-RICHMOND (24-9)
The Pride's 6-5 center Angel Jackson has improved significantly, which is a scary thought, as she dominated games defensively last year. Oh, and the other top five scorers are also back for Salesian, which is another team that can threaten the big two of Mitty and St. Mary's.
5. CARONDELET-CONCORD (28-5)
Losing Michaela VanderKlugt and Bri Simonich will hurt, but Carondelet still has 6-3 Ali Bamberger in the paint and 10 other returners. Look for Maaeva Dwiggins to take on a bigger scoring role this season, and the usual roster full of top-shelf talent allows coach Elgin Leslie to mix and match as needed.
6. FOLSOM (27-5)
McKenzie Forbes (Cal next season) is one of the top players in Northern California, and 6-6 transfer Shayley Harris (UCLA) will open things even more for the versatile Forbes. But the Sac-Joaquin Section is loaded with quality teams, so holding onto this ranking won't be easy.
7. CAMPOLINDO-MORAGA (27-7)
A veteran team (five senior starters) that played for a state title last year is primed to make another deep postseason run. Haley Van Dyke (Washington) and Ashley Thoms (Weber State) lead the way for a school that has won four state crowns.
8. BISHOP O'DOWD-OAKLAND (26-5)
Even though Bishop O'Dowd lost some key seniors, coach Malik McCord has plenty of returning talent. Dailey Dunn, Zakiya Mahoney and Jada Holland lead a pressing, running team that will be able to overwhelm many opponents with sheer athleticism.
9. WEST CAMPUS-SACRAMENTO (30-4)
Kiara Jefferson (UCLA) and Nia Johnson lead an undersized but talented group that won a small school state title last March, and is ready to make some noise in the Open or Division I this year. (Remember that this year teams will be placed in NorCal brackets according to competitive equity, not enrollment.)
10. MIRAMONTE-ORINDA (30-4)
Miramonte can count on senior Clair Steele (above) (Lehigh) for consistent scoring and point guard play, but last season's Division II NorCal finalists will rely on eight freshmen and sophomores this season, which could lead to inconsistency against top opponents.
THE NEXT 10
11. Sacramento (23-10)
12. Cardinal Newman-Santa Rosa (30-4)
13. Eastside Prep-East Palo Alto (23-8)
14. McClatchy-Sacramento (31-5)
15. St. Joseph Notre Dame-Alameda (29-6)
16. Sacred Heart Cathedral-San Francisco (18-9)
17. Heritage-Brentwood (27-6)
18. Oak Ridge-El Dorado Hills (23-11)
19. California-San Ramon (22-8)
20. Aptos (26-5)