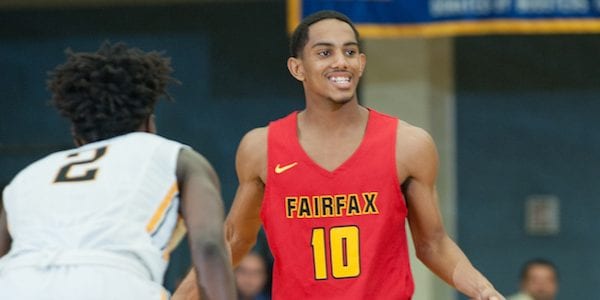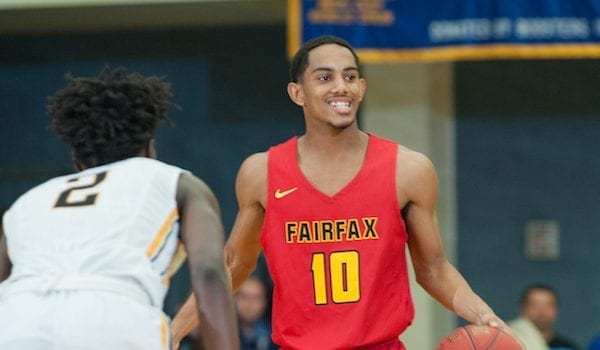 All The Pieces Are In Place For The Renown L.A. City Section Program To Win Its Third State Title — The Lions Just Need...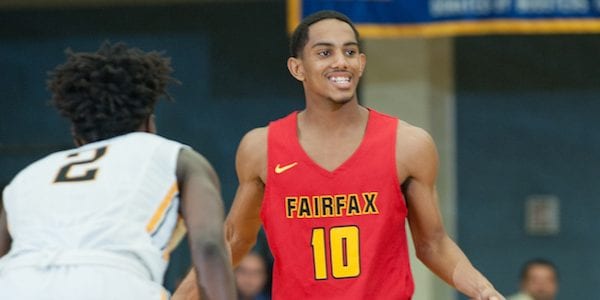 All The Pieces Are In Place For The Renown L.A. City Section Program To Win Its Third State Title — The Lions Just Need To Follow The Formula •
Story by RONNIE FLORES | Photos by SAMUEL STRINGER
Nearly a soul in the gym was rooting for his team, nor wanted to see Jamal Hartwell II, a quietly confident 6-foot senior on the L.A. Fairfax basketball team, knock down another big shot.
With the Lions trailing preseason Cal-Hi Sports No. 5 Bishop O'Dowd of Oakland, 57-53, in the premier game of the NorCal Tip-Off Classic in Newark on Nov. 25, Hartwell hit his fifth 3-pointer of the game with 7.4 seconds remaining to bring Fairfax (which came in at No. 4) within one point.
O'Dowd's Utah-bound guard Naseem Gaskin knocked down one of two free throws to set up the dramatic ending. Under second-year coach Steve Baik, Fairfax gives its offensive players freedom and usually goes with the hot hand. If the raucous, pro-NorCal crowd had the scouting report, it wouldn't be hard to figure out Hartwell would be seeking a clean look.
With six seconds remaining, Hartwell dribbled to get in deep 3-point range, then made a move to get a closer, perhaps better, look. He met some resistance from two defenders and his last-second heave was off the mark. O'Dowd won California's premier Tip-Off game for the fourth time in five seasons.
"I thought I could have got a better shot," Hartwell said. "I should have pulled up right away. Right after, I was thinking 'I can't let this happen again' for everyone I play with. That game will bring everybody in closer."
For Hartwell and the Lions, overcoming various obstacles is nothing new.
For one, the team knew it was entering hostile territory and did so without Baik. Jamal Hartwell Sr., an assistant on and off for the program since 1991, served as the acting head coach against an equally talented team with a Pac 12-bound backcourt. Baik had committed to attend his sister-in-law's wedding on the same afternoon. She knew her brother in-law's December schedule normally is swamped, but set the big date before Fairfax had committed to the event.
"It was difficult, but I trust Jamal and I thought that we'd be okay," Baik said. "We lost the game in two categories: less free throws and assists. My assistant was filming the game and I was watching it through FaceTime."
The players had to adjust to Baik in his first year at the helm after replacing a legendary sideline figure, and Baik had an adjustment period of his own. He replaced Harvey Kitani, a friend and mentor who was the head coach at the Melrose Ave. school where L.A.'s Fairfax District meets the world-famous Melrose District since 1981-82. For Baik, who first met Kitani at the long-running Fairfax Summer Tournament while assisting at Muir-Pasadena, the adjustment had little to do with coaching talented players in a pressure-cooker program. The adjustment came from coaching players with vastly different daily routines, schedules and backgrounds from the ones he encountered at Chino Hills.
Baik was the head coach for six years at a program now famous for winning the 2015-2016 mythical national title with three Ball brothers (Lonzo, Li'Angelo, La'Melo) in its lineup. That Chino Hills Valley Unified School District shool had a student body similar in diversity to Fairfax's, but one very different than the L.A. Unified School District school when it comes to proximity. Many of Baik's players at Chino Hills lived by the school and could literally walk to the school's gym. He wasn't prepared for what many LAUSD teachers and coaches are accustomed to when it comes to scheduling, travel and the things a coach takes for granted when a vast majority of his team lives a short drive away.
"Last year we practiced at 7a.m. everyday," said Baik. "Fairfax is one of the better LAUSD schools academically and we have kids from all over the place. We had at least one kid come on a bus from over an hour away. I simply was not prepared."
This season the Lions (which finished 26-6 in 2016-17) begin practice starting with sixth period.
Not surprisingly, the adjustment period on the court was a smoother ride and not just because the program returned five starters this season. Baik is a typical "player's coach," giving his players the offensive freedom they desire as long as they remain within the principals he's teaching. As a young Japanese-American coach, Baik sought the tutelage of a legendary L.A. City Section mentor from the same cultural background: former Fremont-Los Angeles and Cal-St. Dominguez Hills coach Dave Yanai. A lot of the sets Baik (who played at Westmont College) employed at Chino Hills were based on philosophies he learned from Yanai.
"I knew about Fairfax when I was still in high school because I saw them play on television and as a big school from L.A. with a Japanese-American coach, I was drawn to it," Baik said. "Me and Kitani saw eye-to-eye on a lot of the values and things he built. I played against Yanai's clubs in college, but didn't find out he was Harvey's uncle until after college."
What Kitani built was a program that produced four L.A. City titles, two Division I state crowns (2004, 2007) and nine players whose jerseys are permanently displayed in the school's rafters, including four who eventually played in the NBA. The strict task-masker who eventually softened some of his team rules over time built what is now referred to as "Fairfax DNA".
"For me it represents connecting all the generations of players and the culture that's been developed over the years," said Hartwell Sr., a reserve on Kitani's first great team in 1986-87 that produced two NBA players (Sean Higgins and Chris Mills) and finished ranked No. 8 in the country by USA Today.
The traits that DNA produces are most prominent when games against long-time Western League rival Westchester (which won six Div. I state titles between 1998 and 2010) approach.
"It's a big game and a great atmosphere to be apart of," said Hartwell II. "If we see a former player it always comes up and they want to know what we got for Westchester (in the next game)."
The elder Hartwell had a "why am I not surprised" smile after the O'Dowd game when he learned Westchester was up to its old tricks by winning the Ryse Williams Pac Shores Tournament. As if the program needed any more motivation to prepare for its annual home-and-away series in the state's best overall rivalry.
Fairfax bounced back by winning the Beverly Hills Tournament, which was almost derailed by the deadly Skirball Fire that engulfed L.A.'s Westside, to run its record to 5-1. Senior forward Kirk Smith took home MVP honors following a 21-point, eight-rebound, five-block performance in the title game win over Long Beach Poly on Dec. 9.
Being part of this program is a day-in and day-out grind the coaching staff feels dictates the on-court results. The looming goals and the preparation for them, however, are never far from the surface.
"I always want to beat our rival because of how they ended our city title run last year," said Ethan Anderson, a talented returning junior guard. "This year I want to beat Bishop O'Dowd even more because of what it will mean."
The Lions could potentially meet O'Dowd in two more holiday tournaments, but another NorCal meeting will mean the two clubs are playing for the CIF Open Division State Championship on March 24.
"For our first game, I wanted the team to get a feel for what we want our last game to be like," Baik said. "A six-hour drive, stay overnight and have a walk through.
"Now we just got to get up there again."