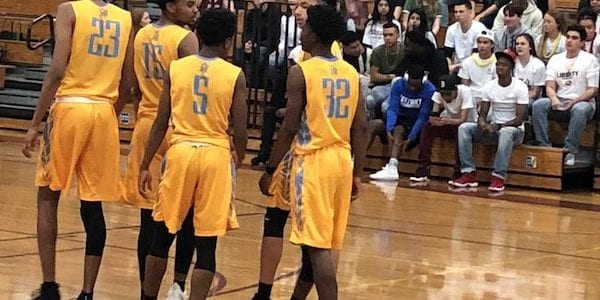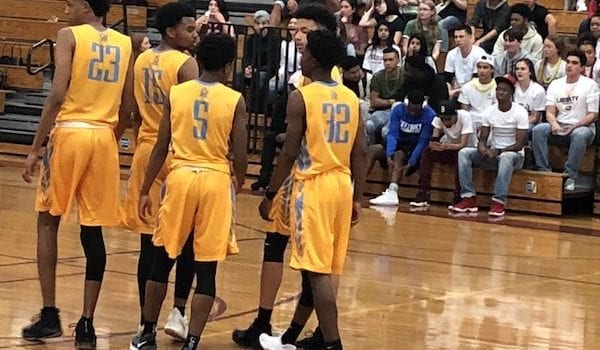 Heritage Focus on Postseason, As It Closes Out Another Dominant Regular Season, Just May Be Its Time To Shine • Pat Cruickshank is in...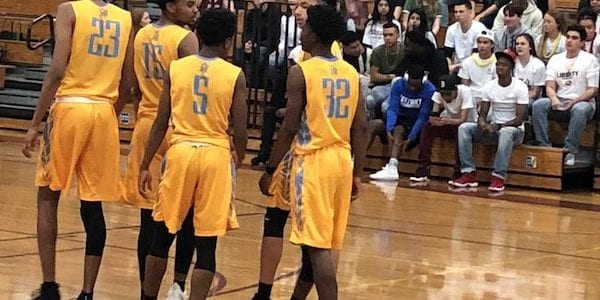 Heritage Focus on Postseason, As It Closes Out Another Dominant Regular Season, Just May Be Its Time To Shine •
Pat Cruickshank is in a good place. Well, as good a place as any boys varsity basketball coach can be when his Heritage boys basketball program is one win away from clinching as second league title in as many seasons.
With a win in either of its last two Bay Valley Athletic League games — home against Freedom on Feb. 13 or at Antioch on Feb. 16 — Heritage will clinch the BVAL crown and the league's automatic berth to the North Coast Section Division I tournament. A loss by Pittsburg on either of those nights would also do the trick.
The Patriots shouldn't need any help though.
Heritage has been firing on all cylinders for quite some time now, riding an 11-game winning streak since losing to Serra-San Mateo in the championship game of the Don Bambauer Tournament at Marin Catholic-Kentfield on Dec. 30.
So, yeah, Cruickshank feels good about things. But all the things that can go wrong still simmer just below the surface.
"Sometimes you can't control what other teams do," Cruickshank said the night of Feb. 9 after Heritage came from behind to win 76-57 at Liberty-Brentwood. "I think what we control, we're good with.
"I'll still go back to two years ago: We got Castro Valley in the first round (of NCS) and they just shot the lights out. Everything they shot went in and we ended up losing (87-84) in double overtime. Had a great team. Really felt like we could play for awhile, and we were out on the first night."
Going out on the first night for this team would be quite a shocker this time around.
For one, should the Patriots win out, they would have a legitimate chance at one of the tournament's top three seeds, along with Clayton Valley-Concord and Dublin — the only other team to beat Heritage this season, 85-82 on Dec. 17. Furthermore, most of the players on the roster have tasted postseason success after a 27-5 campaign last year that ended in a 58-51 loss to James Logan-Union City in the CIF Northern Regional semifinals.
If a scenario does play out in which Heritage earns a top two seed and can line up three home games prior to the final, Cruickshank is confident this team won't take it for granted.
"One game at a time."
"We've just pounded that into them," the coach said. "One practice at a time. One game at a time. The strength of all these guys is in their togetherness. They like each other and they work with each other. They have great chemistry."
The chemistry was more than apparent in the win over Liberty.
The Lions, a team which has pushed the Patriots to their limit in recent years, built a 31-27 halftime lead after closing the half on a 7-2 run. Liberty maintained a four to five point advantage through most of the third period as well. It wasn't until 6-foot-7 senior forward Jonathan Ned sank a 3-pointer with 2:35 left in the quarter that Heritage would grab the lead for good.
Ned, who is in his third year playing for Cruickshank, scored 17 of his game-high 22 points in the second half. He had one particularly impressive sequence near the beginning of the fourth quarter in which he initiated a steal at mid-court, gave the ball up to point guard Ezra Manjon only to get it back on a perfect alley-oop pass. After completing the dunk, he sprinted to the other end of the floor in time to block a Liberty layup attempt out of bounds.
"Man, that guy. He's a monster. He's a monster, man," Manjon said of Ned after the game. "I love playing with him."
As it turns out, Manjon — who moved to Brentwood from Columbus, Ohio, prior to the school year —  has his own admirers throughout the Heritage roster.
"Guys respected him right away," Cruickshank said of the junior transfer. "They figured out this guy is pretty good. He can help us."
That was evident in the Liberty win as he too saved his best for the second half, particularly the third quarter in which he scored 11 of his 18 points to help keep the Lions from pulling away. In the fourth quarter, he provided three of his seen assists.
"That's what he can do," Cruickshank said. "He can break a defense down. When he did, it opened up things for everyone else."
Senior shooting guard Jacob Williams scored eight of his 13 points in the fourth and also came up with two of his three steals for the game. Senior forward Kalil Freeman came off the bench to score 10 points, all in the second half.
"We all contribute to the wins," Manjon responded when asked what the Patriots' biggest strength is. "Everybody can do something. Everybody does what they do best and plays their role."
As the only remaining player from the 2015-16 team, you can bet Ned also vividly remembers the 2016 playoff upset loss to Castro Valley. He's as fully committed to the one-day-at-a-time grind as anyone.
He also knows what can carry them to what they want to achieve. It's something the team is already doing.
"We just play together," Ned said. "We never argue. We're never down on each other. We always just try to lift each other up."
And they do it one day at a time.