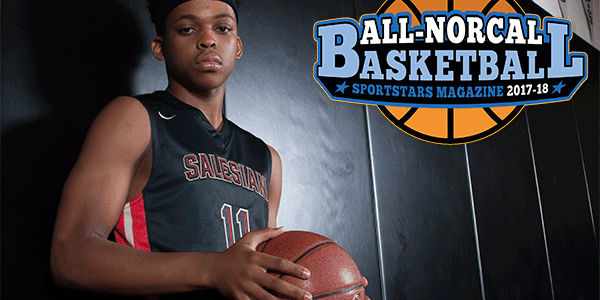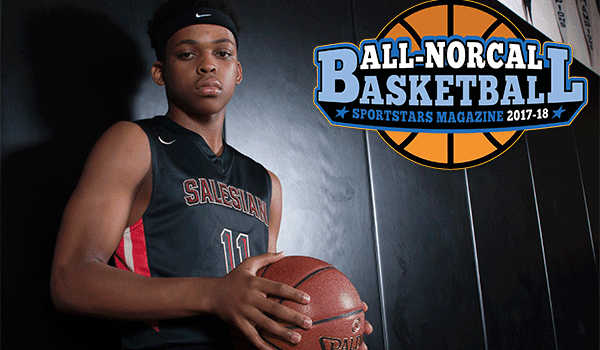 NorCal Boys Player Of The Year, James Akinjo Of Salesian-Richmond, Leads Our 2017-18 All-NorCal Basketball Selections • CLICK HERE for All-NorCal Girls Selections NORCAL...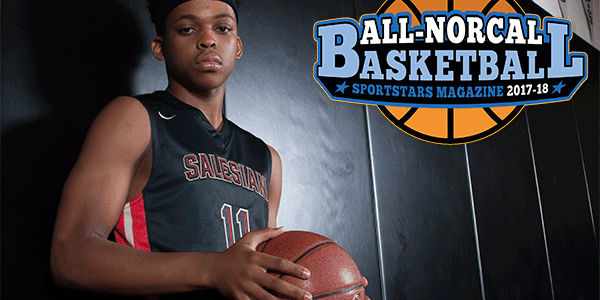 NorCal Boys Player Of The Year, James Akinjo Of Salesian-Richmond, Leads Our 2017-18 All-NorCal Basketball Selections •
CLICK HERE for All-NorCal Girls Selections
NORCAL PLAYER OF THE YEAR
James Akinjo, Salesian-Richmond, Sr.
Longtime Salesian varsity boys basketball coach Bill Mellis has had his share of gym rats over the years. 
Relentlessly dedicated, talented players who were constantly working on their games. 
All of them were merely a prelude to James Akinjo, a four-year varsity point guard who recently wrapped up his Pride career as the program's fifth all-time scorer. 
When Mellis literally closed the doors to the Salesian gym after a night of practice, Akinjo simply headed to the next gym.
"James literally lives in the gym," Mellis said. "Plenty of times he would leave practice — even the late practices that went until 9:30 at night — and he would go to 24 Hour Fitness and get another hour of shots up."
That passion, drive and work ethic manifested into a splendid senior season in which Akinjo averaged 20.7 points, 5.2 assists, 3.1 rebounds and 2 steals over 32 games. He did this while leading Salesian to a 30-2 overall record, a third straight North Coast Section title (the second in Division III) and the state's No. 1 overall ranking heading into the CIF Northern Regional Open Division playoffs.
All of which added up to being a relatively easy choice as the SportStars NorCal Player of The Year — despite the Pride being upset by Folsom in the opening round of the Open Div. tournament.
Akinjo, who will continue his playing career at the University of Connecticut next season, has been showcasing the same work ethic and competitive fire since Mellis placed him on varsity as a freshman. 
"We knew he was going to be really good," the coach said. "He won the starting point guard job halfway through his freshman year, and there haven't been too many who have done that with us."
Akinjo was one of just two seniors on Salesian's roster this season, and made a point to rise as a leader. 
"This happens to a lot of players, but his junior year was one where he kind of knew it all," Mellis said. "His senior year he really grew in that area, and really matured. That maybe defined his senior year. He really wanted to keep it a team thing."
That team was nothing short of dominant for nearly the entire season. Its first loss to a California team was its last, a 75-70 home overtime loss to Folsom on March 9. Akinjo still posted 30 points in that defeat, and may have hit the game-winner had 6-foot-9 SportStars All-NorCal first-teamer Mason Forbes not partially blocked it at the end of regulation.
All of which means, his fire isn't going out any time soon. Which is good news for UConn. 
FIRST TEAM ALL-NORCAL
James Akinjo (Salesian-Richmond, Sr.), 6-1, Guard
WHAT HE DID: The University of Connecticut-bound playmaker was the unquestioned leader on a 30-2 Pride team which spent the majority of the season as NorCal's No. 1-ranked team. In fact, Salesian entered the CIF Open Div. tournament ranked No. 1 in the state. Akinjo finished the year averaging 20.7 points and 5.2 assists per game. 
Mason Forbes (Folsom, Sr.), 6-8, Forward
WHAT HE DID: Forbes was a dominant post presence on both ends of the floor, averaging 18 points, 13 rebounds and 3.5 blocks a game for a Bulldogs team which reached the CIF Open Div. regional semifinals after knocking out Salesian in the first round. Forbes will take his playing and academic career to Harvard in the fall.
Naseem Gaskin (Bishop O'Dowd-Oakland, Sr.), 6-3, Guard
WHAT HE DID: The Utah-bound star finished his career ranked No. 3 on the Dragons' all-time scoring list with 1,445 points. In his senior season he averaged 14.5 points and 6.7 rebounds while leading O'Dowd to the CIF Open Div. regional final. His 44-point night against Berkeley on Feb. 16 set the program's single-game scoring record. 
Logan Johnson (St. Francis-Mountain View) 6-2, Guard
WHAT HE DID: After briefly considering transferring to a Florida school, Johnson stuck around to finish what he started with the Lancers and posted another phenomenal season, with per-game average of 21 points, 8 rebounds and 6 assists as St. Francis went 18-9. Johnson will continue his career at Cincinnati.
Jake Wojcik (Bellarmine-San Jose, Sr.) 6-4, Wing
WHAT HE DID: Averaging 17 points per game, Wojcik was named West Catholic Athletic League Player Of The Year for the second time in as many seasons. The Siena-bound talent led the Bells to a 24-4 record, a WCAL title, a Central Coast Section Open Division championship and a CIF Open Div. berth.
Second & Third Teams On Next Page…