All-NorCal Girls Basketball '17-'18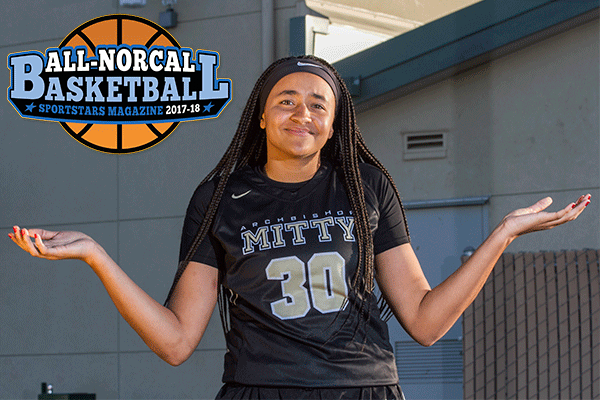 Beginning With Player Of The Year, Archbishop Mitty's Haley Jones, It Was A Banner Year For NorCal Girls Talent •
CLICK HERE For All-NorCal Boys Selections
NORCAL PLAYER OF THE YEAR
Haley Jones, Archbishop Mitty-San Jose, Junior
There's not much Haley Jones can't do on a basketball court.
At 6-1, she's tall enough to post up. So when Archbishop Mitty's starting center, Nicole Blakes, tore her ACL just before the start of the 2018 postseason, Jones became the first inside option for the team that wound up No. 3 in the nation.
As a 64-percent shooter from the field, Jones can operate from the wings, getting to the rim, dropping in runners and hitting mid-range jump shots.
As a 45-percent shooter from 3-point distance, Jones can switch to shooting guard, extending defenses and opening up the court for herself and her teammates.
And speaking of teammates, they need to be ready when Jones has the ball. When the situation demands it, she's going to get the ball to the player with the best available shot. Thus, the 4.1 assists per game.
There aren't numbers like the 21.8 points and 10.0 rebounds per game on the other end of the floor. However, Jones, a coach's daughter, is a superb defender who uses her length and athleticism to guard whoever she's assigned. It could be a post or it could be a point guard, as one word that cannot be left out of any description of Haley Jones's game is "versatile."
Oh, did we mention she's just a junior?
Yes, Jones will be back for the 2018-19 season. She'll be the unquestioned leader and focal point for Archbishop Mitty, which spent most of the season ranked No. 1 in the nation. In fact, even after Mitty lost to Pinewood-Los Altos Hills in triple overtime in the NorCal Open finals — a game in which Jones fouled out (on a very shaky call) with 1:31 left in regulation — the West Catholic Athletic League champion still finished the year ranked No. 3.
Jones is considered the fifth-best prospect in the country by ESPN's Hoopgurlz. Since she has not yet committed to a college, her summer games for the Cal Stars' EYBL team will feature bleachers packed with college coaches. All hoping to land a player to build a program around.
Even after she signs, don't expect Jones to rest on her laurels during her senior season. In each of the last two years, Archbishop Mitty was considered a favorite to win the California Open Division title. They fell short in 2017 in the state championship game, and, as mentioned, losing to Pinewood in 2018.
So with unfinished business, tremendous talent, the full package of physical gifts, and yes, versatility, don't be surprised if Jones does even more for Mitty next season — and is the subject of this story again next year.
FIRST TEAM ALL-NORCAL 
AQUIRA DECOSTA
Post | St. Mary's-Stockton | 6-2 | Senior
WHAT SHE DID: DeCosta capped an amazing career with another superb season. She averaged 18.3 points and 13.1 rebounds per game, and added 2.2 assists, 2.9 steals and 2.1 blocks a game for one of the top teams not only in California, but in the nation.
MCKENZIE FORBES
Wing | Folsom | 6-0 | Senior
WHAT SHE DID: Forbes not only led Folsom to its best season ever but then topped it all off by winning the 3-point shooting contest at the McDonald's All-American Game. She outshot the boys' winner as well. And locals will still get to watch her career, as she will play at Cal.
ANGEL JACKSON
Post | Salesian-Richmond | 6-4 | Junior
WHAT SHE DID: Another great Salesian season – reaching the semifinals of the NorCal Open Division playoffs – was anchored on Jackson's play in the paint. The numbers (14.6 ppg 10.5 rpg, 4.6 bpg) don't tell the whole story of her impact on each game at both ends of the floor.
HALEY JONES
Wing | Archbishop Mitty-San Jose | 6-1 | Junior
WHAT SHE DID: There are those who claim that if Jones hadn't fouled out with 1:31 to go in regulation in that triple-overtime loss to Pinewood, Mitty not only would have won the California Open championship, but also been the consensus No. 1 team in the nation.
HANNAH JUMP
Wing | Pinewood-Los Altos Hills | 5-11 | Junior
WHAT SHE DID: Jump belies her name, as her 45 percent shooting percentage from beyond the arc is the basis of her elite-level game. She averaged 16.7 points and 5.6 rebounds for the Panthers. She's also on track to become a mainstay on the national team for Great Britain, as she was born in England.
Second & Third Teams On Next Page…