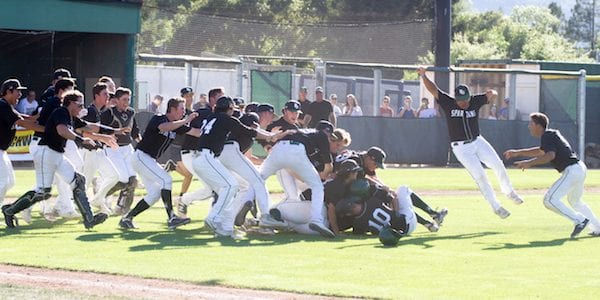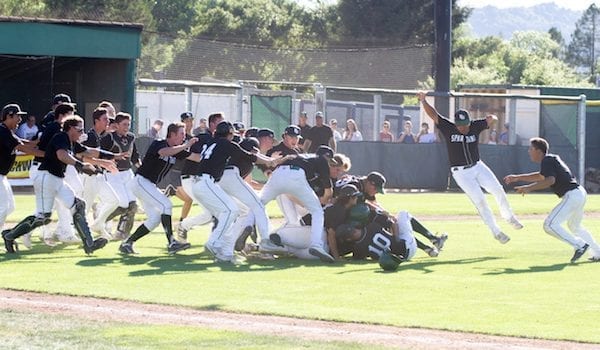 Paced By A Record-Breaking Offense, De La Salle Baseball Thundered Its Way To A Third Consecutive NCS Division I Crown • When a baseball...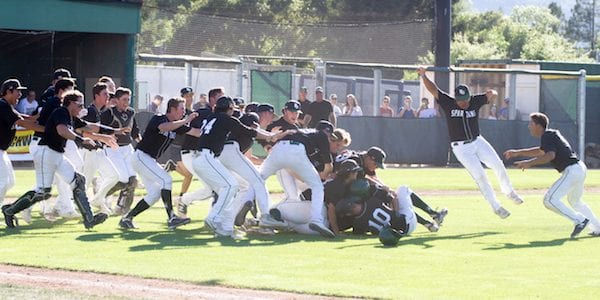 Paced By A Record-Breaking Offense, De La Salle Baseball Thundered Its Way To A Third Consecutive NCS Division I Crown •
When a baseball team outscores its four North Coast Section playoff opponents by a combined 42-3, something exceptional is happening.
How special? This finish came from likely the most prolific offense in the history of De La Salle High-Concord. Adding in two East Bay Athletic League playoff wins, that offense averaged 10.67 runs per game against top-flight schools from the section's top division, culminating in a third straight NCS Division I championship.
The Spartans (26-4) ended their exceptional season with an 11-0 win over Foothill-Pleasanton, pulling off the rare feat of finishing an NCS championship game by mercy rule when Nick Cirelli's three-run home run ended the game in the sixth.
"I was just trying to hit it as hard as I could. … I didn't even know there was a mercy rule," Cirelli said. "It's an incredible feeling knowing the entire team is behind you on every pitch. We played well together and I think we deserved it."
It was Cirelli's second home run of the day and sixth on the year. The team's 29 home runs for the season was a school record, eclipsing last season's mark of 19. The Spartans etched several new entries onto the school record book. Those included batting .361 as a team, plus new high marks in doubles, slugging percentage, on-base percentage, hit by pitches and wins in a season. They finished second in the nation in the MaxPreps computer rankings.
Cirelli provided plenty of offensive spark, which came with a good example of selflessness, at times coming out for a speedier pinch-runner after reaching base.
"I think if you add it up, there's at least 5-6 games he himself had more than half our runs," De La Salle senior pitcher Ryan Costeiu said. "And he shows that Spartans mentality: I am going to get on base, but someone else is going to get on-base and score that run for us."
Cirelli led De La Salle in RBI (41), hits (47), triples (2), slugging percentage (.808), OPS (1.383) and in batting average among full-time starters (.500). His home run total was second to Trace Tammaro with seven.
"He's a DI hitter, can hit the home run, gets on base, doesn't get himself out, doesn't chase," De La Salle coach David Jeans said. "He also had two opposite-field triples."
He served as a designated hitter this season, pitching just nine innings due to a shoulder injury. Cirelli's status was part of the uncertainty this spring for the Spartans, who had just two other starters and seven players in all back from their 2017 championship team.
"We had some questions about some positions when we started," Cirelli said. "We started hitting the ball very well and ending up setting many records: team batting average, doubles, home runs. It was a ridiculous season."
After a 1-2 start with losses to Central Coast powers Bellarmine-San Jose and St. Francis-Mountain View, the Spartans began to put it together at the Central Valley Showcase with wins over Buchanan-Clovis and Clovis North-Fresno.
"In that Buchanan game, that was the most energy we had shown in a game," Cirelli said. "Then we had a hard loss at Monte Vista, and then went on a 14-game win streak. Our offense was firing on all cylinders, then we lost to Amador Valley. That made us practice harder."
They avenged both of those losses, their only two against NCS teams. After that 1-0 eight-inning loss to Monte Vista, they won the rematch 14-4. The 3-2 defeat against Amador Valley was avenged with an 11-1 win in the EBAL playoffs.
"It's hard to tell 15- and 16-year olds who are playing very well that they need to keep getting better, but these guys listened," Jeans said. "Collectively as a group they were not cocky. They always wanted to get better. We had 20 kids in that championship game and all had contributed in a significant way. It's nice when you get a group of 33 guys who can make all nine positions better."
The offense was off the charts, but the Spartans also had outstanding defense and potent pitching. Middle infielders Dom Grupalo and Taison Corio combined for just two errors all year. Center fielder Jack Powers, who will play football at TCU, returned from a fractured foot in April and immediately contributed. Primary starting pitchers, Costeiu and sophomore Kyle Harrison, were a combined 19-1.
Veteran catcher Austin Elder played a large role in getting a staff with little previous varsity experience rolling.
"It's night and day. Having a veteran catcher who has known me for four years is so huge; he makes me the pitcher I am," said Costeiu, who earned the win in the NCS final with a two-hitter over five innings. "There are a lot of great catchers in the area. You can put up anybody you want. I have not seen somebody with the receiving and defensive ability. Nobody else is even close."
Elder will attend Cal State Northridge.
"He is one of the best receivers we have ever had at De La Salle, and this year he took the next step as a leader," Jeans said. "We had new pitchers who were very comfortable working with him, which is the sign of a Div. I catcher."
Considering the Spartans' final offensive explosion came against Foothill standout and Vanderbilt-commit Brett Hansen made it all the more impressive. And there was the matter of graduation for the team's 22 seniors, which came smack-dab in the middle of their four-game NCS playoff run.
"Graduation wasn't really our end,"  said Costeiu, who will play at Sacramento City College along with Cirelli. "Graduation is nice but that is not how we ended our high school years. Our graduation was winning an NCS championship."