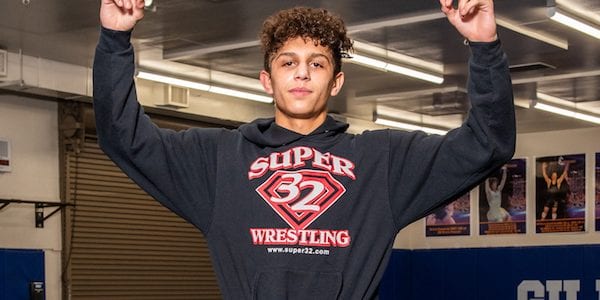 Revisiting NorCal's Key Stories, Newsmakers And Highlights Of NorCal's Three Days And Nights At The CIF Wrestling Championships • Denied a CIF team wrestling...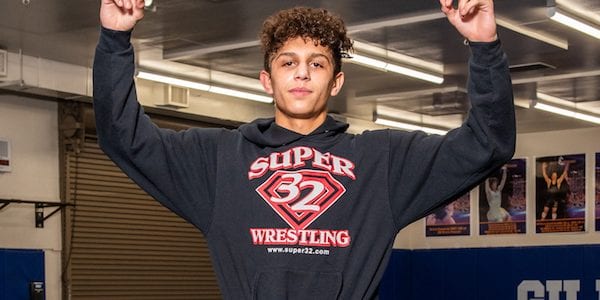 Revisiting NorCal's Key Stories, Newsmakers And Highlights Of NorCal's Three Days And Nights At The CIF Wrestling Championships •
Denied a CIF team wrestling championship in his first opportunity to win one at Rabobank Arena in Bakersfield Saturday, Gilroy wrestling coach and UFC heavyweight champion Daniel Cormier crafted a message for first-place Buchanan-Clovis and coach Troy Tirapelle.
"Like I told Tirapelle on Instagram, enjoy this state championship now, because we will not stop chasing you," Cormier said. "I love having someone to chase, and I will chase (Buchanan) like I did world championships in wrestling and championships in the UFC."
Cormier showered his wrestlers with praise after a runner-up finish (182 team points) behind Buchanan (235).
Gilroy had a champion, three finalists, and seven total medal winners, second on all counts to only Buchanan.
"It was an awesome tournament, ran so well and kids competed very well. It was just perfect," Cormier said. "I thought we peaked at the right time. Every one of our wrestlers played a part in getting us here."
Ryan Reyes, the most accomplished senior from a Northern California school, won his fourth CIF medal. It was his first gold at 195 after finishing third, third and seventh in prior treks to Rabobank.
"He was unmatched by anyone in his weight class," Cormier said. "He came in with one goal — to get on the top of the podium. And he was never in any danger of even giving up a takedown."
Gilroy also landed runner-up finishes by Chase Saldate (138), pictured at top, and Nicholas Villarreal (285). Victor Jacinto (fourth at 126), Daniel Vizcarra (sixth at 152), John Fox (sixth at 145) and Nathan Villarreal (seventh at 160) also reached the podium.
NorCal stalwarts Oakdale (10th, 88 points), Del Oro (13th-66), De La Salle (14th-63), Vacaville (17th-57), Turlock (18th-45) and Pitman (19th-40) all finished inside the top 20 and combined for 10 medals.
De La Salle and Turlock both celebrated championships, thanks to Spartan Kyle Parco (132) and Bulldog Michael Jeffus (285).
Oakdale landed podium spots for Henry Porter (third at 132), Brayden Abell (fourth at 106) and Gabe Martinez (eighth at 170).
Del Oro's Noah Blake (second, 160), Eli Blake (seventh, 138) and Brenden Johnson (eighth, 132) also medaled.
Tyee Ducharme was seventh at 152 to bag Vacaville's only medal while Pitman's Izzy Tubera brought home a third-place finish.
Big In Big Valley
There are only 10 boys in Reagan Dahle's senior class at Big Valley-Bieber. Even with those odds, he couldn't win Homecoming King.
He blames the oversight on Big Valley's basketball season, which hosted the ceremony, instead of one of his eight-man football games.
After becoming Big Valley's first CIF wrestling qualifier and place-winner in the same season, he may deserve a recall.
Dahle, who was well outside a state qualification at No. 5 in the Northern Section last year, found his other glass Asics at Rabobank Arena. The Cinderella story of 2019 built momentum when Dahle pinned Sutter stalwart Max Gipson to win the NS Championship at 195 pounds. The CIF tossed Dahle a No. 15 seed and he lost his second match to the No. 2 seed. It seemed Dahle's legacy would find definition from his appearance in the bracket and the eight-hour trek south from Bieber.
And then he made history. He pinned five opponents (four of them seeded) to finish fifth in a field of the best 40 wrestlers in the state. Big Valley was the smallest school represented on the CIF awards podium.
"I knew I was representing myself, my school and my community," Dahle said. "It was everything I had worked for all season."
"I'm extremely honored to say I got to go along with him on his journey to see what he accomplished," Big Valley coach Scott Withrow said. "He is one of those kids that sits back and analyzes matches and opponents, and that is not something I see from kids his age. He just turned 17."
Dahle is one of just two wrestlers on the Big Valley team. With Withrow rotating, the team gets workouts by lifting weights in the morning and drilling/sparring in a round-robin format each afternoon.
It was these sessions that prepared Dahle for a few precious moments at state, like when he was trailing Oakdale stalwart Cody Golding 4-0 in the round of 12. He caught Golding in a sudden chin-whip throw he calls the "cow-catcher," and pinned him in the second round. The loss eliminated Golding, who was the No. 4 seed.
After pins propelled Dahle to the fifth-place match (he dropped a match in the consolation semifinals), Dahle met the tourney's No. 5 seed, semifinalist Peter Ming of Elk Grove.
Ming was up 4-0 in the final seconds of the first round. Dahle then caught him out of position during a desperate "Granby" roll. He forced Ming's back to the mat for another come-from-behind pin.
Dahle's heroics have boosted his prestige in the college recruitment world. He has aspirations to join the cast of wrestlers at Cal Poly, San Luis Obispo.
CIF GIRLS: Rabobank Newcomers
Fourteen girls enjoyed the thrill of winning the state tournament at Rabobank. All thanks to a major shift to the CIF postseason that aligned girls and boys brackets to compete side-by-side across three days.
"It was really cool," Pitman freshman state champion Lilly Freitas said Sunday. "I liked competing alongside the boys and I liked that my teammates were all there and we could support each other."
San Fernando of the L.A. Section won the girls team championship with 104 points. NorCal stalwarts Menlo-Atherton-Atherton (second-92), Albany (fourth-71), McClatchy-Sacramento (seventh-54), Arroyo-San Lorenzo (ninth-45), Liberty-Brentwood (T14th-42), Orland (T14th-42), Silver Creek (T14th-42) and Bella Vista-Fair Oaks (20th-38) landed among the top 20 teams.
NorCal also brought home nine state titles, and the gold was spread among nine different teams. Orland (Jennifer Soto, 111 pounds), Upper Lake (Adriana Lopez-121), Freedom-Oakley (Dalia Garibay-137), Pitman (Freitas-143), College Park-Pleasant Hill (Amit Elor-150), Bella Vista (Yelena Makoyed-160), Arroyo (Alia Abushi-170), Menlo (Folashad Akinola-189) and McClatchy (Tavi Heidelberk-235) all topped the podium.
Menlo-Atherton, Albany and third-place Birmingham were the only girls teams with four place-winners. In addition to Akinola, Menlo-Atherton also garnered podium finishes from Evelyn Calhoon (third, 121), Angie Bautista (sixth-126) and Abby Ericson (seventh-160). Albany secured medals for Francesca LoPresti (third-143), Joanna Qiu (fourth-137), Artemisia Matera (fifth-106) and Natalia Urbas (eighth-126).
Freitas Won't Fool Future Seeding Committees
Pitman's undefeated freshman state champion never earned a No. 1 seed in any of her brackets.
That will change next year.
Freitas landed the No. 3 spot in the 143-pound CIF bracket behind San Fernando's Gianna Anaya and Albany's LoPresti, both returning state medalists.
She beat LoPresti 13-0 in the semifinals and needed just 54 seconds to pin Anaya in the finals.
"I just kind of thought, 'Wow, I just won,'" Freitas said. "I gave my coach a big hug and ran and gave my mom and dad a big hug in the stands — I was really excited."
It was a special moment for one of those hug recipients, Pitman coach Adam Vasconcellos.
"She's Pitman's first state champion, first undefeated wrestler, first freshman state champion," Vasconcellos said. "She pretty much shattered every record possible at our school."
Vasconcellos said he enjoyed the girls/boys format at state, though he feels the schedule could be improved.
He attributed the success of his freshman star to her well-rounded style and composure.
"She has ice in her veins," he said. "She wrestles well in all three positions. (Lilly) is very good at hand-fighting and has very good leg attacks.
"As soon as she was done at state she was already talking about the (freestyle) national tournament in Texas. She's trying to qualify for the U.S. World Team. She is doing all the right things."