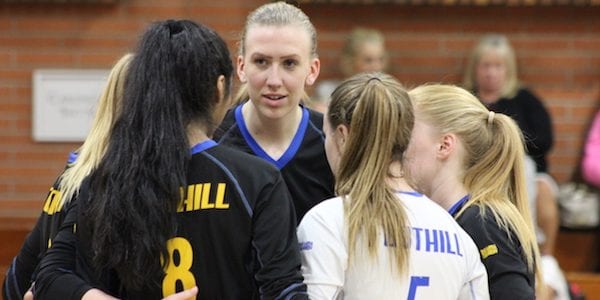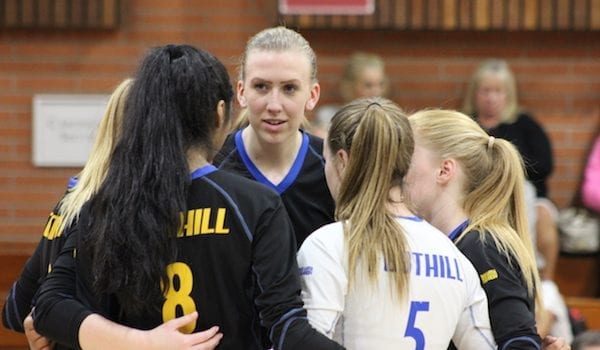 Falcon Girls Hang Tough In A Loaded EBAL Behind Strong Leadership And Sophomore Phenom Grayce Olson — Who Wasn't Even Expected To Play In...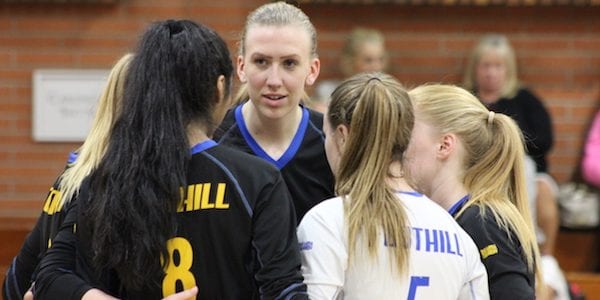 Falcon Girls Hang Tough In A Loaded EBAL Behind Strong Leadership And Sophomore Phenom Grayce Olson — Who Wasn't Even Expected To Play In 2019 •
There's much to the Foothill volleyball team. Great passing, serving, defense and the ability to stay calm under pressure.
And there is 6-foot-4 Grayce Olson, the Pleasanton school's amazing sophomore force at outside hitter.
All those factors added up to a 25-20, 22-15, 25-13, 26-24 Falcons win at Monte Vista-Danville on Oct. 8 in a key match within a typically tight East Bay Athletic League race.
Olson comes from an exceptional sports family, drawing expertise from both parents having been athletes and coaches at high levels.
Her father, Greg, is the Oakland Raiders offensive coordinator. Greg played quarterback at Central Washington before beginning a lengthy NFL coaching career in 2001 as the San Francisco 49ers quarterbacks coach. Her mother, Lissa, was an All-American high jumper at Washington State. She made NCAA history in 2001 when Purdue hired her as the head coach of both its men's and women's track and field programs.
_______________________________
GET CONNECTED:
Follow SportStars on Twitter & Instagram | Like us on Facebook | Subscribe!
_______________________________
Grayce's twin brother, Kenny, plays wide receiver and safety and runs track for Foothill.
Growing up in a family so entrenched in sports and coaching shows in her maturity and drive.
"She knows what it means to have a strong work ethic, and being a good teammate comes naturally to her," Foothill volleyball coach Dusty Collins said. "I had seen her play club and in elementary school since she was young, and even then she was always smiling and great with her teammates."
She wowed the East Bay Athletic League her freshman year. She helped the Falcons win the league title outright for the first time since 2010 and shared first-team All-EBAL honors with senior teammate and league MVP, Emily Haskell. The team went 30-7, reached the NCS Division I finals and the CIF NorCal regional semifinals. 
But in July, this season was cast in doubt. Olson had heart surgery. She said she was born with a weak aorta.
"It's kind of a miracle that she is playing right now," Greg Olson said.
With her sophomore season likely written off, her dedication to the team shone through.
"We were assuming we weren't going to have her the whole year. Maybe (she'd) come back for the playoffs, but we were prepared that we weren't going to have her," Collins said. "Her thought was 'Do I still get to be part of the team?' And we said "Yes, of course you do.'
She tackled the challenge with utmost determination and confidence, and great faith in her recuperative ability.
"I was supposed to be out six months and I came back after two. I am still supposed to be out," she said. "Honestly I took everything as not that big of a deal. I wasn't very scared. Most people would be. I went into it thinking: I know I heal really fast. And so I wasn't really worried."
After missing six games, Olson returned to the court, much to her teammates' delight.
"We didn't think she was going to come back in time for this season," senior co-captain and setter Ishana Ram said. "We were all really concerned, and then happy to know that she was having a speedy recovery."
In his 23 years with Foothill volleyball, Collins has coached plenty of talented tall players. Most notable of them was 6-foot-3 Betsy Sedlak, a 2008 graduate who played at Oregon and Davis and is now Cal Volleyball's director of operations. Collins said Olson plays like she's even bigger than 6-4.
"Her standing reach is probably more than a normal 6-4 athlete," Collins said.
Monte Vista coach Sara Dukes Johnson said: "She is a skilled all-around player. She is a force at the net and she can play the back row, too."
Dukes Johnson, who played for Carondelet-Concord and Stanford, sees a trend of taller players who are long on skills, too.
"You are seeing a lot of taller girls who are well-rounded players," she said. "When I played and being 6-1, I thought I was pretty tall. Now there are multiple girls across the volleyball scene who are 6-1 or taller. Both Grayce and our (6-foot-3) Grace Wuischpard are excellent players. They can play the back row and they are just great assets to their teams."
Without Olson, Monte Vista beat Foothill in the first meeting 23-25, 25-23, 21-25, 25-22, 15-6 on Sept. 5. Carondelet-Concord also beat the Falcons in five sets on Sept. 12. With Olson back, the Falcons won their next seven league matches, starting with a five-game win against California-San Ramon and culminating with the win in the Monte Vista rematch.
That rematch was as competitive as it gets. No team held a game-one lead greater than three points until the finish. The pattern held in the second game, then Foothill went up 16-10 before Monte Vista rallied to take that set. The Falcons surged to win game three, but in the fourth, Monte Vista repeatedly fought back, going up 24-22. But the Falcons held tight and with Ram on serve delivering devastating back-to-back aces, the game was over. 
"My mindset was we've really got to get this one," Ram said. "Again, no one wanted to go to five sets, so we were really thinking we have to push harder." 
The league win streak ended on Oct. 10, when California-San Ramon beat the Falcons 25-19, 25-16, 25-18. Had they won, Foothill could have created a three-way EBAL tie with two regular season weeks to go. Instead the Grizzlies took a one-game lead over Monte Vista and two over Carondelet. Foothill dropped to three games back after an Oct. 15 loss to Carondelet. Notably, Cal High hosts Monte Vista on Oct. 22, but nearly every match is a big one.
"I think you are going to see a lot of really good volleyball over the next two weeks," Dukes-Johnson said. "You have four teams who are so close that it makes it exciting in that anything can happen." 
Then it's full steam ahead to the NCS Div. I playoffs, which will again be chock full of EBAL standouts, plus powerhouses Bishop O'Dowd-Oakland and Campolindo-Moraga, which both moved up because of competitive equity. Carondelet appears headed for one of the top two seeds in Div. II.
An unflappable stye has enabled this Foothill volleyball squad to stay near the top of the pack, with Ram at setter and Olson and Naya Williamson providing the outside punch.
"Both Grayce and Naya are just steady players and we kind of feed off them," Collins said. 
Added Ram: "We really mesh together as a team and we always have each others' backs. If someone makes a mistake, we always know how to bring them up. We are really good at rallying and coming back during those points."
Ram, Williamson and Emma Collins, Dusty's daughter, are the captains.  
"We have some girls whose playing time obviously isn't a lot, but they are invested," Collins said. "My daughter is a senior this year. She doesn't play a whole lot, but is the epitome of what this team is about. It's not who's getting the playing time, they are all invested."