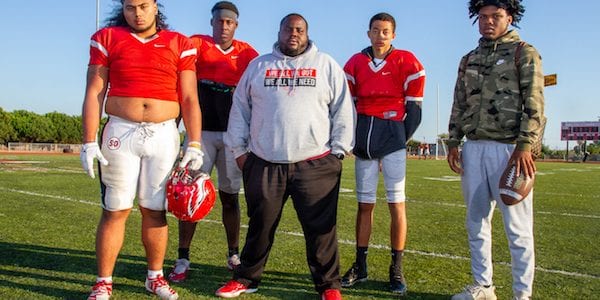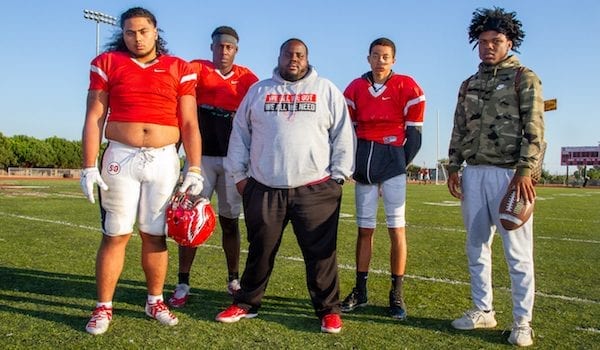 Richmond's Kennedy Football Program Has Built And Fostered Sustained Success Behind A Culture Of Survival And Resilience • Just a few moments after an emotionally...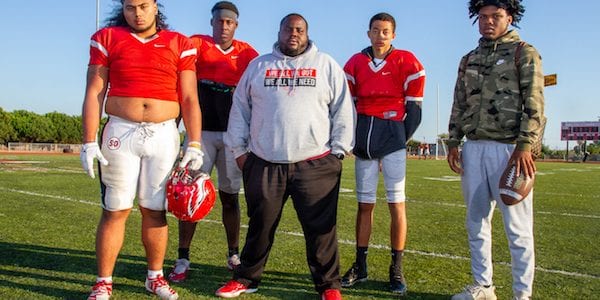 Richmond's Kennedy Football Program Has Built And Fostered Sustained Success Behind A Culture Of Survival And Resilience •
Just a few moments after an emotionally charged loss to rival El Cerrito dealt his team its first defeat of the 2019 season, Kennedy football coach Greg Marshall brought his team together. He delivered his final message of the day in simple terms.
"I'm not giving up on you."
Marshall knows one loss won't define a group for which the joys and pains of wins and losses mean something a little different. The game result might offer a snapshot, but it totally can't explain a story that goes a whole lot deeper than points can quantify.
At 4300 Cutting Blvd., the football field sits on the western portion of Kennedy's campus. Players know the reputation their school has. The newspaper clippings, dwindling as they may be, tell a tale of a tough neighborhood. It's where low-income youth confront the possibility of violence on the streets and hardship at home.
Marshall is a product of Richmond, so he's heard it all. 
_______________________________
GET CONNECTED:
Follow SportStars on Twitter & Instagram | Like us on Facebook | Subscribe!
_______________________________
Now in his late 20s, the De Anza High product has played a major role in Kennedy's football renaissance. After a spell on the junior varsity level and then as varsity assistant coach, he took over the varsity team in 2018. He kept the success rolling by leading the Eagles to an 8-3 record and a North Coast Section Division IV playoff berth.
The record alone couldn't provide the whole picture.
"Our athletic director, Carl Sumler, lets you know when you're hired at Kennedy you're not just a coach," Marshall said. "You have to be a psychic, you have to be a parent, you have to go above and beyond just to get to Friday. What you see on Friday, you don't know what we have to go through Monday through Thursday just to get here."
Leadership from Marshall and his coaching staff has provided stability. But make no mistake, the Eagles have both the talent and experience to call on when needed. A 14-player senior class comprises over half of Kennedy's 27-man roster and lends a steady hand when times get tough. 
Do-everything athlete Camron Young plays a variety of roles for the Eagles, at times filling in at quarterback, and the upperclassmen play a major role in setting a tone they've helped establish as the culture of Kennedy football.
"I wouldn't trade our senior class for anything. I love this class," senior Trey Baker said. Baker transferred from El Cerrito to Kennedy for his final high school season. "We're trying to get better and be better leaders, both on and off the field."
College coaches have started to make Kennedy a stop on the recruiting trail again. These days most are paying a visit to see highly touted junior Jermaine Terry II. At 6-foot-4 and 235 pounds, the tight end/defensive end prospect holds scholarship offers from schools like Alabama, Penn State, LSU, Florida, and most of the Pac-12. 
Though it would certainly fit, the mantle of big man on campus doesn't do much for Terry. The bigger picture carries far more significance, and he speaks eloquently about the higher purpose that success on the gridiron can have for Kennedy as a whole.
"This team is important to everybody. It's really the backbone of the school," Terry said. "Football at Kennedy brings everybody together from different cultural backgrounds and different places. Everybody loves football and we all try to come together for one common goal — to win."
Terry's praise for Marshall goes well beyond wins and losses. Calling him a "big brother" figure, Terry credits Kennedy's head man for his ability to teach about life beyond football. He also speaks in glowing terms about the Eagles seniors, praising both their leadership and their talent.
Of course, the reality of the situation doesn't change just because the team is successful. That the Eagles trudged back to their bus after playing El Cerrito under mid-day sunshine on a Saturday seemed the perfect example of what it sometimes takes to ensure safe conditions to compete in. 
A shooting outside the De Anza-Pinole Valley game two weeks earlier caused the West Contra Costa Unified School District to alter its start times. With the traditional rivalry between Kennedy and El Cerrito sure to draw a big crowd, the district made the decision to start their game at 11 a.m. on a Saturday. After all the changes, the game went off without a hitch.
For many communities, those types of tough decisions aren't part of the equation. But in a city like Richmond, football often serves a much deeper purpose than just gathering on Friday night.
"This is the reality, and I think some people really don't understand this. To these inner-city kids, football is all they have," Marshall said. "So, when you fail at it, it hits you 10 times harder. 
"Also, living in the inner city, you don't have the most money. They say football is the poor man's sport. Basketball is year-round, baseball is year-round. Football doesn't cost a lot. So I think that's why it's so important to some of these guys. It's something they can do at an affordable price."
One setback doesn't change the goal for the Eagles. In the newly defined division structure being used for the first time in 2019 by the NCS, Kennedy still ranks as one of the favorites in Division 6. 
A section title would be the school's first in football since 1988. Then, perhaps with the help of the often-complicated California Interscholastic Federation calculus that determines what division teams play in, the Eagles may be set up for a chance at an even loftier prize.
Even if Kennedy makes it that far, no state trophy could ever tell the whole story. 
"In the past couple years, we've tried to change the culture and everything around the team," Terry said. "Everybody sees Kennedy as a place that's negative and it's really not.
"There are a lot of great people at Kennedy who want to see us succeed. Right now, we're trying to work our butts off to change the culture and, like you can see, we're doing that."