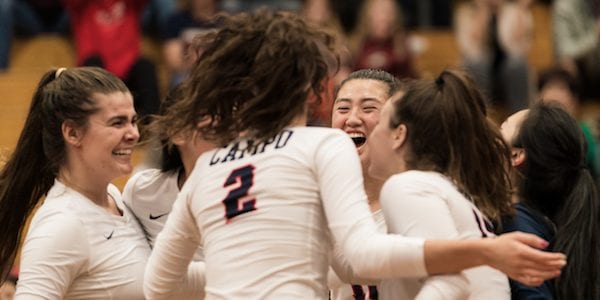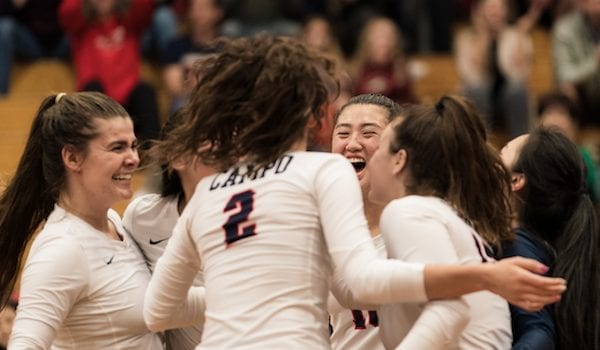 After Being Swept In The Section Finals, The Cougars Found New Motivation And Became The First Campolindo Team To Reach A Division I State...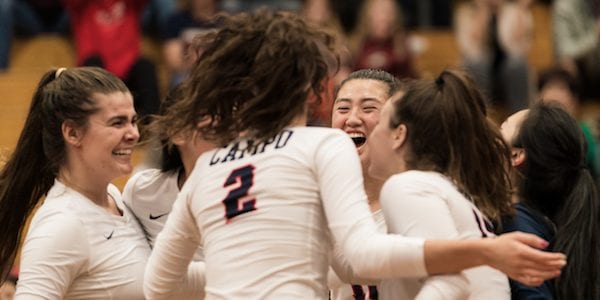 After Being Swept In The Section Finals, The Cougars Found New Motivation And Became The First Campolindo Team To Reach A Division I State Volleyball Final •
John Vuong knew the players on his Campolindo volleyball team were hurting. 
As the team sat together in the aftermath of a 3-0 North Coast Section Division I championship loss to Bishop O'Dowd-Oakland on Nov. 9, Vuong felt compelled to remind it of something. 
"They were crying. They were upset," Vuong said. "I said, 'What are you crying for? We're still playing.'"
_______________________________
GET CONNECTED:
Follow SportStars on Twitter & Instagram | Like us on Facebook | Subscribe!
_______________________________
Now, after four straight CIF Northern Regional playoff victories — including Tuesday night's four-set win over Menlo-Atherton-Atherton in the Div. I regional final — the Cougars are again, still playing. And the only tears in Moraga on Tuesday were happy ones. 
"So amazing. So awesome," Campolindo senior setter and captain Audrey Pak said after she and her teammates finished multiple photo sessions with the program's first regional championship plaque since 2012. "I can't really describe it. It means so much to our team and our coaches and our program."
The Cougars are now Orange County-bound. They will make the program's fifth CIF state finals appearance at 6:30 p.m. on Friday when they face Vista Murrieta-Murrieta at Santiago Canyon College. The five appearances tie Campolindo for sixth all-time among NorCal programs.
Campolindo is 2-2 in its state finals trips. The last win came in 2010 when the Cougars rallied from behind to defeat Cathedral Catholic-S.D. in a five-set thriller at San Jose State. That title, and another in 2006, both came in Div. III. This season is the program's first in Div. I, placed there as part of CIF's competitive equity seeding.
The Cougars (27-6) jumped on visiting Menlo-Atherton from the start on Tuesday. It was 7-0 before the Bears notched their first point. Campolindo never let them get any closer than five en route to a 25-14 first set win. 
The second set was much tighter and was tied 17-17 before Campolindo junior outside hitter Erin Thomas thundered home a kill that put the Cougars up for good. Thomas had six of her team-high 14 kills in the second set, lifting her team to a 25-19 win.
"Erin is a beast," Pak said. "She is so underrated. She is the nicest person I've ever met, but she slams the ball down literally every single time. Her hitting percentage is insane. She's a gentle giant and she deserves so much more credit."
Vuong described the setter-hitter pairing of Pak and Thomas, ''like a married couple." 
"They just go together," the coach said with a laugh. "I keep telling Audrey, 'Feed her. Feed her,' until (opponents) show they can stop her."
Menlo-Atherton (26-7) did it's best in that endeavor, but focusing on stopping Thomas only opened the door to the rest of the Cougars assault. 
Five different players had at least five kills for Campolindo. Pak finished with 10 and her fellow captain Sophia Newman added five. Junior Kate Dendinger and Morgan Coolbaugh had eight and five, respectively. Junior libero Brianna Lee had a team-best 21 digs.
With the score tied 15-15 in the third set, Marit Hoyem delivered a kill to give the Bears the lead. They would finish with a 9-5 run to stay alive and force a fourth set.
It didn't take much for Campolindo to regroup. 
"We just thought that we gave them a lot of points on our mistakes," Pak said of the third set. "I think we were just getting kind of caught up and flustered. We just needed to settle down and play our game."
The UCLA-bound Pak has been that steadying force for the Cougars all season.  
"Audrey has gone above and beyond everything I expected," Vuong said. "She's played every position we've asked her to play: As a setter, she played middle, she played back and she played front. There's nothing she can't do on the court. 
"She really put the team on her shoulders throughout the whole season and carried that heavy load."
Pak had three of her 10 kills in the fourth set, including on back-to-back points which put Campolindo up 9-2. The final set was never much in doubt after that. The Cougars closed it out with a 25-14 win punctuated by a defense-splitting kill from junior Molly Mitchell. 
As the team savored the championship win, Pak was asked when she thought the team collectively realized it could accomplish the feat. 
"I think not until after NCS," she said. "We just realized that there are bigger things after it. … After our first round of state, we were just like, 'We can really do this,' and it became super real."
That reality will truly sink in Friday when they take the court together for the last time. Vista Murrieta features a pair of dynamic hitters in Nevada-bound senior Reka Monteleone and freshman BYU commit, Claire Little. The duo combined for 50 kills in a five-set SoCal championship win over La Costa Canyon-Carlsbad on Tuesday. 
"We're going to need to prepare ourselves mentally a lot," Thomas said. "It's going to be chaotic, and we'll be playing somewhere outside of our home gym for the first time in awhile."
The Cougars have had just one road contest since Oct. 22. It was the NCS Championship game. 
Vuong says the final will be about defense for his club. 
"We played down south earlier this season," the coach said. "We knew the tempo of those offenses is very fast and very good. For us to be successful, it'll be about refusing to let the ball drop."
Pak's confidence was clear: "We've been improving so much in the past week, it's crazy. 
"I think if we just keep doing what we've been doing and keep working hard, we can do it."