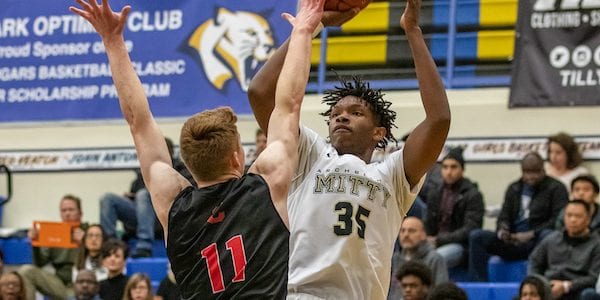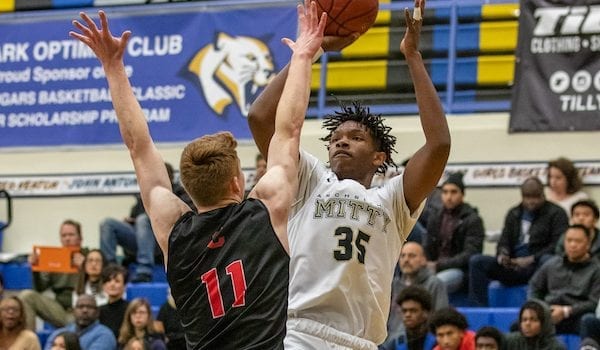 With Experience And A Veteran Swagger, The Mitty Boys Basketball Team Has Opened The 2019-20 Season With Big Goals In Mind — And The...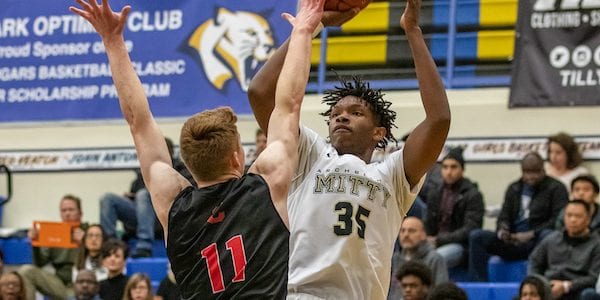 With Experience And A Veteran Swagger, The Mitty Boys Basketball Team Has Opened The 2019-20 Season With Big Goals In Mind — And The Talent To Achieve Them •
Early indications show the Archbishop Mitty boys basketball team is built to thrive amid those tense late-game moments.
The Monarchs' experience and big-game savvy showed in their 60-58 win over Campolindo-Moraga in both teams' opener under the spotlight of the NorCal Tip Off Classic at Newark Memorial on Nov. 30.
So when Campolindo sophomore sensation Aidan Mahaney buried a 3-pointer with six seconds left, it was up to Mitty to bear down. The Monarchs did that night, and also posted a convincing 72-41 win over Menlo School-Atherton in their Dec. 6 home opener before claiming the Father Barry Tournament title in Carmichael from Dec. 12-14.
They have the confidence of a team that's ranked No. 2 in the Dec. 16 release of the SportStars' NorCal Boys Basketball Top 20.
"We have a pretty old team … we have five seniors (who play a lot), so I feel like we are built for these moments now," senior guard Owen Browne said. "When we were younger, we'd get kind of flustered. Now we are solid and we know what we can do." 
_______________________________
CONNECT WITH US:
Follow SportStars on Twitter & Instagram | Like us on Facebook | Subscribe!
_______________________________
It was Mitty's first appearance at the 13th annual season-kickoff showcase, matched against the Cougars, who also feature senior Carter Mahaney, Aidan's brother. They are NorCal's lone defending boys state champions.
Never mind pressure — the Monarchs are accustomed to it. They play in the West Catholic Athletic League, where they are the defending champions. The program has won eight Central Coast Section titles and two state championships since 2007.
After the clutch 3 by Mahaney pared Mitty's mid-fourth-quarter lead of 11 down to one, Browne hit one of two free attempts. Even with 2.9 seconds left, Campolindo still had a chance, but a hurried shot missed and the Monarchs survived. 
"They've got some great players over there," Mitty boys basketball coach Tim Kennedy said of the 14th-ranked Cougars. "They really give us some trouble defensively. Offensively we need to fine-tune some things. But for the first game, to be able to knock them off in a big-game situation, it's a good win for our guys." 
While both teams had some shaky play that's expected in a high school season-opener, this game demonstrated why each should be around come playoff time.
The Mitty defensive effort was there when needed. Aidan Mahaney scored 23 points, but was held to 2-of-9 from 3-point range. Mitty's Browne finished with 20 points and was named Player of the Game.
"The Mahaney brothers are tough; both of them are good players," senior Mason Ryan said. "Aidan pulled that tough shot at the end. But we stuck together even through the crowd probably favored them at that point and they had the adrenaline going. But we stuck together and pulled it off." 
Whether it was Browne hitting a big 3-pointer or him finding Ryan on an inbounds pass for a quick two, the Monarchs made enough big plays in the final minutes to be able to make some noise and celebrate a hard-earned win.
"There's a lot of energy with this group," Kennedy said. "We've got five seniors who have been through some wars together. They have a great energy about them and they are fun to be around and they are fun to coach. Because they know when to be serious and when to have some fun, too."
With the senior group of Browne, Ryan, Marcus Greene, Jake Ryan and James Thomas, there is junior Michael Mitchell, who committed to Pepperdine in August. Added to the mix are 6-7 Stuart Hall-S.F. transfer Nigel Burris and 6-9 junior Arrish Bhandal. Bhandal missed last season with a foot injury.
"We're still trying to integrate Nigel Burris into the lineup and also our big fellow Arrish Bhandal," Kennedy said. "We've got a couple bigger bodies where we can get some mis-matches sometimes. But we're still working out some kinks with that. We've got our returning guys who know how to play and share it and knock down shots. We still want to stay true to that, and Nigel and Arrish can do that as well."
The big men give the speedy Monarchs an added dimension.
"(Burris) made a couple big shots where he's able to rise up over people and knock 'em down," Kennedy said. "He's a bigger body who can go win some rebounds that some of our smaller guys just can't do strictly from a physical standpoint."
Scoring will be more balanced, due to depth but also by necessity. Devan Sapp, who was last year's scoring leader at 19 points a game as a junior, transferred to First Love Christian Academy in Washington, Pennsylvania. 
That leaves the scoring to Greene, whose 14 ppg was next-best, and a host of other veterans. And Mitchell can spark things from both the defensive and offensive end. 
"He's the kind of player who can turn something into our best opportunity, whether it's a made or missed basket. He can get to his spot, and teams have to collapse on us and that gets us open shots," Kennedy said. "He's always a willing passer, and is our top assist guy. It's definitely a luxury to have a guy like him to keep our tempo how we want it."
With all their success, last season's bittersweet postseason finish provides motivation. Though the Monarchs gained the CCS Open Division's top seed, Sacred Heart Cathedral knocked them out with a 69-65 upset. Mitty swept the Fightin' Irish in both WCAL meetings.
Kennedy said there was a combination of playing a quality opponent in Sacred Heart a third time, some overconfidence and not playing the Mitty brand of basketball. It was a short-lived stay in the CIF Open Division after a 66-48 first-round loss to Modesto Christian to finish 18-9. For a program used to going deeper in the postseason, this didn't sit well. 
"It left a bitter taste from the season because we played so well in league," he said. "We're fortunate that we have so many guys returning with the chance to come back stronger and not make the same mistakes." 
Once again, the WCAL should be very competitive, led by No. 5 Archbishop Riordan-S.F. (4-0) and No. 12 Bellarmine-San Jose (3-0). Riordan also attended the Tip Off Classic. The Crusaders beat JSerra-San Juan Capistrano 64-59.
"Riordan is throwing some huge bodies out there," Kennedy said. "Bellarmine is going to be good. … The league is always tough because everybody knows each other so well and they prepare very well and try to take away your strengths. There are no off-nights."
In preparation for the start of WCAL play on Jan. 4 at St. Francis-Mountain View, Mitty packed its December with the top-notch Jesuit-Carmichael and Torrey Pines tournaments, and a Dec. 20 nonleague game with CCS Open Div. semifinalist Menlo-Atherton.
With their experience at hand and new additions ready to contribute, the Mitty boys basketball goals for this season are big in scope.
"We want to win every game, every tournament and we want to win WCAL, CCS and then all the way up to the state … we want them all," Browne said.