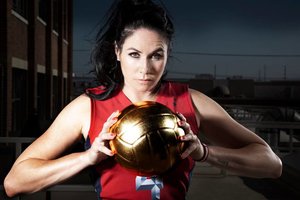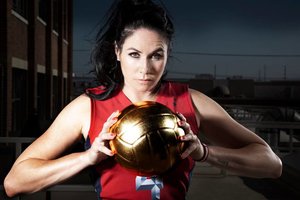 Continued from 3-time Olympic Volleyball, Lindsey Berg "Short Setter's Handbook" series. We were playing in the FIVB's Grand Prix tournament against Italy. I had competed...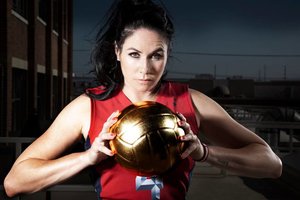 Continued from 3-time Olympic Volleyball, Lindsey Berg "Short Setter's Handbook" series.
We were playing in the FIVB's Grand Prix tournament against Italy. I had competed against the Italians for many years and also alongside a few of them as teammates on foreign club teams.
Throughout my professional career, the Italians always tried to go after me because they thought they could hit over me. It happened here and there, but often I would surprise them. My timing was always key to getting good touches. Since I was small, they couldn't really see me, and they would end up hitting down into me thinking I wasn't there.
In this match, we came from behind. The final game was extremely close. When we got to match point, I knew what was coming:
They would set to the outside hitter, thinking she could hit over me, use me, or do whatever she wanted.
_______________________________
GET CONNECTED:
Follow SportStars on Twitter & Instagram | Like us on Facebook | Subscribe!
_______________________________
Well, they were wrong.
I waited, waited and timed it perfectly. The set was tight. I pushed my hands over low and tight and blocked it back in the hitter's face.
For some reason, I still remember that match as clearly as if it happened yesterday. It wasn't the biggest game, but I almost surprised myself with my discipline in the things that really matter.
Timing and hands. Not height and jumping ability.
And on plays when I didn't get a block or a touch, I stayed focused on one of the most important keys for short setters who want to be assets to their teams as blockers: "If they hit over you, so be it. Stay disciplined. Your defense can play around you."
Keep in mind, though, you won't have blocking success without developing the proper skills. Two of the most important are timing and hand-positioning.
TIMING
If your timing is correct, you'll get a similar number of blocks and touches as a taller setter. Promise!
In general, the key to good timing in blocking (especially as a shorter player) is to wait longer than you think you should. During my playing career at the University of Minnesota and on the U.S. national team, I would constantly tell myself, "Wait, wait, wait!" It takes some getting used to because your first instinct is to jump sooner. But you have to be disciplined about waiting until the hitter has already jumped.
The process of blocking starts with watching the pass, then watching the setter to determine where the ball is being set. Next, your eyes should go immediately to the hitter. Watch the approach. That will give you cues on where you should line up. Consider whether you are taking ball, angle or line.
The height of the set is also a consideration. If the set is a slower, higher ball, wait even longer – longer than you would ever think. You are already at a disadvantage height-wise, so the worst thing you can do is jump early and be on your way down when the hitter hits the ball. If it's a fast ball, you will almost be chasing after the set.
DISCIPLINE THAT HELPS YOUR DEFENDERS
For smaller blockers, it's very important to be disciplined so the defense can dig around you. Know the game plan and what you are taking, and let your back row know. Even if you are not high over the net, a solid, stable block is very effective. A touch can be just as valuable to your team as a block back to the other side.
Lets tackle hand positioning next post. Til then…
Con Cuore,
Lindsey "Napela" Berg