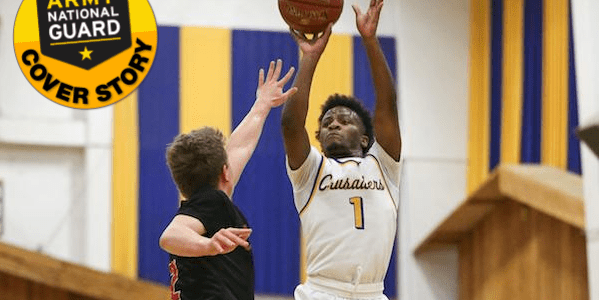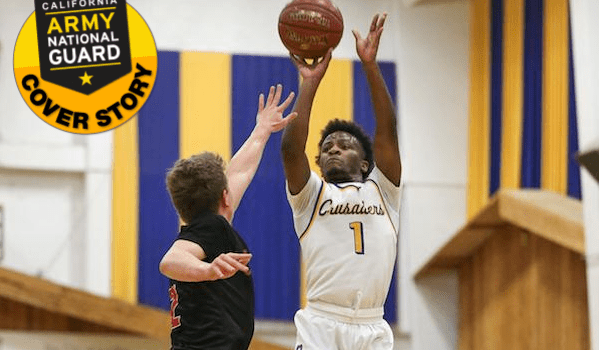 An Explosive Senior Backcourt, Height For Days, And Plenty Of Experience Helped Riordan Basketball Attain NorCal's No. 1 Ranking Heading Into February • It...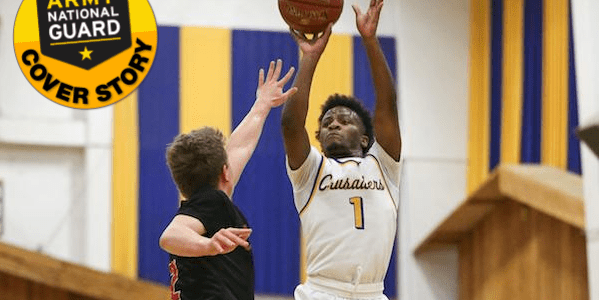 An Explosive Senior Backcourt, Height For Days, And Plenty Of Experience Helped Riordan Basketball Attain NorCal's No. 1 Ranking Heading Into February •
It was the final minute of the first half. Archbishop Riordan High guard Je'Lani Clark buried a 3-pointer, setting the home crowd off in the packed San Francisco gymnasium. Clark turned to the Riordan basketball fans on the north side with a huge grin on his face, tongue flapping as he drank in the cheers. Then, he returned to his primary job, playing basketball.
Clark stole the ball and got it ahead to Dominic Wilson for a layup. As the halftime buzzer sounded, the Crusaders had turned a 24-18 lead into a 29-18 lead over inner-city rival St. Ignatius.
The second half was more of the same. Bryce Monroe — Clark's cousin and backcourt mate — fed Clark an alley oop pass for a dunk. Again, the crowd went wild. Monroe lobbed the ball to 7-foot-1 center Mor Seck for a dunk. Pandemonium. St. Ignatius called timeout and it was Monroe's time to strut. 
When he made it to the bench, he did a chest bump with Clark.
It's great to be young and a Crusader. Riordan is the No. 1 boys basketball team in the Bay Area, a robust 17-2 after a 59-46 win over St. Ignatius on Jan. 31. As the Central Coast Section and California Interscholastic Federation playoffs loom, it seems certain the Crusaders will be a factor.
_______________________________
CONNECT WITH US:
Follow SportStars on Twitter & Instagram | Like us on Facebook | Subscribe!
_______________________________
They have height, with 6-9 Riiny Riiny and 6-8 Chan Ngot joining Seck. And they have a pair of Division 1-bound cousins in the backcourt who couldn't look happier on the court.
"We like to put on a show for them," Clark said of playing to the home crowd. Said Monroe, "That's the way we want to play, but at the same time we have to stay focused."
Monroe added, "It's always fun to be able to play with your family and also one of your best friends. We've been at this for 12-plus years now. It's our last year together and we're going to make sure it's a good one."
In the win over St. Ignatius, Clark led the way with 16 points and Monroe added 15. Every time the Wildcats made a run, one or both of the cousins seemed to be involved in the play that upped the lead. St. Ignatius cuts it to 41-35? Monroe to Clark for a dunk. Then, it was Clark to Monroe in the corner for a 3-pointer.
But the play that Clark was proudest of was a team effort.
"We had one possession where we swung the ball seven times and got a wide open 3," he said.
Heading into February, Riordan's only losses had come to Dublin and Serra-San Mateo. The Crusaders have wins over Serra-San Juan Capistrano (20-6 on the season), San Ramon Valley-Danville (16-6), Capital Christian-Sacramento (17-7), Campolindo-Moraga (17-5), Stuart Hall-San Francisco (17-6), Modesto Christian-Modesto (16-8) and West Catholic Athletic League rivals Bellarmine-San Jose (16-3), Archbishop Mitty-San Jose (16-3) and St. Francis-Mountain View (13-6). Oh, and Riordan beat Serra-San Mateo (14-5) in the rematch on Jan. 28.
With five games to play, the Crusaders led Mitty by one game in the WCAL standings.
Clark is 6-3 and headed to the University of Nevada. The Wolfpack has been an NCAA tournament regular of late, thanks to combo guards just like Clark.
"He's tremendous, he just does everything," Riordan basketball coach Joey Curtin said. "I mean the guy can pass, he can shoot, he can dunk, he can defend, he can rebound. He does everything you want on a basketball court for a guard to do. And he's not afraid of the lights; he relishes the big moments and he's a big-time player."
Monroe is 5-11 and will play at Sam Houston State in Texas.
"He's just so quick, he's dynamic in the open court," Curtin said. "His body control is ridiculous. He's just one of those guys who's a nightmare to guard. You have to really pay a lot of attention to him because he'll score 10 points in a row in a two-minute span and you're like, 'What the heck just happened?'"
The pair have been playing basketball together since fourth grade. They grew up in West Oakland before heading to high school. Clark has been at Riordan since the beginning while Monroe transferred over from Sacred Heart Cathedral-S.F. after his sophomore season.
"It's crazy because we watched each other grow up," Clark said. "I know what he likes, he knows what I like. We know what we don't like and we take turns. We don't really care who brings the ball up the court, we don't really care who scores.
"We're just having fun."
It's definitely fun for their teammates.
"Lani and Bryce are pretty much the best players in the WCAL," Riiny said. "It's pretty much a privilege to play with them. They are pretty amazing people. They're great. There's no teammate who I'd rather have. They are the best guys on the team."
Said Ngot, "Je'Lani and Bryce, they really have a great IQ. When they have the ball, all the bigs, we know we just have to be in this place and they will find us. We don't have to scream or yell, we just have to run the play, get where we're supposed to be and they will find us there. 
"It's really fun playing with them because it's like they're reading your mind. You see the lobs — we don't even practice that. It's just there."
Riordan basketball went 18-9 a year ago and 17-12 the year before that. The Crusaders know they are on the verge of something special.
"This is a team that has the talent but it also has all the pieces," Curtin said. "If we play really hard and if we play smart, we can win any type of game. We can win an up-and-down game, we can win a game that's slowed down in the half-court. We can win against a big team, we can win against a small team. That's why we're 17-2 because we can win in different ways.
"When we pass the ball like that, we're really hard to stop because (Clark and Monroe) are going to attract a lot of attention and the other guys can knock down shots, they can score inside, they can throw it down. There's a lot of ways for them to score. That's when we're most dangerous."
The cousins may be family but so is the team.
"It really feels great because we have our whole city behind us, our whole school behind us," Monroe said. "We get a lot of support and it's also that we're having fun with our friends. And it's not just a basketball team, it's really like a family here. There's strength in our brotherhood and that's why you see, when we're having fun, everybody is having fun. Even the guys who aren't playing. Because we know when they get that opportunity, we're going to do the same thing for them."
Said Clark, "At this point, we know what we have as a team. We've just got to work at playing a complete game. We've yet to play our best basketball."