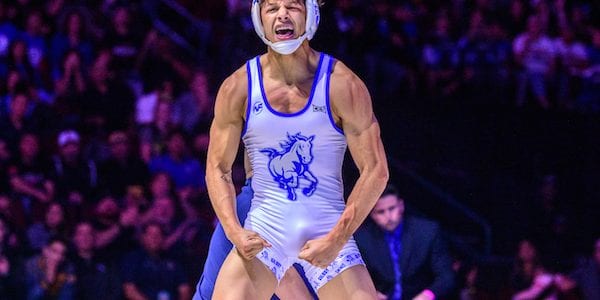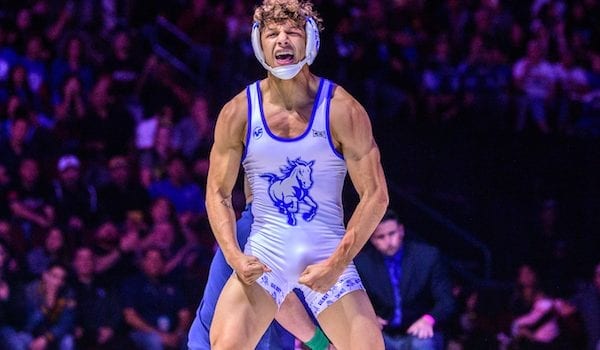 National No. 1 And CIF State Wrestling Champion, Chase "Satellite" Saldate Is An Other-Worldly Sensation — And Our NorCal Wrestler Of The Year •...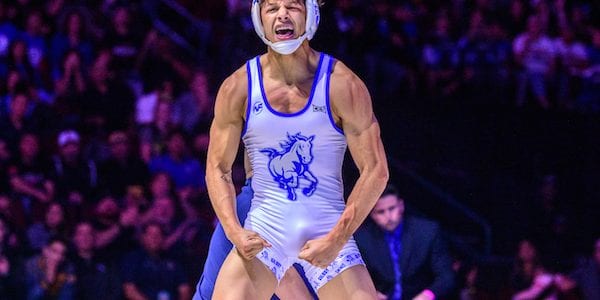 National No. 1 And CIF State Wrestling Champion, Chase "Satellite" Saldate Is An Other-Worldly Sensation — And Our NorCal Wrestler Of The Year •
10. For Chase Saldate, the countdown for his liftoff into orbit begins now.
After he graduates from Gilroy High, the 152-pound InterMat National No. 1 and 2020 CIF champion wrestler will spend a year in East Lansing getting used to what he calls "man strength" on the Michigan State roster.
This doesn't mean Saldate won't be seen. The prep superstar has rocketed to viral viewing on popular social networking platforms, blazing an innovative path that he hopes will elevate the sport as his career flourishes.
9. Saldate's redshirt season will also help him get acclimated with collegiate coursework and scheduling, after four years with Gilroy coaches Greg Varela and former UFC Champion and wrestling Olympian Daniel Cormier.
Cormier, known as "DC" to the wrestling and MMA community, is Saldate's former neighbor. He took over the program when Varela departed the program for Los Gatos following the 2017-18 season.
_______________________________
CONNECT WITH US:
Follow SportStars on Twitter & Instagram | Like us on Facebook | Subscribe!
_______________________________
"I was super close with DC even before he was the head coach," Saldate said. "We have a great relationship and I think it's huge for him to come back and coach high school wrestling. 
"It shows how much he really cares for us and how much he cares for Gilroy."
8. DC's prestige creates some remarkable opportunities in the wrestling room. This postseason Saldate had the privilege of training with grappling superstars before his state title run — guys like UFC champion Khabib Nurmagomedov and UFC contender Islam Makhachev. Video of Saldate's sparring bout with Nurmagomedov flooded Facebook, and on Saldate's TikTok account (@satellite._), a short clip of their action received 3.6 million views and over 460,500 likes.
7. Saldate's "Satellite" brand is a remarkable blend of wrestling and MMA celebrity encounters, fun journals about his prep career, move tutorials and light-hearted moments with his teammates. He has nearly 200,000 followers on TikTok, and another 22,500 followers on his Instagram page (@chasesaldate). YouTube is home to Saldate's training videos, highlights and even his own popular podcast (Satellite Talk). Saldate has another 4,800 subscribers on the platform and has posted content with over 72,000 views. 
6. It's a targeted effort.
"We want to get more fans in general," Saldate explained. "If you really think about it, fans of wrestling are either people who have wrestled before, or they have family members who wrestle.
"The ultimate goal is to get somebody random to know a wrestler, so that the average person knows who (Olympic champion Jordan Burroughs) is. We want more wrestlers to be household names."
Saldate said Michigan State coach Roger Chandler loves the videos and will support Saldate's viral efforts at East Lansing. 
If Saldate can help Michigan State return to the NCAA top 25, that would also make Chandler's day — though the Spartans did upset national No. 4 Wisconsin on Feb. 9.
5. Saldate has the talent to achieve remarkable heights.
The three-time CIF state place winner was undefeated this season with championship medals at the Clovis West Shootout, Reno TOC, Doc Buchanan, Five Counties, MidCals and Central Coast Section championships.
At state, he pinned every opponent but one — Buchanan-Clovis' Reymundo Raiz — who he beat 14-0 in the semifinals. He had one of only two pins in the CIF boys finals, and the fastest by 40 seconds. The wrestler Saldate pinned, Rancho Bernardo-San Diego's Tyler Badgett, was a returning state runner-up ranked No. 8 in the country.
To win Five Counties, Saldate also beat Sonny Santiago of St. John Bosco-Bellflower with a 9-1 score. Santiago, ranked No. 4 in the country, was a returning state champion. He took third this year after losing to Badgett in the semifinals.
4. The pressure of being a national No. 1 did little to shake Saldate from his flight path.
"I don't see myself as the No. 1 kid in the country, even though I am," Saldate said. "I expected that to change the way I feel but it really hasn't.
"When people ask me if I am a good wrestler I usually just say, 'I'm OK.'"
Saldate answered the same way when asked if he was any good at golf. He was on the links with Gilroy's golf program just a week after state.
Considering he shot a 61 across nine holes at Gilroy Golf Course (par 35) on March 2, we can believe his golf assessment a little easier.
3. Saldate swings clubs alongside golfing greenhorn Henry Porter, a three-time CIF medalist himself, who finished third for Gilroy this year.
If Saldate gets into any trouble, Porter is a likely accomplice.
"We went to the skate park before state, but we couldn't tell DC," Saldate admitted. "We were doing tricks down five, six stairs (Porter on a skateboard and Saldate on a scooter).
"Our parents hate it. We thought about that, breaking an ankle before state. We risked it, but we were lucky."
Porter is committed to wrestle at Indiana, just a five hour drive from Michigan State. It's only two and a half hours if they meet at a skatepark in the middle.
"They are going to have to watch us," Saldate said with a laugh. 
2. Saldate expects his little brother, 2020-21 freshman Logan Saldate, to win a state medal before he wraps up his career at Palma-Salinas. Logan doesn't have a storied youth career, but he is Chase's partner for some of the wrestling training videos he shares, like the sweet Russian tie snap lesson that quickly garnered 72,747 views on YouTube.
Chase's older sister, Macie Saldate, is waiting for him at Michigan State, already a team manager with the wrestling program. Their parents, Amy and Jimmy Saldate, helped organize a massive entourage of family to cheer Chase on at the CIF tourney.
They all wore matching T-shirts.
"I have to give a huge shoutout to all my cousins for going to state," Chase said. "It was so awesome to have like 20 people there for me."
1. Chase is also a regular at local car dealerships, and will often test drive his favorite vehicles.
"My mom gets mad because I tell her I'm just going to get a loan and buy one," Chase said.
His current pleasure is a Jeep Wrangler Rubicon, but a Satellite really needs a rocket ship.